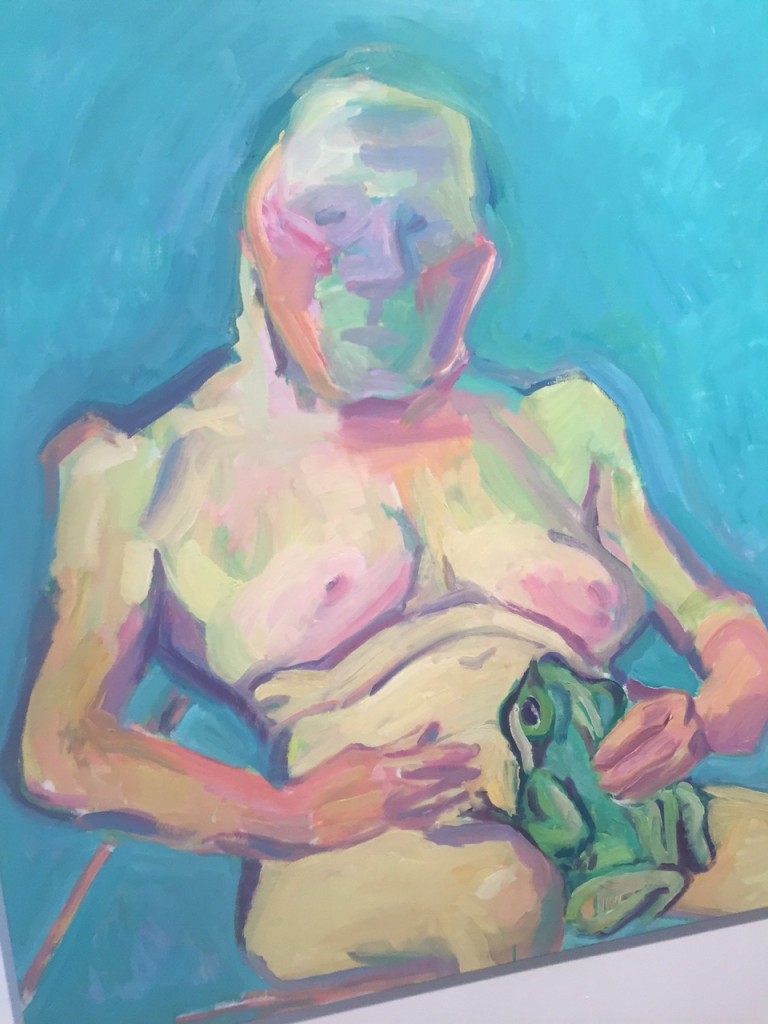 There was a party atmosphere last night at the Zabludowicz Collection, celebrating their 20 years. The well healed mixed happily with young artists who were mostly milling around the bar and the food van. Inside we were treated to some highlights from the collection, we had important pieces by Sarah Lucas, Tracey Emin, Damian Hirst, Maria Lassnig, Sigmar Polke, Martin Creed and Rachel Whiteread.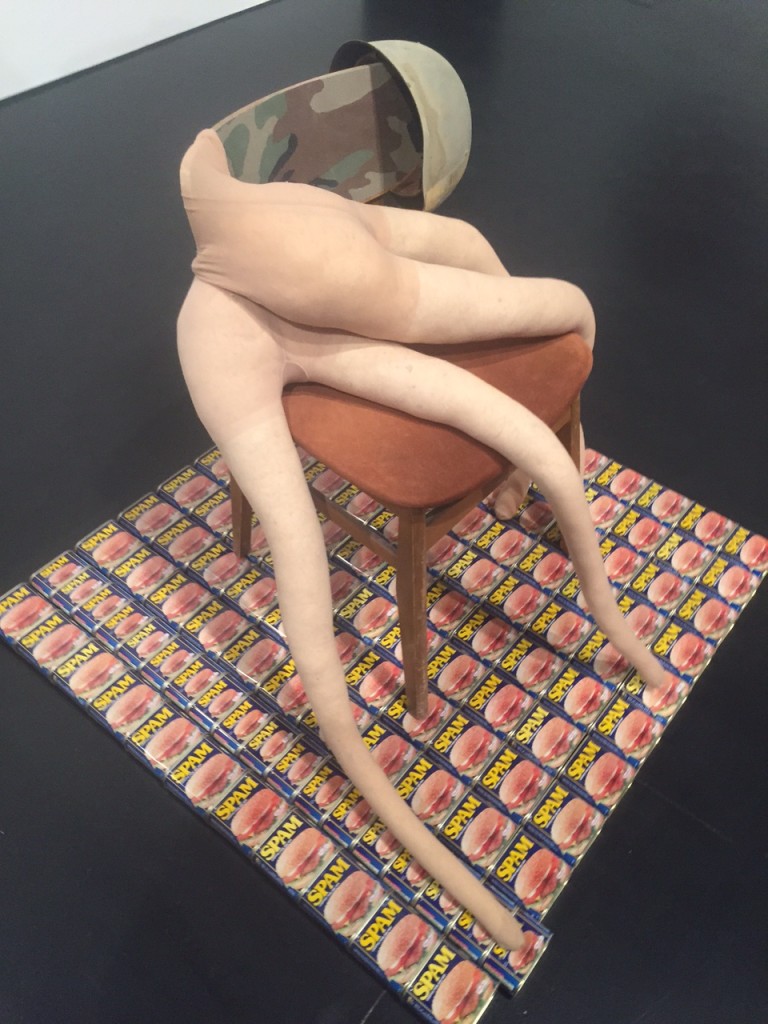 I have always enjoyed Sarah Lucas' work and the stuffed stockings on a row of spam is signature – grotesque and comically entitled 'Spamageddon'. Lassnig's painting (Froschkoenigin/Frog) is also distorted and humorously plays upon body awareness. Creed's piece (Work No. 997) is likewise whimsical, comprising of five chairs elegantly teetering, suggesting a growth of a body.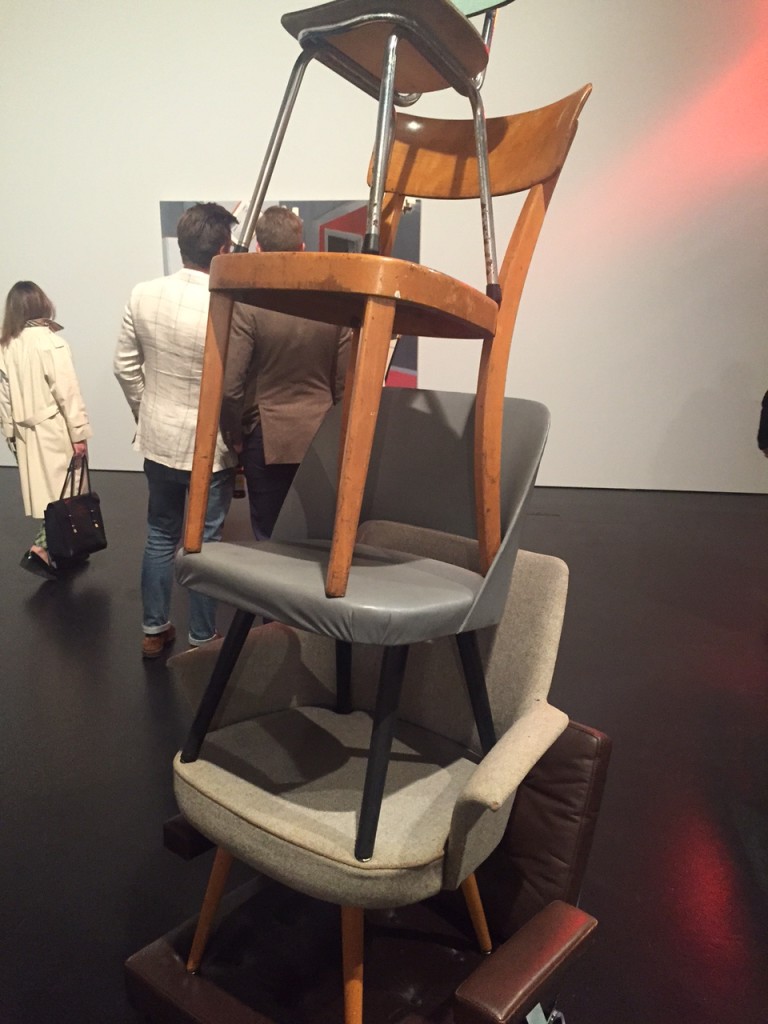 Hirst's butterflies are as ever stuck for eternity in viscous red gloss paint and Whiteread's objects have the appearance of cast mattresses, worn and yellowing. Emin's neon piece 'I Kiss You' is pretty as iconic as you can get from her oeuvre. In the same room was a strong series of photographs by Wolfgang Tillmans, taken on tube with passenger caught and cropped in a range of postures and indication of the public as opposed to the private space.
YBA's aside Zabludowicz has built her reputation on championing young and emerging artists, therefore it should be of no surprise that there is a site specific piece in the show, by the artist Samara Golden 'Bad Brains'. She presents strange and layered environment composed of numerous narratives, illusionistic using smoke and mirrors breaking down a traditional domestic space.
Other works that caught my eye were the distressed urns and flags by Alexandre da Cunha, the urns are actually adapted concrete mixer drums, sandblasted and put upright. The flags are made from tourist beach towels in different styles, combined with curtain poles; mop handles and other found and adapted supports. This is all very fun and playful.
I also enjoyed the work of Julia Wachtel with her screen-printed teenage body builder juxtaposed with an odd greeting card character waving to us.
I think in some way serious comedy is the main thrust behind the collection – There is an overwhelming sense of joy and delight that belies the gravitas of the work. The exhibition operates with a number of thematic concerns: body, objects, abstraction and display.
These themes are fairly loosely adhered to yet provide a framework to navigate the whole show and allow the viewer a multiple reading of each work.
The collection as a whole is impressively vast and is ever increasing; it houses the work of over 500 artists consisting of 3,000 works of art housed in various storage facilities. At any one time there is less then 10% of the collection on display with loans being an important part of its ongoing cultural engagement.
It is after all a philanthropic endeavour. A not-for-profit programme is entirely supported by a dedicated couple whose passion and enthusiasm for expression and creativity is unsurpassed.
With this in mind, Zabludowicz Collection is collaborating with UCL Art Museum to produce a two-day symposium examining issues around collecting new and experimental art.
The Zabludowicz Collection may lack the brash advertising gloss of the Saatchi Gallery, but at its' heart is the core belief in the power of a collection resides with the intent, here we have an academic and thought provoking collection built with artist in mind, not the potential resell value of the work.
We salute the Zabludowicz Collection for giving artists the opportunity to explore their practice in a way that would be impossible to achieve in a strictly commercial space. The work is often unrefined and raw, it comprises of objects and installations that seem on the verge of collapse or have an exquisite ethereal quality. The Collection bravely includes video and sound work and is in fact supporting the launch of Daata Editions, which will champion that traditionally difficult artistic medium.
In short the Zabludowicz Collection is a unique entity and although it has a few detractors, who shamefully confuses international politics with artistic enterprise, it remains a standard bearer for how a Collection should be built and run. It engages the public with a wide range of talks, films and programmes; it fosters and nurtures young talent in an environment that encourages experimentation. To some it may seem that the work is too obscure or even too difficult to comprehend, but the future of contemporary art in this country is beholden to Zabludowicz Collection and in part to the Saatchi Gallery.
The major institutions such as the Tate and the RA need to stage 'Blockbuster' shows, big names and big attendance, which is wonderful but leaves a void for the next generation of artists to find their voice beyond the constrains of a commercial gallery. Luckily for the last 20 years Zabludowicz has filled that gapping hole and provided an incredible platform for young artists to explore their potential and long may that continue.
We look forward to another 20 years of unbridled creativity at the Zabludowicz Collection.
Words Ben Austin
20 years 30th April–16th  August Zabludowicz Collection 176 Prince of Wales Road London NW5 3PT
Categories
Tags