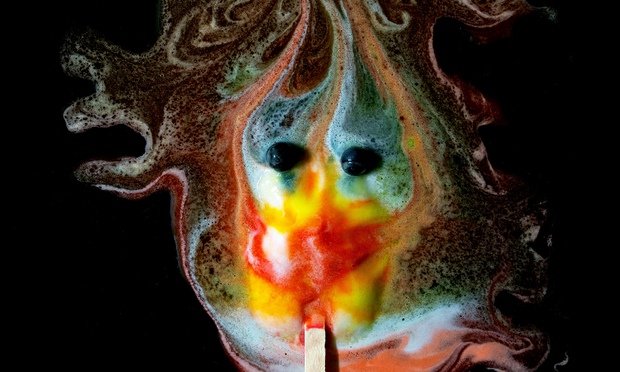 Base and revolting … SpongeBob from the series Transmogrify by Michael Massaia
This article titled "I scream for ice-cream: is this the most nauseating food art ever?" was written by Jonathan Jones, for theguardian.com on Monday 13th April 2015 06.00 UTC
Art and food have an ancient and mysterious relationship. Artists have been depicting what they eat since the Ice Age – the bison and mammoths in cave paintings were food for paleolithic hunters.
Yet there's more going on here than meets the eye – literally. When we look at images of food, more than one sense is involved. The tastebuds kick in, the tummy reacts. Art can perform a bizarre mental trick by depicting food; it can operate on the part of the brain that perceives flavours.
I've just realised this while looking at pictures by photographer Michael Massaia of melting ice-cream lollies. These photographs make me think about art and food … but not in an appetising way. In fact, they make me feel physically sick. The photographs claim to find the flowing colours of abstract art in puddles of melted, multicoloured ice-cream. Let's agree for the sake of argument that they do. But the effect on me (it may have a different effect on you) is literally nauseating. I can't look at these pictures for long.
There's something base and revolting about these swirls of lurid colour. It is the sense of decomposition. It's like looking at a sticky, melted ice-cream on the pavement. Add a few flies and the image would be complete. Why is this abstract food so disgusting?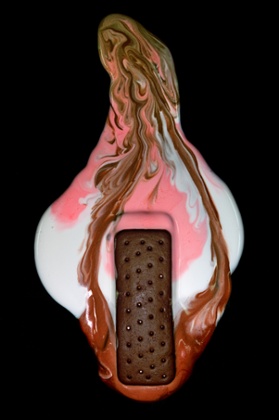 In fact, it reveals why artists have so often depicted food. The collapse of these treats into a sickly mess reveals by contrast how the pleasures of looking at a still life painting depend on tickling our tastebuds.
In the 17th-century paintings of Juan Sànchez Cotàn, for example, celery, lemons and apples are organised in crisp, clear, solid arrangements that have a powerful three dimensional substance and a captivating sense of order. Art historians find religious allegories in Cotàn's arresting works, but a lot of their power comes from the simple pleasure of displaying pristine, unspoiled foodstuffs. That same sense of completeness – food ready to go – makes me want to go to McDonalds after looking at Tom Friedman's sculpture Big Big Mac. Works of art like these make me taste apples or burgers, and want to go get some. Photos of melted ice-cream, meanwhile, make me go green.
There's obviously a confusion in our brains between looking and tasting. That's why we like food to be beautifully presented – a lot of running a restaurant is clearly about the visual presentation of food. People want their kitchens at home to be lovely, too – we all want to cook in a world reminiscent of a still life painting. The structured presentation of food in still life is an ideal image, a perfect vision of food that's fresh and good.
The chef – and artist? – Heston Blumenthal experiments with the psychological mysteries of flavour, playing the sound of the sea to diners who order his fish pie. The pie is visually crafted to actually look like the sea foaming on the shore.
With these pictures of melted ice-cream, all that rich, interrelated seeing and tasting gets mashed up, spat out, regurgitated and stamped into the ground. Honestly – I feel sick. I need to go and look at a painting of a glass of water.
guardian.co.uk © Guardian News & Media Limited 2010
Published via the Guardian News Feed plugin for WordPress.
Categories
Tags