FAD caught up with the founder of ILLUSTRATED Marc Farrington to find out what he has in store for this years event.
So what is ILLUSTRATED?
Our aim is to establish a calendar event bringing together a collection of the brightest visionaries in contemporary illustration and street art showcasing not only some of the biggest names in the business, but also offering a glimpse beneath the surface into tomorrow's most promising artists. The exhibition is open Saturday 9th – Sunday 10th May … Day 1 we welcome the creative sector and others who may wish to professionally engage our exhibitors, Day 2 sees us open our doors to the public.
BASIC by Document from Samuel Gomez on Vimeo.
Why is it different to other creative fairs?

There are a number of ways we differentiate away from the traditional Art Fair model.
1. Most importantly we're an industry showcase – a selective platform to give some of the worlds top illustrators and street artists a relevant and appropriate space to engage with the creative industry, building relationships and hopefully securing work, commissions and placements. We also give the public an opportunity to see some of the best in the world right now.
2. We're very selective focusing on quality not quantity, we realise the importance of giving our platform credibility and are developing our event model accordingly.
3. There will be a number of relevant seminars and workshops on offer over the 2 days – free for all ticket holders.
4. A well curated schedule of DJ sets and live performance slots will punctuate both days adding to the atmosphere.
Why did you set it up?
Showcase Cities operates as an employment agency; placing creative people (illustrators, graffiti artists, typographers, screen printers etc …) with advertising, PR and marketing agencies.
Over the past few years running this business we've discovered a need for clients to not only see work in the flesh (art often looks very different online and in digital portfolios) but also have a chance to meet artists in person. Many activations utilising the services freelance artists sees them surrounded by the public and required to illustrate & create under pressure, ILLUSTRATED 2015 gives potential clients the opportunity to artists and see their work in real time helping to ensure the right artists are matched with the correct professional opportunities.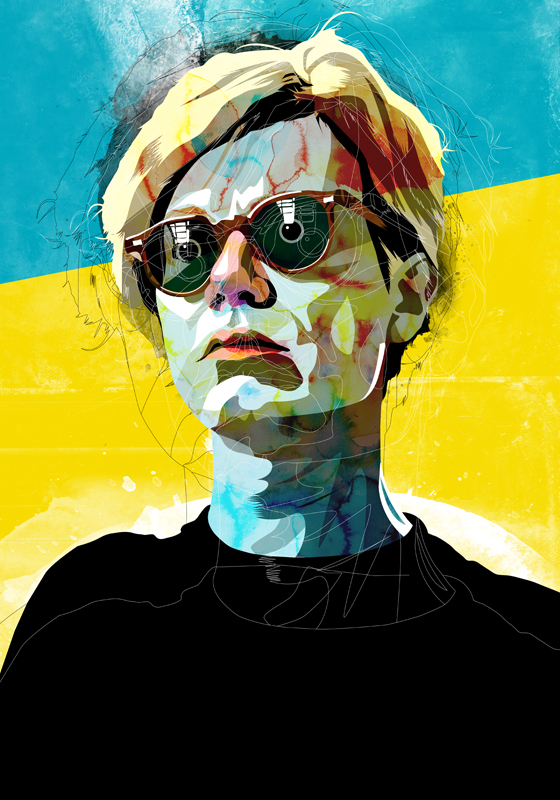 Andy Warhol by Alvaro Tapia Hidaglo
What is Industry Day?
Day 1 (Saturday 9th May) is our press day, private view and opportunity for key decision makers from the below industries to check out the artists for themselves – premium ticket holders will also have an opportunity to attend.
– Advertising
– PR
– Marketing
– TV
– Animation
– Magazines + Printed Publications
– Events
– Party Planning
– Bloggers
– Festivals
Those attending on Saturday will be first to see this years line-up and enjoy a number of performances exclusive to Industry Day.
Day 2 we're open to the public, tix are only £5 – for the price of a pint people can check out some of the best the illustration and street art world has to offer.
Any artists you are particularly looking forward to?
Its a strong line-up, but I'm particularly excited about seeing:
Sam Gomez
Vladimir Kush
Alvaro Tapia Hidaglo
Rebecca Hendin
I've admired these guys for a while so to see them in the ILLUSTRATED 2015 line-up for real is exciting stuff! Also looking forward to hearing Passion Bel Cannon play the event who were recently on the BBC – check them here.
Limited tickets available – get yours @ Eventbrite.
Categories
Tags