There is a delicately moving atmosphere to Luke Burton's work. A warm feeling of nostalgia which he describes as a perpetual dusk, of sorts. His exploration into the relationship between abstraction and the decorative, in contemporary art, creates fascinating comparisons within his work.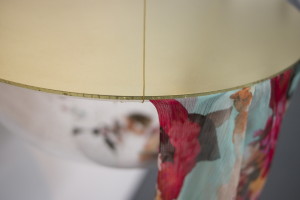 His 'hanging basket' sculptures follow a familiar, kitsch design seen adorning provincial gardens and balconies throughout Britain but are made with a clandestine level of consideration. Each hanging structure contains a carefully arranged selection of studio waste. A by-product of the creative process hidden behind floral veils, which hang from softly illuminating brass lids. The familiarity and soft ornamental characteristics of the sculptures intentionally conceal the thoughtful approach to their construction.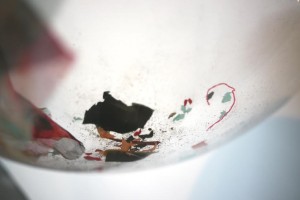 Three videos play in succession mapping journeys through ambiguous, urban environments; each   accompanied by an attentively curated soundtrack. The locations have been carefully chosen, by the artist, as somewhere in which he has built up an intimate relationship with, over time and through the inevitable routine of life.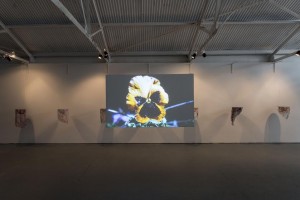 The first video races along a, dimly lit, stretch of metropolitan vegetation. Euphoric, bursts of light and colour induce a dreamlike state while the audiovisual combination produces a gentle, moving experience.
The videos exhibit a light hearted beauty and affection for the settings while romantic displays, from the protagonist, weave a humorous feeling of woe.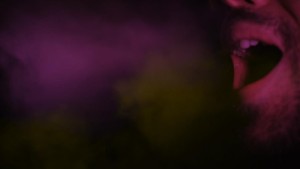 Performance and Humour seem to be important in Burton's work as does the need to produce something truly beautiful. Each piece represents a solid analysis of the relationship between abstraction and the decorative to show how they can exist together in a touchingly astute way. The whimsical narrative running through the work is refreshing and truly affecting as is the obvious passion exuding from it.
The exhibition runs until the 27 of March and there is a panel discussion on Monday the 23rd to discuss 'What is the relevance of the decorative and ornamental within contemporary art and culture?'.
All other information can be found on Bosse & Baum's site HERE 
Categories
Tags