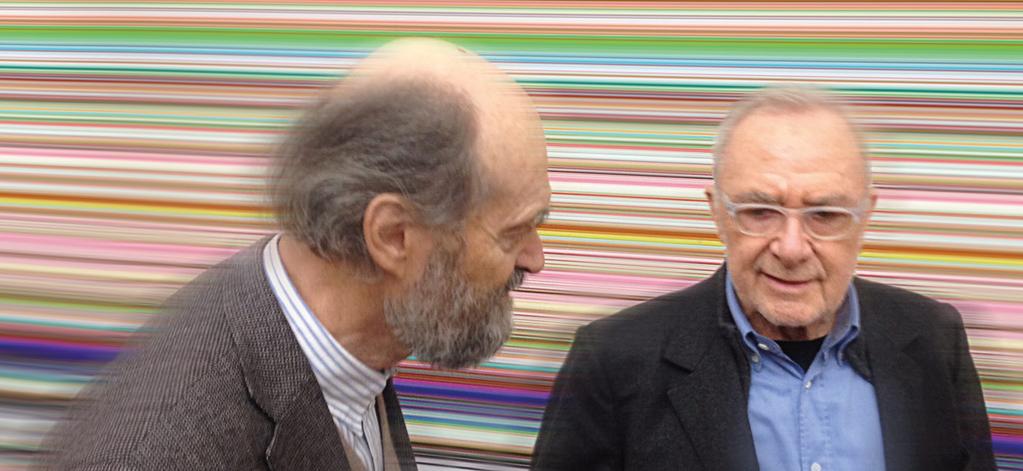 This remarkable project, several years in the making, brings together two of the world's most influential and enduring cultural figures: artist Gerhard Richter and composer Arvo Pärt.
In early autumn 2013, Hans Ulrich Obrist and Alex Poots introduced the two artists to each other for the first time. As a result of the meeting in Dresden both made work inspired by and dedicated to the other. Richter created a suite of four works entitled Doppelgrau, and Part composed Drei Hirtenkinder aus Fátima.
For MIF the works that developed from this creative partnership will finally be united, presented together in the newly renovated Landscape Gallery of the Whitworth. A suite of four new works by Richter, Birkenau (2015), and his Doppelgrau (2014), will be presented with Pärt's Drei Hirtenkinder aus Fátima.
From 9th – 11th July Estonian choir Vox Clamantis will perform Pärt's composition throughout the day, in front of the works by Richter. From 12th – 19th July local choirs will perform the work.
Arvo Pärt said:
I look forward to meeting Gerhard Richter again in Manchester.
It is very exciting for me and an honour that our works will converge; as different as they may seem, they must be somehow related.
Alex Poots said:
"This is possibly the most ambitious pairing of artists that MIF has yet presented. These giants of their artforms have between them experienced and reflected some of the key moments of the 20th Century and we are profoundly grateful to them for the opportunity to see and hear the results of their creative friendship, born from a meeting that my collaborator Hans Ulrich Obrist and I proposed."
To accompany the show at the Whitworth and to celebrate what will be Pärt's first visit to Manchester, the Manchester Camerata will perform an evening of Pärt's music at the Bridgewater Hall (12th July). Gábor Takács-Nagy will conduct the Manchester Camerata and Vox Clamantis as they perform an evening of orchestral and choral works that demonstrate the overwhelmingly spiritual quality of Pärt's music.
Commissioned and produced by Manchester International Festival and the Whitworth. Curated by Hans Ulrich Obrist and Alex Poots.
Richter/ Pärt The Whitworth Thu 9th – Sun 19th July www.mif.co.uk
Arvo Part, Manchester Camerata Bridgewater Hall 12th July, 7.30pm www.mif.co.uk
Categories
Tags