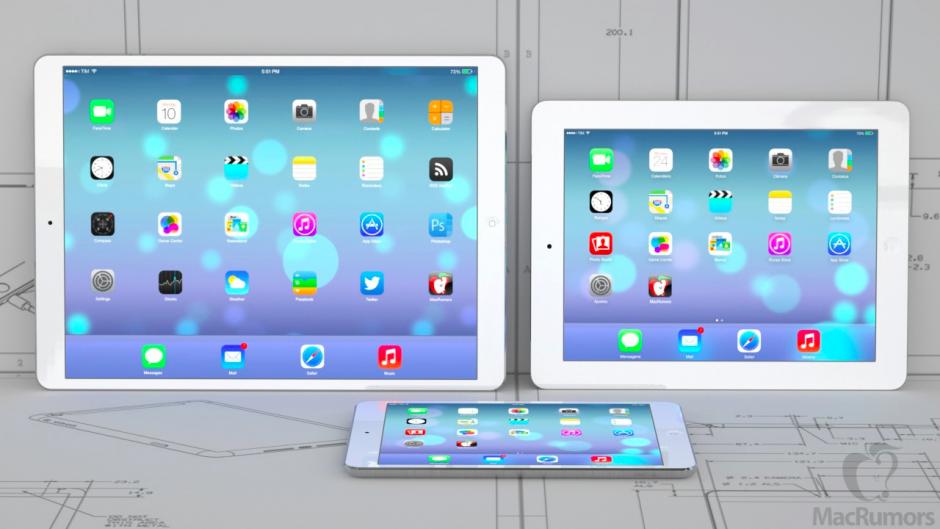 ---
This article titled "Apple's larger 'iPad Pro' expected in October" was written by Samuel Gibbs, for theguardian.com on Thursday 5th March 2015 11.46 UTC
Apple's rumoured "iPad Pro" has reportedly been delayed by production issues surrounding its bigger screen.
The 12.9in business-focused iPad will begin production in the second half of the year, reports from Bloomberg and the Wall Street Journal state.
The production delay will give Apple time to assess the addition of USB ports as well as support for keyboard and mouse input for the new iPad, the reports indicate.
Production starting in September would allow Apple to release the new iPad within October, the month in which Apple traditionally refreshes its tablet line.
Consumers cooling on tablets
Apple has seen four straight quarters of declining sales of its iPad line, which is currently offered in 9.7in and 7.9in screen sizes, despite the launch of a thinner iPad Air 2 and iPad Mini 3, both introducing Apple's Touch ID fingerprint sensor to the tablet line.
Consumers have cooled on tablets, with the global shipments of the devices falling for the first time, in the fourth quarter. A slower rate of tablet replacement compared to smartphones and cannibalisation by larger-screened smartphones, including Apple's own 5.5in iPhone 6 Plus and phablets such as the 5.7in Samsung Galaxy Note 4 and 6in Google Nexus 6, have been blamed.
Apple's share of the global tablet market was also down 5% year on year in the fourth quarter at 28.1%, according to data from research firm IDC.
Targeting business for revival
A larger iPad measuring 12.9in diagonally would offer 76% more screen area than the current 9.7in if it retains the same 4:3 ratio for its width and length. It could be more attractive to business users, who have already started to use Apple's 9.7in iPad as a cheaper, more secure and longer-lasting laptop alternative.
The NHS, publishers and other office-based industries have adopted the iPad as a work machine, but a a larger tablet combined with a deal Apple signed in July with IBM, could be crucial to reviving flagging sales.
IBM released a collection of business applications for Apple's iPad in December for banking, retail, governments and the telecommunications sector. More are expected this year.
The addition of a USB port would provide greater flexibility within a business environment and potentially provide support for secure USB-based systems for storage and access management, removing one of the last differentiators between tablets and laptops.
Apple declined to comment.
guardian.co.uk © Guardian News & Media Limited 2010
Published via the Guardian News Feed plugin for WordPress.
Categories
Tags