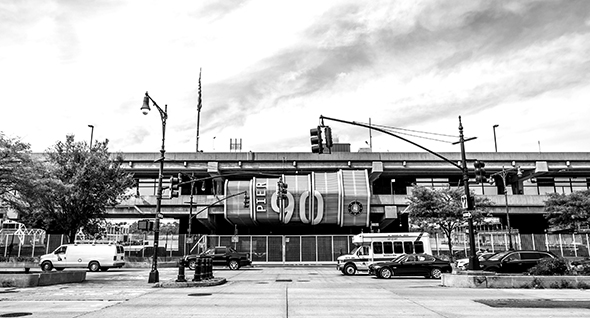 VOLTA NY,  an invitational fair of solo- artists projects, functions as an everted translation of what your 'standard' art fair should or should not reveal. Now considered one of New York's most ebullient and highly anticipated art fairs to look out for, this upcoming 2015 spring season, Amanda Coulson and her crew have managed to kick up some evocative currents.
Not only has the fair shifted its presence from SOHO to it's new venue in Hells Kitchen's Pier 90, directly leveling the playing field by adjacently nuzzling up to it's bigger sister Armory Fair which has notoriously owned the perilous piers of 92 and 94 for decades- VOLTA 2015, has teamed up with artnet and GalleryLOG, in order to host an impetuously charged discussion panel, or Salon if you will, during Armory week.
While the underlying thesis for Armory's 2015 programs and special projects insatiably envelops around art in the Middle East, as nuanced as the foundations for which VOLTA is predicated on, so lies true with the content of these anticipated discussions. Kicking things off on Friday, March 6 at 6pm, Claudia Calirman, assistant professor of art history at New York's John Jay College of Criminal Justice, will head up a conversation surrounding Cuba and the U.S.'s freshly awakened platonic open door policy. How will these newly reconciled relationships affect the inhabitants of the art world; specifically on the artists in Cuba? Art Director of the American Society and Council of the Americas, the premier forum dedicated to education, debate, and dialogue in the Americas with a mission to foster an understanding of the contemporary political, social, and economic issues confronting Latin America, the Caribbean, and Canada, will also be joined with Bronx Museum director Holly Block and Elvis Fuentes, an art history PhD candidate at Rutgers University, and Gabriela Rangel to tackle these questions.
Roxanna Zarnegar, senior vice president at artnet auctions and private sales, will lend participants her advice on "An Insider's Guide to New Ways of Collecting Art." From the white cube to the digital, art advisor Karen Boyer and Westwood Gallery co-founder James Cavello will also chime in on these slippery shadows of functionality over form and vice versa.
Art F City's Paddy Johnson will continue the examination of the digital by conducting a panel on 'Art and the Cloud'.  A congestus and convolution of a discussion which has been piling up in the contemporary art scene for over half a decade now, these exchanges will also feature the relevant perspectives of the controversial art advisor and collector Stefan Simchowitz, David Diamond, and Transfer Gallery founder Kelani Nichole.
Artnet New's national art critic, the illustrious Ben Davis will seek to explore pertinent questions found in his recondite essays such as 'Why I believe New York's Art Scene is Doomed', and will regulate the oh so pertinent discussion surrounding gentrification and contemporary artists' role in it. Cue in Blake Gopnik and Christian Viveros-Faune to indulge in conversation about how in the Internet age, anyone has the ability to sound off in public about art— ultimately questioning if this is inherently a good thing or a bad thing?
From distant days of a closed Cuba now passed to digital clouds and controversial collectors as they have never existed before, to dooming prophecies of the potential of more cavernous Starbucks on every Brooklyn beatnick corner–ah! We have to agree with the final verdict of this line up when that question of whether  "it is all a good or a bad thing?" will be poignantly raised.
Either way, it's  a must see!
Check the video here made by the infamous GalleryLOG. Such as the sensational dialogue which will take place both through visual art and conversation during this years VOLTA NY and Armory week, GalleryLOG never misses a poetic beat of how to capture it all.
The VOLTA Salon with artnet | VOLTA NY 2015 from GalleryLOG on Vimeo.
Read the full line up for the weekend HERE
Also have a read over at: TRICKMagazine.com
Categories
Tags