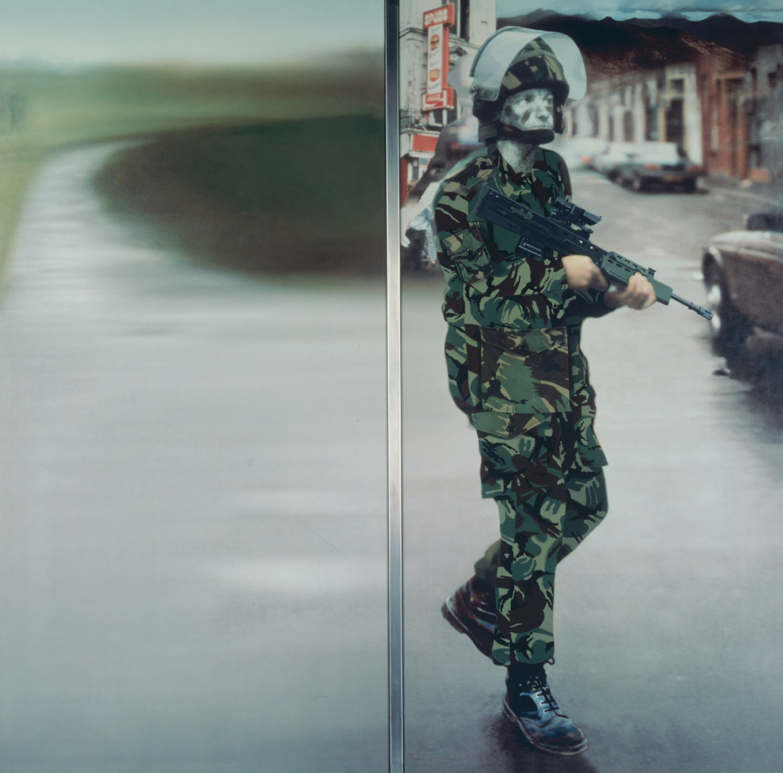 Richard Hamilton, The State,1993 Tate, London 2014 © The Estate of Richard Hamilton, DACS 2014
(Part of Jane and Louise Wilson's curated section)
10th February – 26th April 2015 Hayward Gallery Southbank Centre, Belvedere Road, London, SE1 8XX
www.southbankcentre.co.uk/haywardgallery
In the run up to the General Election in 2015, the Hayward Gallery exhibition History Is Now will offer a new way of thinking about how we got to where we are today. Seven artists – John Akomfrah, Simon Fujiwara, Roger Hiorns, Hannah Starkey, Richard Wentworth, and Jane and Louise Wilson – have each been invited to curate sections of the exhibition, looking at particular periods of cultural history from 1945 to the present day.
History is Now: 7 Artists Take on Britain offers an inventive way of exploring the country's recent history; spanning ideas and topics as varied as the Cold War, post-Thatcherite society, protest movements, feminism, 'mad cow disease' and celebrity culture. Working with Dr Cliff Lauson, Hayward Gallery Curator, the artists have selected over 250 objects, which come from both public and private collections, as well as draw upon informal collections and objects such as photographs, newspapers, films, domestic items, and artefacts. Much of the material borrowed from libraries, archives and science, history and local museums has never been seen previously in the context of an art gallery.
Artworks to be shown will include those by: Keith Arnatt, Tony Cragg, Gilbert and George, Richard Hamilton, Barbara Hepworth, Damien Hirst, David Hockney, Ryan Gander, Henry Moore, Hayley Newman, Ben Nicholson, Martin Parr, Toby Patterson, Eduardo Paolozzi, Sam Taylor-Johnson, Penny Slinger and Christine Vogue among many others.
The artist-curators and their themes for History Is Now are:
· John Akomfrah (b. 1957 Accra, Ghana; lives London) will select works from the Arts Council Film Collection (c.1960-90s) to curate an exhibition which looks at the space between cinema and TV, documentary and educational film, avant-garde and experimental film, dance and performance art.
· Simon Fujiwara (b.1982 London; lives Berlin) will create an archaeology of the present showing manifestations of optimism in late capitalism, post-Thatcherite society, celebrity culture, experience economy, architecture, technology, and well- being.
· Roger Hiorns (b. 1975 London; lives London) explores the histories of Bovine spongiform encephalopathy (BSE) and variant Creutzfeldt-Jakob disease (vCJD) as well as bio-medical research, healthcare, agriculture, animal husbandry, and food production and consumption. This will be the first ever exhibition to investigate BSE and its histories and impact. Hiorns' section is generously supported by a People Award from the Wellcome Trust.
· Hannah Starkey (b.1971 Belfast; lives London) will draw upon the Arts Council Collection's photography holdings from the 1970-90s, and will consider ideas such as photography as art versus art as advertising, identity, gender, consumerism, rhetorics of the image, and the role of the individual in society.
· Richard Wentworth (b.1947 Samoa; lives London) will consider the Post-War period, modernism of modest means, the beach as a discursive site, the body, materials and making, new consumerism and Pop, the domestic, the start of the Cold War, militarisation, industrial design, and cultural memory. This section will include Ben Nicholson's panoramic The Festival of Britain (1951) mural which has not been displayed on at the Southbank Centre site since it was commissioned for the Festival over 60 years ago.
· Jane and Louise Wilson (b. 1967; Newcastle, lives London) will consider sites of change, contestation, and protest in Britain; looking at the town of Peterlee, Greenham Common, and Northern Ireland, as well as feminism and the built environment.
www.southbankcentre.co.uk/haywardgallery
Categories
Tags