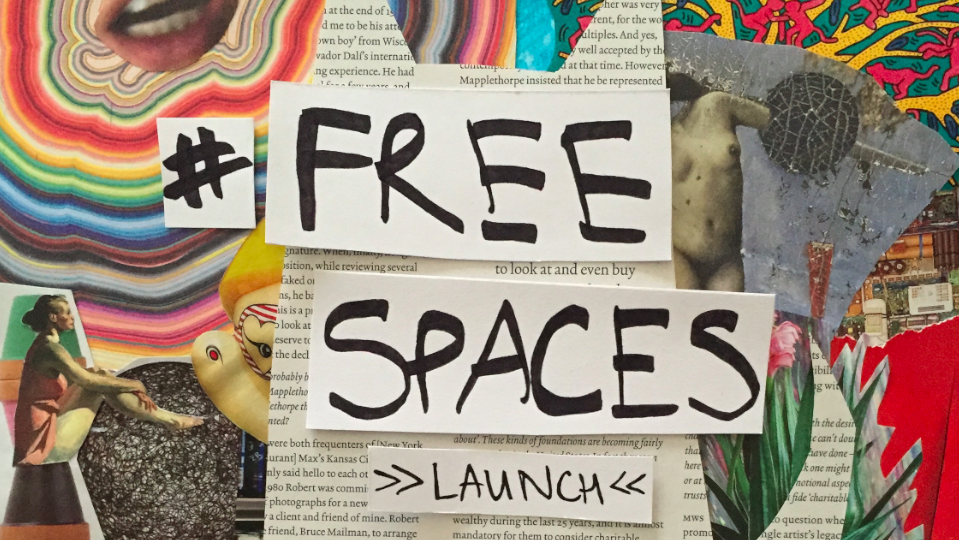 Don't Miss FREE Spaces Launch January 30th at Rolling Stock 48 Kingsland Road, E2 London, United Kingdom
More info: www.facebook.com/events/
What is Free Spaces?
Free Spaces is an Art Map London project, it is a directory of Spaces (at the moment just in London) where artists can exhibit their works for free.
Why is it needed?
If you want to make it on your own and organise your own show as an artist or a curator you need some financial backing. A pop up exhibition will spend most of its budget not on promotion or staff salaries but on the venue, a small out of the way gallery-like space costs anywhere from £600, and prices increase the closer to central London you get, the regular costs are from £800 to £1000 a week. And that is just for the wall(s), you have to pay extra for admin help, press release mail out, marketing, transport etc etc. Everything included a one week show will set you back at least £1000-£2000 and its very unlikely that you will make any of the money back.
Such shows are crucial to help build awareness, and an audience, or just to have something on your CV when you are pitching your portfolio to a gallery. However £2000 for a line in a CV is a bit too steep.
Free Spaces solution
London is full of empty spaces there are back rooms in restaurants, there are hotel rooms empty for weeks, commercial retail spaces and offices in between rents, not to mention town halls, churches, community gardens and city farms. In London there are many empty free spaces. The reason why these venues stay empty is that often they do not have the man power to do something with the space, and even when approached by artists they decline offers – because its too much work. That is where Free Spaces comes in – for Artists we provide a directory of Free Spaces, for venue managers we provide a one point of contact between them and many artists. We know what they can and cannot show, when they are available. We are the middle man/woman juggling the administrative stuff between venue and artist. We stream line an otherwise messy process.
The Free Spaces is set to launch on Friday the 30th of January. The launch will take form of an art exhibition in one of the Free Spaces venues – Rolling Stock. The exhibition will showcase street artists – artists who until recently had to exist completely outside the gallery system.
The participating artists are Asteronyme, WillKay, HmmmBates. As well as, two artists who have previously been involved in Art Map London's projects: Lara Thomson and Gary Russell.
To attend the launch RSVP here
About Art Map London
Art Map London was started in November 2014 by Jenny Judova. It started of as an art event listing website, rather than listing exhibitions it listed private views and art talks. After successfully Kickstarting the project Art Map London relaunched in September 2014 with a new mission to demystifying the art world, by gathering and sharing information about events, art galleries, art fairs, and art businesses.
Free Spaces grew out of the ambition to empower artists by giving them tools to disrupt the current status quo. The project is co run by Jenny Judova and Kim Judge. ArtMapLondon
Categories
Tags