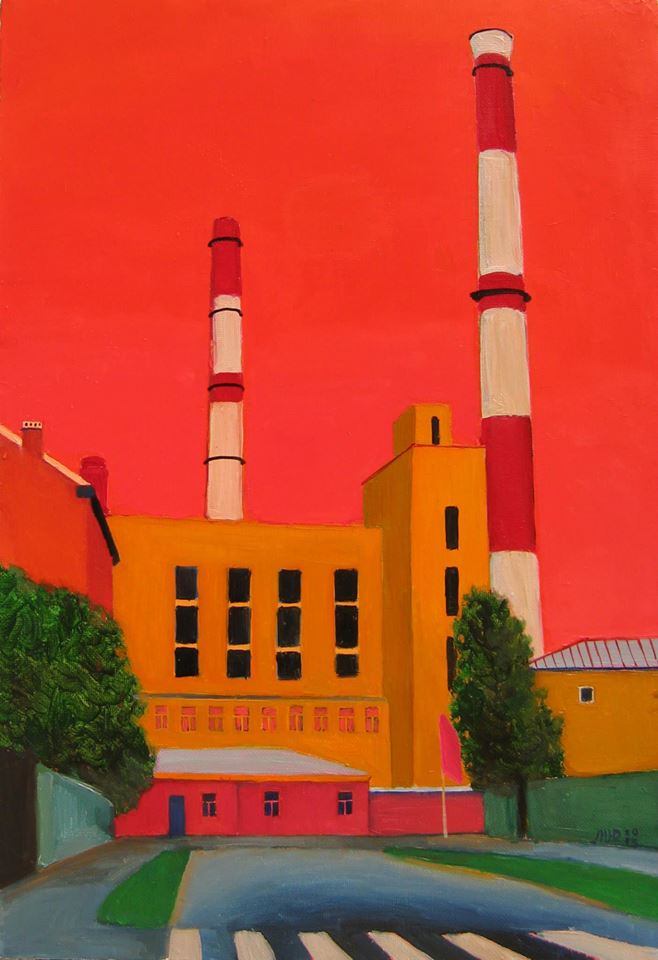 Following the opening of her first UK exhibition at Baker Mamonova Gallery in St. Leonard's on Sea, East Sussex, I met up with Russian artist Julia Malinina to find out first hand what makes her tick. What motivates her to get out of bed in the morning.
Also joining us were Julia's prodigy, Anastasia Omelchenko and gallery owner Olga Mamonova. Julia spoke entirely in Russian throughout, therefore Anastasia and Olga acted as interpreter's. I have to say this was a first for me, so I was very grateful for their presence. Without them this interview would have been very short indeed!
So here goes. Fingers crossed I got everything!
Born in Shodnya, Moscow in 1980 and graduating from the Moscow 1905 Revolution Art College in 2001, Julia Malinina was a student of Tatyana Nazarenko; a People's Artist of the Russian Federation, a full member of the Russian Academy of Arts and professor and head of studio at the Moscow State Academic Art Institute.
At 34 Julia displays a maturity beyond her years, supremely driven – as most Russian artists I have encountered are, but, by no means dull. Although she spoke only in Russian throughout our conversation, her personality shone through. She is clearly passionate about her practice of bringing to life the sites and sounds of her homeland. She is also very respectful of those who have helped her on her journey.
Despite the language barrier, I enjoyed our chat very much. Julia is extremely animated when she talks and her enthusiasm and passion for her craft is palpable.
This is her first visit to the UK and she is clearly loving it. She was very enthusiastic about the coast and its light and architecture and also London – As you would expect, she loved the diversity of the city and the wealth of accessible contemporary culture.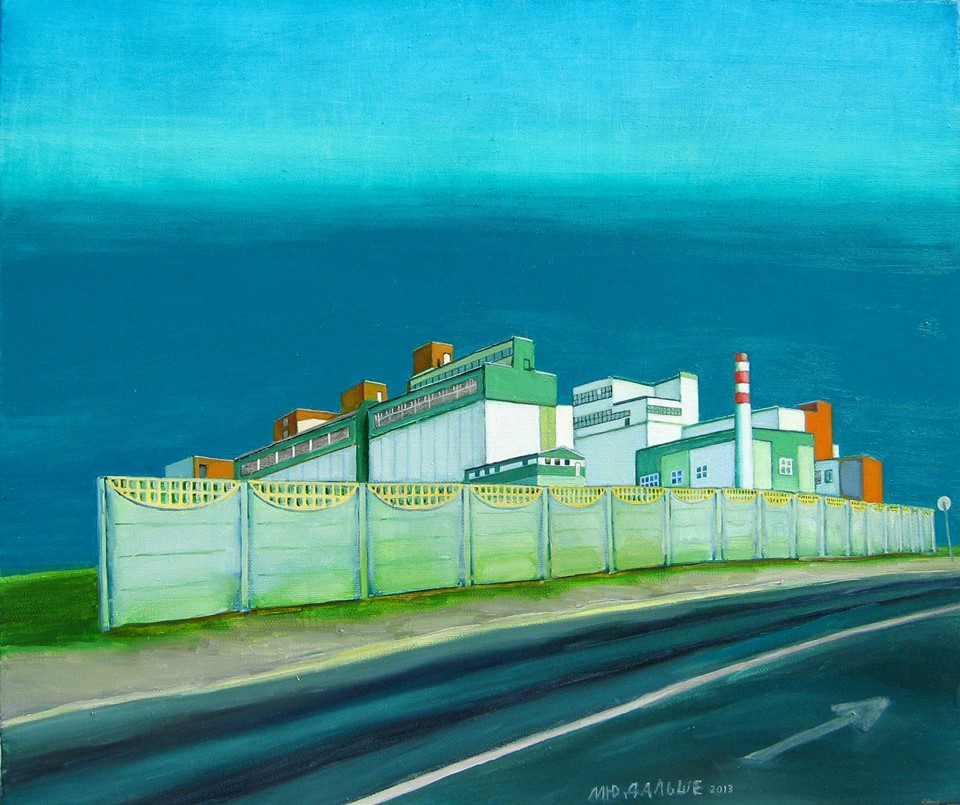 Please can you tell us a little about your background: where you grew up, your family background etc.
I knew I wanted to be an artist from a very young age – just 4 or 5 years old – when I was in kindergarten. Whilst all the other children rushed to finish and run outside to play…I took my time; I stayed behind my easel and would meticulously draw and draw until school finished.
I grew up in a big town near Moscow. My Parents were not artists – My Father was a Glass Maker. I pestered my Mum constantly to get me drawing lessons. She was very supportive and she would take me in the evenings to the next town to a class, despite her being tired after a full days work.
My parents didn't have much money so they could not employ a private tutor. My formal art education followed the classic Russian system and because my parents had little money I was very focused on doing well in order to get a free place at the best art school. I won a Scholarship to the 1905 Revolution Art College and my first diploma in 2001 was in the restoration of Russian Icons. I was very skilled so was lucky to be offered a full time job at a Russian Gallery restoring icons, however, I turned this down as I wanted to carry on my studies at the Surikov and become an artist in my own right.
Is there one particular person or place that has been particularly inspiring or motivational?
I met a man on a train just after I had turned down the restorer role. He told me I would never get a place at the Surikov as I had insufficient time to complete a successful application. I was determined to prove him wrong. I did! And now I know if I put my mind to something I will always achieve it.
Please tell us about your technique.
The clarity and lightness of colour is most important to me. I am aiming to achieve minimalism in my pictures. The factories are like monuments of history that have already left, which is why I paint them on a flat surface. The most important thing is the pure colour.
I think and prepare a long time before each painting but I produce the actual painting very quickly. I can paint all night; almost in a trance like state. Non-stop. I have found myself creating a lot more paintings over the last year, with less preparation time required.
I show my emotions through my paintings; My early paintings are very grey, but, now they are very colourful and pink as I feel in a much happier place.
It seems on the surface that the decaying factories are something negative but I see their souls – I paint their souls. To get the pureness of colour I paint in just one layer. In my most recent paintings the sky has become very significant. It must have depth and perspective but the vibrancy of colour is important to me.
I have lots of ideas and travelling now is very important in order to progress and grow my practice.

Where else in the world would you like to visit and/or exhibit?
This is my first proper exhibition outside of Russia. I have exhibited in Germany with the Russian German friendship Society, but, this was just six paintings.
So far I have only traveled in Europe, but, I fell in love with Berlin. I spent two months there visiting the Museums and I would love to return.
Outside of Europe I would love to visit Japan – Japan has some amazing contemporary art museums….and America; I have heard there is a very strong art life in New York.
I didn't understand England fully before I arrived here, but, I love the beauty of the landscape – hills, green fields, the broken coastline. This is very different to Russia! Moscow, where I live is very flat. I would love to stay on in England and paint. I have taken lots of photos of buildings and I saw Lowry at the Jerwood and found his work inspiring. I would love to travel further afield in England and maybe explore the Industrial landscape up north; Manchester and Liverpool.
How have you found the public response to your exhibition here at the Gallery?
I have been very pleased to listen to the visitor's response to my work. They look closely and they understand and connect with the emotional backstory. The British public seem to have empathy with my work I think – the narrative is not complicated.
Interview by Lesley Samms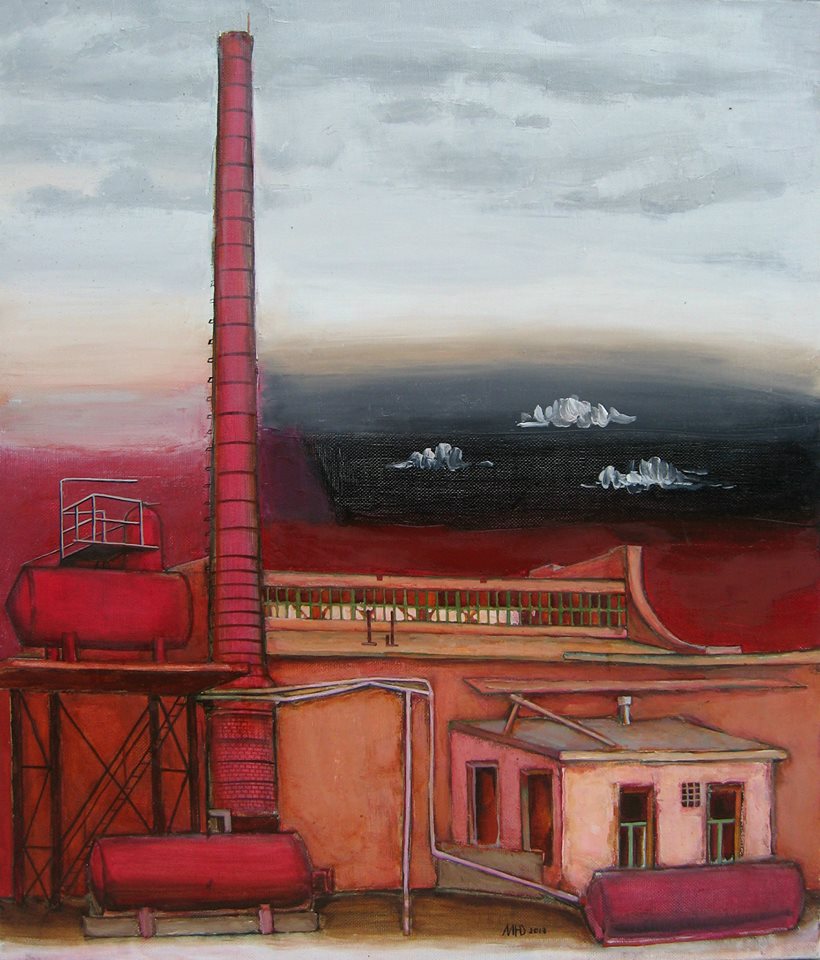 Categories
Tags