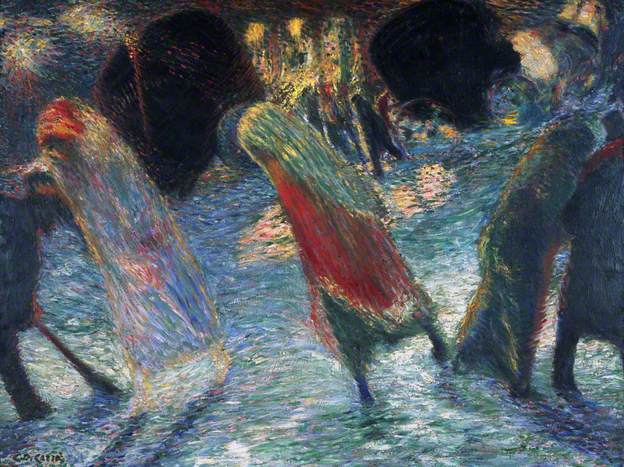 www.estorickcollection.com
The Estorick Collection of Modern Italian Art, London, is launching its first crowd funding appeal to restore a Futurist masterpiece from the Collectio,Carlo Carrà's Leaving the Theatre. The appeal which hopes to raise £3,000 has launched at www.nationalfundingscheme.org
Donors can give through a dedicated web page on the site (http://don8.to/ESTC001) or to give £5, should text: ESTC001 to 70970.
Carlo Carrà's Leaving the Theatre of 1910 is a key painting from the Estorick's internationally renowned permanent collection of some 120 works of significant modern Italian art. Since opening in 1998, the Estorick has established a reputation as a key venue for bringing Italian art to the British public through collection displays and temporary exhibitions in the six galleries of its Islington building.
Leaving the Theatre requires urgent restoration; inadequate tensioning on the stretcher is causing the canvas to sag and become distorted. Conservation will be carried out by Ezio Buzzegoli, a specialist in his field who has worked on the restoration of Michelangelo's Doni Tondo in Florence.
Leaving the Theatre was displayed in the famous 1912 Futurist exhibition at the Bernheim-Jeune Gallery, Paris, being purchased by the banker Max Rothschild when the show travelled to London's Sackville Gallery later that year. It passed into the Estorick Collection in late 1958. Over the years it has featured in many other landmark exhibitions, such as Futurismo & Futurismi (Venice: Palazzo Grassi, 1986), Italian Art in the 20th Century: Painting and Sculpture 1900-1988 (London: Royal Academy of Arts, 1989), Futurism (London: Tate Modern, 2009) and, most recently, Italian Futurism 1909-1944: Reconstructing the Universe (New York: Guggenheim).
Categories
Tags