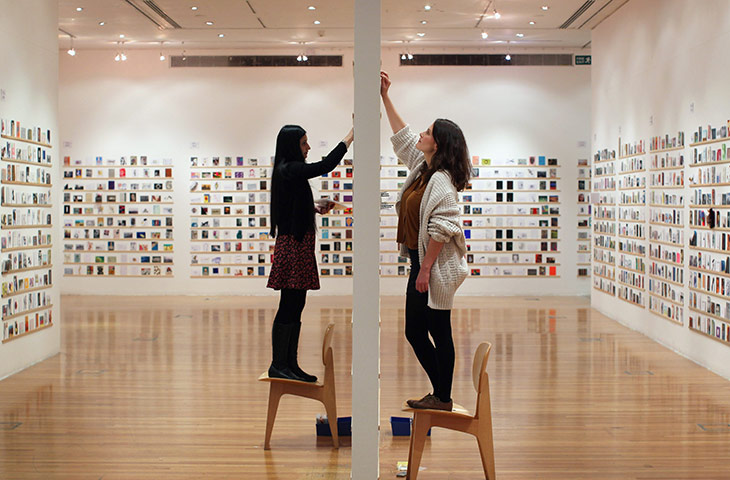 RCA Secret Dubai Location: A4 Space, Alserkal Avenue (www.alserkalavenue.ae) Exhibition open: 16th March – 21st March 2015 Free admission.
The Royal College of Art's renowned anonymous postcard exhibition goes global in 2015 with the launch of RCA Secret Dubai. The exhibition and fundraising sale will run from 16 to 21 March 2015 at A4 Space, Alserkal Avenue as part of Art Dubai's Art Week, coinciding with its London counterpart RCA Secret.
So what's the secret? All of the postcards are displayed anonymously so you have to guess which artist or designer has made the work before you decide to hand over your cash. Artists may choose to paint, draw, sketch, photograph or even produce a 3-d sculpture.
Over its 21 years RCA Secret has boasted a roll call of legendary artists and designers who have donated work including Grayson Perry, Paula Rego, Julian Opie, David Bailey, Jeremy Deller, Sir James Dyson, Sir Paul Smith, Christopher Bailey, Orla Kiely, musician Jarvis Cocker, film director Mike Leigh, Stone Roses guitarist John Squire, and architect Zaha Hadid.
"Education has long been a key pillar of our non-commercial programming and we are thrilled to be working with RCA Secret, raising funds to develop the College's International Scholarship Fund and RCA courses in Dubai,"
says Antonia Carver, Fair Director, Art Dubai
Up to 1000 bespoke artworks from some of the world's leading artists and designers along with rising RCA students and graduates will be available, during the weeklong exhibition, to buy for only 500 dirham each. The UAE and Middle East's thriving art scenes will also be represented, with contributions by local and regional artists and designers. Proceeds will go to the College's Scholarship Fund, helping talented students at formative stages in their careers, and also contribute to establishing and running RCA courses in Dubai, which will in turn nurture emerging local talent.
RCA Secret Dubai Location: A4 Space, Alserkal Avenue (www.alserkalavenue.ae) Exhibition open: 16th March – 21st March 2015 Free admission.
Art Dubai
Art Dubai is held under the Patronage of HH Sheikh Mohammed bin Rashid Al Maktoum, Vice-President and Prime Minister of the UAE, Ruler of Dubai. Art Dubai is held in partnership with The Abraaj Group and is sponsored by Emaar. Madinat Jumeirah is home to the event. Art Dubai Modern is sponsored by Mashreq Private Banking. The Dubai Culture and Arts Authority is a strategic partner of Art Dubai, and supports the fair's year-round education programme. The ninth edition of Art Dubai takes place March 18-21, 2015. Besides the gallery halls, comprising Contemporary, Modern and Marker, the fair's extensive not-for-profit programme includes artists' and curators' residencies; site-specific works and commissioned performances (Art Dubai Projects); an exhibition of works by winners of the annual The Abraaj Group Art Prize and the critically-acclaimed Global Art Forum.
The Royal College of Art is the world's most influential postgraduate university of art and design. Specialising in teaching and research, the RCA offers the degrees of MA, MPhil and PhD across the disciplines of fine art, applied art, design, communications and humanities. There are over 1,400 masters and doctoral students and more than 1,000 professionals interacting with them – including scholars, leading art and design practitioners, along with specialists, advisors and distinguished visitors.
www.rca.ac.uk
Categories
Tags