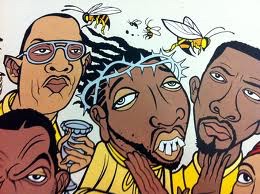 The Guardian are reporting that the Wu-Tang Clan might debut their new album at ABMB continuing on their use of Art World Marketing Techniques.
---
This article titled "Wu-Tang Clan's one-of-a-kind album may debut at Art Basel" was written by Sean Michaels, for theguardian.com on Thursday 27th November 2014 08.09 UTC
Wu-Tang Clan's one-of-a-kind rap album might be going up for sale at an forthcoming Art Basel event. RZA has hinted at a surprise announcement regarding Once Upon a Time in Shaolin, potentially due at December's art show in Miami Beach, Florida.
"I can't speak to nobody about this – I got an NDA [non-disclosure agreement]," RZA recently told Rolling Stone. But the Wu-Tang leader went on to speak about it anyhow: "[The album has] been handed over to an auction house, and they plan on doing something," he said. "Art Basel is coming up. They're planning on something. That's all I can say. But it exists. And it's some very interesting people involved with it."
Art Basel is an annual modern and contemporary art event that takes place at three locales: in Miami in December, Hong Kong in March, and Basel, Switzerland in June. Wu-Tang Clan celebrated their 20th anniversary with an event at the Miami show last year, where Raekwon and Ghostface performed alongside pieces by visual artists. No official Wu-Tang events have been announced as part of Basel's 2014-2015 schedule.
The Basel showcase would be the perfect stage for the group to introduce their rarest release. While the group has a sixth studio album, A Better Tomorrow, due out on 2 December, Once Upon a Time in Shaolin is a much less conventional project: recorded over five years, only one copy has been made. It is locked inside a hand-carved, nickel and silver box, with the notion that it could be sold as an art object. "This is like somebody having the scepter of an Egyptian king," RZA told Forbes in March.
Still, the group have been silent about plans for their "single-sale collector's item" since announcing its existence in the spring. In April, RZA claimed there was an offer of m (£3m) for it, but the hip-hop crew haven't announced details of any sale of the item or confirmed a previously proposed worldwide listening tour.
• Wu-Tang Clan producing one copy of new album
• Wu-Tang Clan: 10 of the best
guardian.co.uk © Guardian News & Media Limited 2010
Published via the Guardian News Feed plugin for WordPress.
Categories
Tags