Arwa Al Neami, Never Never Land (video still), 2014, Digital Video, 07:35
ARTISTS exhibiting: Abdullah Al Mutairi, Arwa Al Neami, Monira Al Qadiri,Foundland, Ahmed Mater.

29th NOV 2014 – 17th JAN 2015 EOA.PROJECTS GALLERY 40 ELCHO STREET LONDON SW11 4AU
PRIVATE VIEW FRI 28 NOV / 6.30 – 8.30PM www.eoaprojects.com
EOA.PROJECTS is presenting an awesome looking group exhibition opening this Friday.
The exhibition is curated by Amal Khalaf and Stephen Stapleton and will feature; short films, animations, posters, photographs and installations from some of the best contemporary artists working in the Middle East. Artists: Abdullah Al Mutairi, Arwa Al Neami, Monira Al Qadiri, Foundland, Hasan Hujairi, Ahmed Mater.
The exhibition takes a new and 'fun' perspective on the region and takes its title from a work by Arwa Al Neami, shot in a theme park in Abha Saudi Arabia which has a restrictive set of rules that forbids screaming and shouting on rides.
The works in the show subvert the tropes of official government communiqués such as nationalistic music videos, Ramadan advertisements, or religious public service murals. Here, preconceptions and stereotypes are parodied and challenged; and these mainstream euphemisms are subverted and re- appropriated with both an irreverence and thoughtfulness.
Never Never Land reflects on a history of satire in the Gulf and this moment of digital connectivity, where it has never been so fast and easy to broadcast a joke (or a critique).
An image, video or artwork can sum up the follies of an era with a lightning-quick precision unavailable to even the most talented writers or charismatic speaker.
ARTISTS


Abdullah Al Mutairi, _ic_KWT-YTH.flv [HD], 2013, Digital Video, 04:06
Abdullah Al Mutairi is an artist and founding member of the GCC, he lives between Kuwait and the United States. He has exhibited at Art Dubai, UAE; Mathaf, Qatar; The Serpentine Gallery, UK; and contributed to Hans-Ulrich Obrist and Simon Castets ongoing digital natives project 89plus. The GCC collective work has been exhibited at MoMA PS1, Fridericianum, New Museum and the Sultan Gallery, among other institutions.
Arwa Al Neami was born in Khamis Mushait, Asir province of Saudi Arabia and raised in King Khalid military airbase. Al Neamis work is greatly influenced by her conservative
upbringing. In 2005, she received a distinction in a regional art competition under the patronage of HRH Prince Khalid Al Faisal and since then has been part of multiple group shows in Al Miftaha village. She has also taken part in exhibition at venues including Athr Gallery, Al-Furussia Marina and Art Dubai 2014.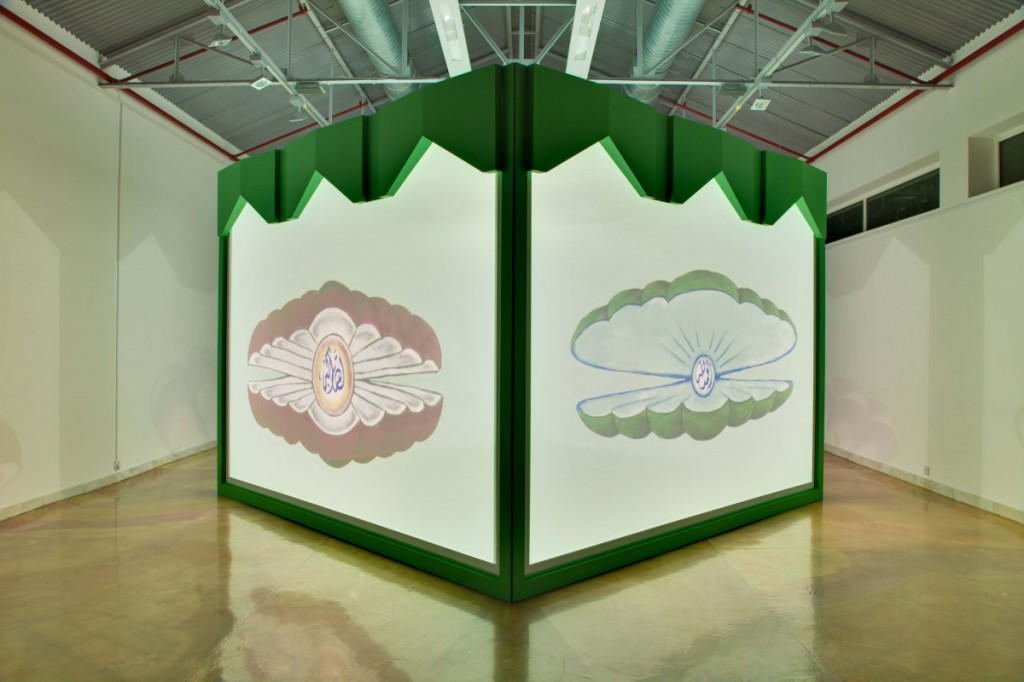 Monira Al Qadiri, Muhawwil (Transformer), 2014, 4-channel video installation with wooden structure and screens, 350 x 350 x 260 cm
Monira Al Qadiri is a Kuwaiti artist born in Senegal and educated in Japan. In 2010, she received a Ph.D. in inter- media art from Tokyo University of the Arts. Her research is focused on the aesthetics of sadness in the Middle-East, and her works explore the dysfunctional gender roles in Arab societies, as well as the displacement of cultural and religious identities. She is also a member of the artist collective GCC.
Foundland Collective (Ghalia Elsrakbi and Lauren Alexander) is a design, research and art practice, based between Cairo, Egypt and Amsterdam, the Netherlands. The collective's work draws on graphic design, art, writing and research in order to formulate small and large scale projects, self-initiated and commissioned. Foundland has presented at exhibitions and festivals including Kadist Foundation, Paris (2012), Impakt Festival, Utrecht (2011, 2012), BAK, Utrecht (2012), Damascus Visual Arts Festival, Istanbul (2013). Masterclasses and lecture presentations at Studium Generale ArtEZ, Arnhem, de Appel for Sandberg Institute, Royal Academy of Arts, The Hague, Rietveld Academie, Amsterdam and Athens Biennial. Essays and visuals contributed to international journals such as Open Magazine (The Netherlands), Krisis Magazine (Italy), Esse Magazine (Canada) and Ibraaz, Middle East online journal. Artist residencies at the Townhouse Gallery, Cairo(2013) and ISCP, New York(2014).
Hasan Hujairi is a composer, sound artist, and independent researcher who divides his time between his native Bahrain and Seoul, South Korea. His sound art performances and installations build on his academic interest in Historiography and Ethnomusicology. Hujairis academic background includes a BSBA in Finance from Drake Univeristy (Iowa, USA), a Masters in Economic History from Hitotsubashi University (Tokyo, Japan), and Ethnomusicology research at the University of Exeter (Exeter, UK). He has been a curator at Al-Riwaq Art Space (Adliya, Bahrain) and has been involved in other independent art initiatives in Bahrain. Hujairi is currently pursuing his doctorate studies in Korean Traditional Music Composition at Seoul National University's College of Music. He is also an accomplished oud player.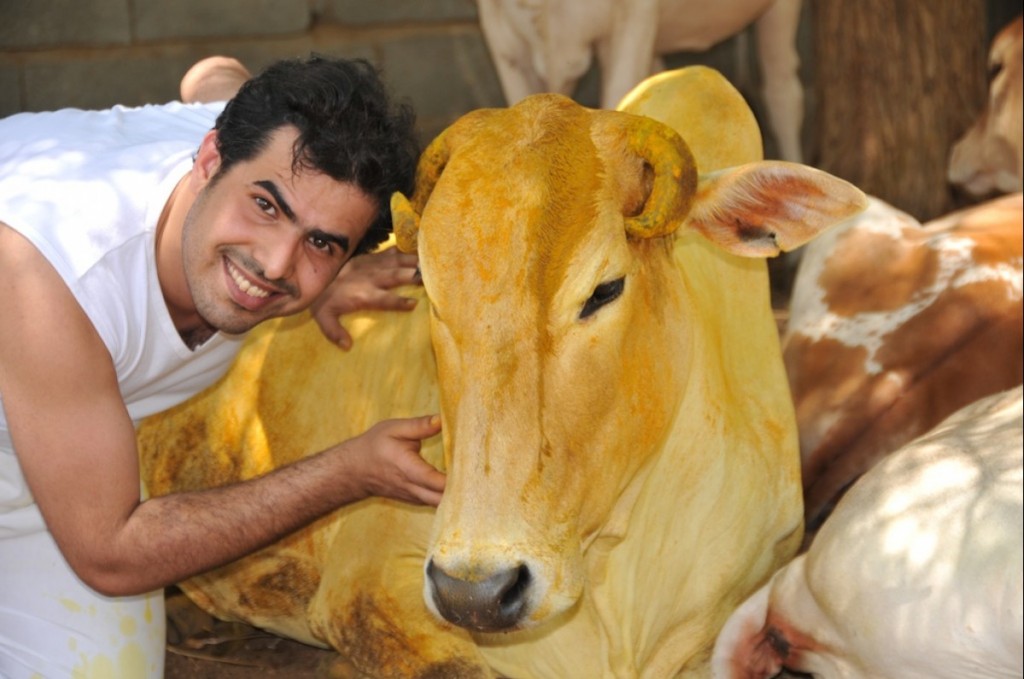 Ahmed Mater, Yellow Cow Performance, Pigment Print, 140 x 210 cm
Ahmed Mater born 1979, Tabouk, grew up in Abha, the capital of the mountainous Aseer region in the remote South West of Saudi Arabia. While studying medicine in Abha, he became a founding member of the influential of Al Miftaha Arts Village, and remains rooted to his Aseeri identity. In 2006, he co- founded Edge of Arabia and recently established Ibn Aseer (son of Aseer), a collective for young local artists. Maters work has been widely shown in the Middle East and in Europe and in the collection of the British Museum and Los Angeles County Museum of Art. His work, which encompasses photography, calligraphy, painting, installation and video, explores the narratives and aesthetics of Islamic culture in an era of globalisation, consumerism and dramatic flux. Booth-Clibborn Editions internationally published a monograph on Ahmed Mater's life and work in 2010.

Abdullah Al Mutairi, AD – 4 !!!???? ????, 2012, Digital Video (Still I), 00:33
About Mark Westall