PLEASE NOTE: Add your own commentary here above the horizontal line, but do not make any changes below the line. (Of course, you should also delete this text before you publish this post.)
---
This article titled "Georgia O'Keeffe flower painting sells for record-breaking .4m" was written by Mark Brown, arts correspondent, for The Guardian on Thursday 20th November 2014 20.05 UTC
A painting of a white blossom of a weed, which once hung in George W Bush's dining room, has set a world record for a work of art by a woman after a bidder paid .4m (£28m) for the Georgia O'Keeffe piece.
The 1932 painting Jimson Weed/White Flower No 1 fetched more than three times the auction estimate of m-m when it was sold at Sotheby's in New York on Thursday.
It thrashed the previous highest price paid for an O'Keeffe work – .2m at Christie's in New York in 2001 – and was more than double the record for a female artist, set in May when Joan Mitchell's Untitled sold for .9m at Christie's.
O'Keeffe's painting was sold by the museum created in her name in Santa Fe, New Mexico, to benefit its acquisitions fund.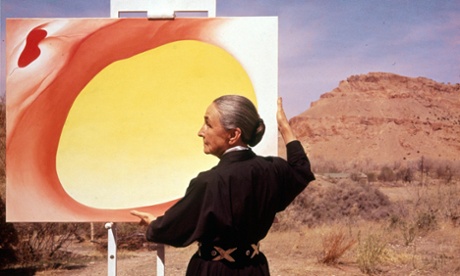 It belonged for years to O'Keeffe's younger sister, Anita O'Keeffe Young. For six years of Bush Jr's tenure, it hung in the president's private dining room at the White House.
The painting's buyer is unknown, but the auction opened with seven bidders before settling into a prolonged two-way battle, with the winning bid made on the phone through Lisa Dennison, a Sotheby's chair.
O'Keeffe is most associated with flowers – she believed passionately we could see the beauty of the world in them and Jimson Weed is particularly alluring.
The 17-year-old museum decided to sell three paintings from its collection of 1,149 works by the artist. Before the sale, its director, Robert A Kret, told the New York Times: "The museum holds half the artist's output throughout her life. But still there are gaps that need to be filled."
Jimson Weed has been to market twice before, achieving nowhere near the new record price – it sold for 0,000 in 1987 and m in 1994.
guardian.co.uk © Guardian News & Media Limited 2010
Published via the Guardian News Feed plugin for WordPress.
Categories
Tags