WEEK: 17th – 20th November
There are loads of art events such as private views, artists talks, and screenings happening around London. To help you with the choice Jenny Judova from Art Map London will be advising on what events seem worth attending during the week.
WEDNESDAY 19 NOVEMBER
Panel discussion 'Politics of Exhibiting' @ Mosaic Rooms at 7pm
Join The Mosaic Rooms and Leighton House Museum for a special panel discussion on the politics of exhibiting. Comprising the panel are Henrietta Lidchi, Dr Nirmal Puwar, and Catherine Hahn.
A selection of the works in our current exhibition, The Future Rewound & The Cabinet Of Souls, aim to raise questions about the continuing influence of past social forces on methods of representation today, from colonial spectacles to present day museum archives.
artmaplondon.com
12 Holland Park Rd, London, W14 8LZ
Private view Spotlight 2014: Andrew Burton @ Andipa Gallery at 6:30pm
Burton's sculptures and installations are often based on architectural or simple functional forms seen in a landscape. Their realisation involves working through a series of temporary structures. These works are often made from materials that degrade over time – such as plants or from tiny bricks (which Burton makes himself). These are stuck together with paint and cement. After a work has been completed and exhibited it is broken up, where possible the component parts salvaged to form the building blocks for the next work. Over time, and with their continual re-use these building blocks have become accreted with the paint and cement that glued the earlier sculptures together. Their encrusted, palimpsest-like surfaces convey a sense of the way many memories and histories can overlay one another in apparently simple structures. Burton's work therefore seeks to explore notions of the permanent versus the fugitive, ways that we understand the world through our perception of scale and form and through an exploration of materials and processes.
artmaplondon.com
162 Walton Street, London, SW3 2JL, UK
THURSDAY 20 NOVEMBER
In Conversation: Simon Norfolk and Julian Stallabrass @ Barbican at 7pm
Critically acclaimed British photographer Simon Norfolk, renowned for his documentation of the 'military sublime' from Afghanistan to Iraq, discusses the impact of war on the built world with writer and curator Julian Stallabrass. artmaplondon.com
Barbican, Silk Street, London, EC2Y 8DS
Private view Abstract Geometry @ Rook & Raven at 6pm
This November, Rook & Raven are proud to present Abstract Geometry, an exhibition inspired by the development of the Fibonacci sequence in visual culture. Informing each featured artist's work, the sequence appears in various manifestations, constant throughout, in a manner paradigmatic of Leonardo Fibonacci's theorem, published in his 1202 landmark text, Liber Abaci. The text recounts the correlation between geometry and nature, leading to a shift in artistic practice, still evident today, in its similar link to the Golden Section, historically used by many artists as a visual tool. Line is 'the sole element of construction and creations… Line is trajectory, movement, collision. Attachment, slicing apart, joining.' Line is 'first and last in both painting and in any construction whatsoever.' (A. Rodchenko, 'The Line' (1921), translated in Art Into Life: Russian Constructivism 1914-1932, Seattle 1990, pp.72-3.)
http://artmaplondon.com/artmap/events/private-view-abstract-geometry/
Rook & Raven, 7 Rathbone Place, London, W1T 1HN
Private view Saul Fletcher @ Alison Jacques at 6pm
Saul Fletcher began his practice by taking photographs of sculptural assemblages on his London studio wall. Layered thick with peeling paint the history of the wall became part of the installations, created by the artist in situ. In this series Fletcher extends this practice to his studio in Berlin. Set against a comparatively stark background, small drips, smudges and splatters are still apparent on the wall?s surface, situating the arrangements in space with only slight suggestions of what lies beyond.
16-18 BERNERS STREET, LONDON W1T 3LN www.alisonjacquesgallery.com
Private view William Bradley & Mark Selby "Work Hard, Play Hard" @ Berloni at 6pm
BERLONI is proud to present a dual exhibition between painter William Bradley and Sculptor Mark Selby. The project is cross disciplinary in nature, linking the painting of Bradley and sculpture of Selby – though, beyond their differing choice of discipline, there is a mutual interest in the legacies of Modernism, the use of parody as a form of critique or investigation and an interest in 'material' craft. Central to the exhibition is an active sculpture; a machine which throughout the duration will change and reform Bradley's paintings on aluminum. Through water and thinner, melting and scraping, Bradley's oil to metal gestures will be broken down day by day through Selby's automotive construction.
artmaplondon.com
Berloni, 63 Margaret Street, London, W1W 8SW
Private view Laura Pawela 'Fake Films and a Few Frames More'@ IMT at 6pm
Fake Films and a Few Frames More is an exhibition by the artist Laura Pawela of major video works never before seen in the UK. The exhibition will include important early works from Untitled/Friedrich (2008) and Sugar (2009); through to more recent works such as a new single-screen version of her powerful video installation Songs of Insatiability (2011); and Past Present Continuous (2010), a meditation on future of ruins of half-built follies in European cities exhibited as part of her solo exhibition at Propaganda Gallery, Warsaw.
artmaplondon.com
IMT Gallery, Unit 2/210 Cambridge Heath Road, London E2 9NQ UK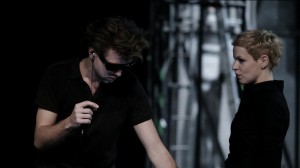 Categories
Tags