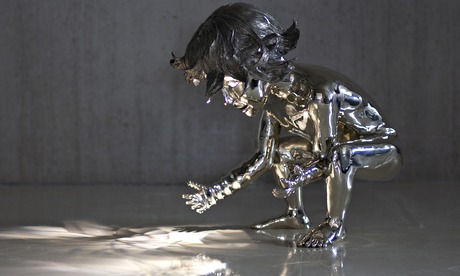 Little Hans Nightlight by Eoin Mc Hugh
---
This article titled "Michael Williams, Eoin McHugh, Christopher Orr: this week's new exhibitions" was written by Robert Clark & Skye Sherwin, for The Guardian on Saturday 15th November 2014 06.00 UTC
Christopher Orr, Edinburgh
Christopher Orr's first solo show in Scotland – aptly titled The Beguiled Eye – reveals a painter capable of composing enigmatic scenarios. His protagonists, often depicted facing away from us as transfixed onlookers, draw our attention into the hazy depths of the picture space where Orr's mysteries lurk. Perhaps surprisingly, his technical prowess recalls the more gothic of 19th-century Romantics, such as the German painter of the moonlit sublime Caspar David Friedrich. Shadows abound and the otherworldly atmosphere is illuminated only by a dim crepuscular gleaming, yet Orr's pictures gain historical authority precisely thanks to this convincingly retro appearance.
Talbot Rice Gallery, Sat to 14 Feb
RC
Dexter Dalwood, London
Four years ago, Dexter Dalwood's subjective approach to history painting earned him a Turner prize nomination. In his first show in London since then, he's focused on his hometown's haunts. Heaven is a nod to Soho's legendary night spot and mixes the jazzy patterns beloved by po-mo design mavericks The Memphis Group with Ross Bleckner's night skies. Often, though, Dalwood's coded references are deliberately inscrutable. In Camden Town the area's onetime residents – poets Rimbaud and Verlaine – are channelled through twin vases, leaving us to wonder how much history a painting can hold.
Simon Lee Gallery, W1, Tue to 24 Jan
SS
Mike Nelson, Glasgow
Mike Nelson has an eye for telling details; for possessions that bear their owner's mark. His labyrinthine spaces may initially look deserted, but they are haunted by prevailing if slightly obscure presences. The spirits Nelson tends to focus on are those of outsiders, loners and even members of apocalyptic cults. Here, in Eighty Circles Through Canada, the artist turns his attention to the memory of his friend, the mountaineer Erlend Williamson, who died in a climbing accident in the Scottish Highlands. An assortment of Williamson's leftover belongings are stacked on wooden shelving, including old ropes and hiking boots, books and rock collections. An accompanying slide show records Nelson's treks through the wilds of British Columbia with images of abandoned stone-circle fire pits. The suggestion is of a reclusive adventurer on a tireless search for the elusive wonders of the back of beyond.
Tramway, Sat to 11 Jan
RC
Ludovica Gioscia, London
Wallpaper is a tidy metaphor for consumer culture, its patterns reflecting the constant deluge of tempting images and the repetitive grind of mass production. The Italian artist Ludovica Gioscia pushes this idea to baroque excess in her installations, where her own hand-printed designs and commercial wallpaper are pasted on top of one another then ripped back to reveal layers of eye candy. In earlier works, designer watch faces jangled against buzzy stripes and dots. Exploring our ever-more compulsive relationship with consumption via technology, her new installation, Neurotic Seduction Astral Production, uses imagery sourced online.
John Jones Project Space, N4, Fri to 20 Dec
SS
Josephine Pryde, Bristol
Josephine Pryde's latest photos capture elegant female hands, their nails carefully painted in hip shades such as pale blue, vivid yellow and grey. Glossy and carefully composed, they wouldn't look out of place in the pages of a luxury fashion tome. In one shot a hand grips a glowing touch-sensitive lamp, in another a long finger skims the face of an iPhone. By using the hoary old advertising cliche of the hand model, she evokes the shifting connection between human touch – the degree zero of work and personal relationships before the information revolution – and abstract technology.
Arnolfini, Fri to 22 Feb
RC
One Side To The Other, Salford
The Lowry has invited the choreographer and dancer Akram Khan to curate an exhibition of contemporary art on a theme of complementary opposites: light and dark, fact and fiction, life and death – in fact, just about everything there is out there. Khan himself describes his selection as "an Alice in Wonderland landscape of extremes, and whatever may be in-between". So we get Serena Smith's spooky prints of snowbound landscapes set against the contorted exoticism of Darvish Fakhr's figure paintings. More familiar (perhaps all too popularly commonplace) are works by past Khan collaborators Anish Kapoor and Antony Gormley. Gormley contributes the precarious formality of a rusted trademark male cantilevered from the gallery wall, whereas Kapoor presents the macabre resonance of a steel and wax black and red blob. Fittingly for a dancer's tastes, the overall atmosphere is of scenes set for some kind of momentous action.
The Lowry, Sat to 1 Feb
RC
Michael Williams, London
The canvasses of New York-based painter Michael Williams are controlled riots of trippy colours, loopy patterns and cartoonish figures. They veer from loose sketches apparently daubed with the carefree hand of a daydreaming doodler to more elaborate creations reminiscent of Oz magazine's hairy characters. All of the paintings' imagery has been created on a computer and then printed on to canvas. Some are then worked over with spray paint but it's hard to tell the difference. It's an intriguing next step, which, as the artist has commented, reflects a moment when most of the art we see is in Jpeg form.
Michael Werner Gallery, W1, Thu to 31 Jan
SS
Eoin McHugh, Dublin
Eoin Mc Hugh's paintings and assemblage sculptures depict psychological complexes that are as constantly unnerving as they are very often enchanting. A collection of elaborately patterned Persian carpets have been meticulously dissected and collaged to form a hallucinatory vista. Nearby there's a more homely oil painting of a woman curled into a foetal pose. Elsewhere, there's a sculpture of a squatting child confronted by some kind of headless hybrid. The artist cites the narrative complications of Freudian psychoanalysis and the modernist poetry of Wallace Stevens as formative influences. Perhaps that woman is the mother of the monstrously threatened child? Make of it what you will.
Kerlin Gallery, to 10 Jan
RC
guardian.co.uk © Guardian News & Media Limited 2010
Published via the Guardian News Feed plugin for WordPress.
Categories
Tags