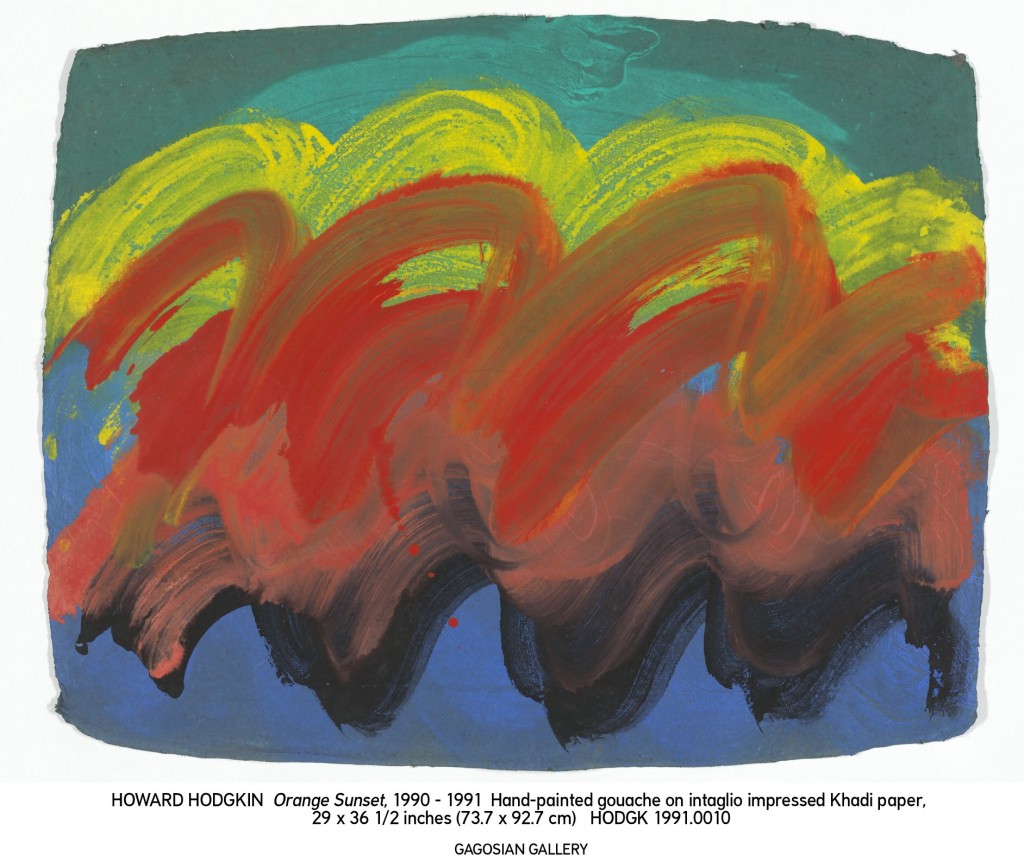 Indian Waves, an exhibition of an important series gouaches by Howard Hodgkin, which were recently rediscovered after more than 20 years, will be shown in public for the first time at Gagosian in Davies Street opening on 28th November 2014.
The exhibition presents thirty hand-painted gouaches inspired by India, which were completed by Hodgkin in 1990/1991, and which have only recently been rediscovered at a print workshop in Wiltshire.
Hodgkin made the first of many trips to India in 1964 and a steady stream of paintings – from Coming Up From the Beach (1970-72) to The Sea, Goa (2013) –and works on paper — Indian Views (1971) and Indian Leaves (1982) — has ensued from the kaleidoscope of experiences it has offered him over time: personal encounters and visits to specific places; the seasons and times of day; and the more ineffable qualities of mood and emotion provoked by difference.
For the first stage of Indian Waves, Hodgkin employed the carbonundrum printing technique for the added physicality that it imparts to the surface of the paper ground, in readiness for the next stage of handpainting. Indian Waves is the only collection of pictures for which he also used handmade Indian Khadi paper that affords further expressive potential with its distinctive and random textures.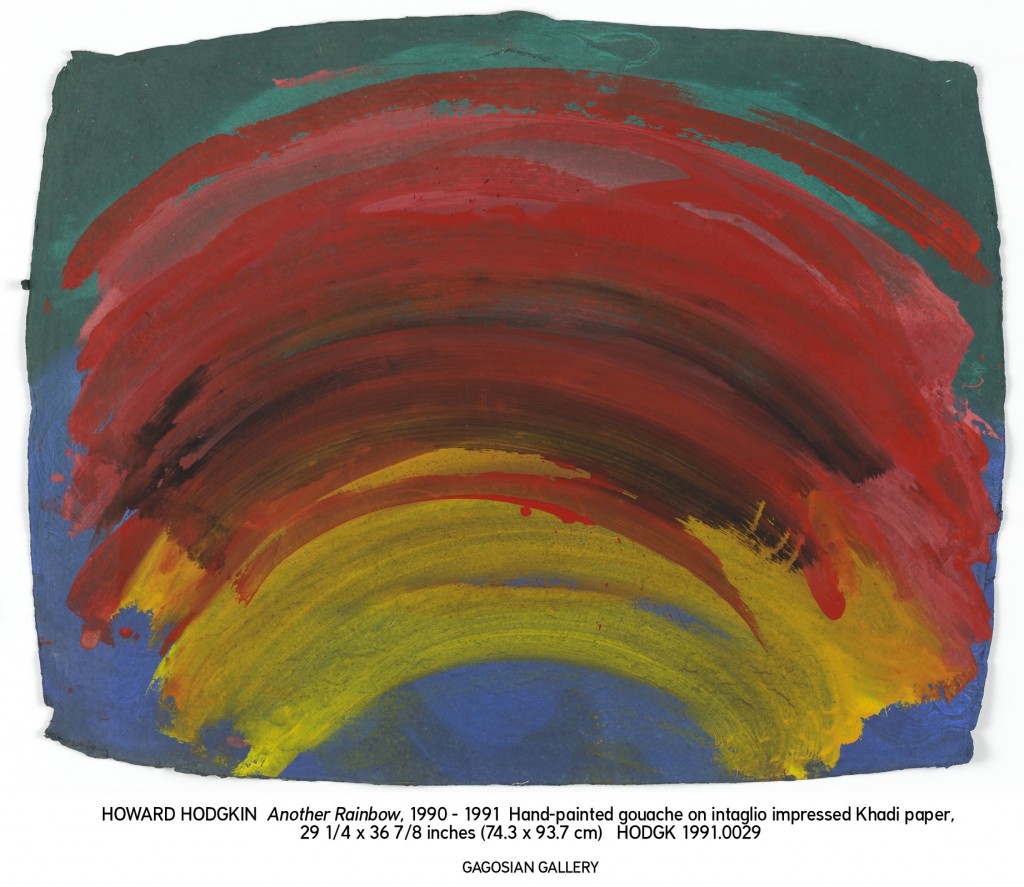 Beginning with the same foundation — a voluptuous blue wavy line that fills the lower half of each sheet with an arc of green above– Hodgkin worked concentratedly, painting over each one in successive bursts of intense focus using a vibrant palette of cadmium red and yellow, rose, orange, black, white, and Veronese green. Each of the resulting works has its own simple descriptive title linked to sensation, place or event– Mumbai Wedding, Border, Chowpattie Beach, Natural Phenomenon, Goanese, Party, Night Falls and so on– but together they form the opus Indian Waves, an sweeping tide of colour and gesture whose ebbs and flows are both optimistic and ominous.
About The Artist
Howard Hodgkin was born in London in 1932. He attended Camberwell School of Art and the Bath Academy of Art, Corsham. His first retrospective was curated by Nicholas Serota at the Museum of Modern Art, Oxford in 1976. Since then major museum exhibitions include "Paintings 1975-1995," Metropolitan Museum of Art, New York (1995, traveled to Modern Art Museum of Fort Worth; Kunstverein Düsseldorf; and Hayward Gallery, London); Irish Museum of Modern Art, Dublin (2006, traveled to Tate Britain, London; and Museo Nacional Centro de Arte Reina Sofía, Madrid); "Paintings: 1992–2007," Yale Center for British Art, New Haven (2007, traveled to Fitzwilliam Museum, Cambridge); "Time and Place, 2001–2010," Museum of Modern Art Oxford (2010, traveled to De Pont Museum of Contemporary Art, Tilburg, The Netherlands, and San Diego Museum of Art) and "Howard Hodgkin," Fondation Bemberg, Toulouse, France (2013).
Howard Hodgkin was knighted in 1992, awarded the Shakespeare Prize in Hamburg in 1997, and made a Companion of Honor in 2003. The artist lives and works in London, Normandy and Mumbai.
Categories
Tags