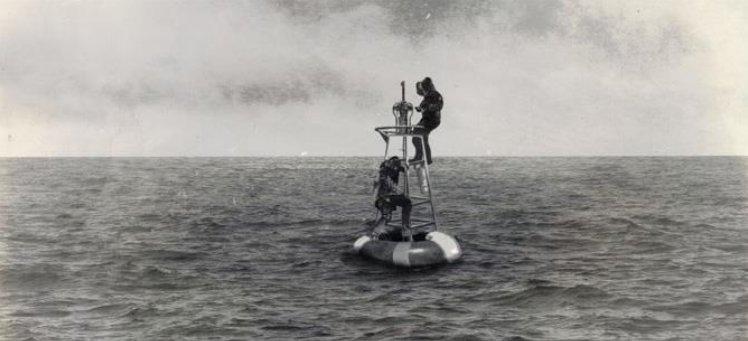 Anaïs Tondeur – Lost in Fathoms is at GV Art gallery, London until 29th November 2014
www.gvart.co.uk
How can something on the scale of the Anthropocene begin to be thought? This is one of the many questions that informs Lost in Fathoms, Anaïs Tondeur's debut UK solo show, currently taking place at GV Art, London. First employed in its current sense in the 1980s, the Anthropocene is a term gaining increasing currency as a way of describing our current geological epoch. It signifies the colossal effects of human activities – so great that they may be felt in the very geology and climate of the earth. It names the vast influence of man, and yet this very vastness demonstrates the extent to which, arguably, our actions have outpaced our understanding.
Lost in Fathoms from GV Art on Vimeo.
Tondeur's hypothesis is that the tiny island of Nuuk (whose disappearance coincided with endorsement of the idea of an Anthropocene by the 34th International Geological Congress) might provide an entry point to help us understand some of the climactic changes that the world is now undergoing – from the temperature of the seas to the seismic shifting of tectonic plates.
But Tondeur – the artist – is not the only one. Scientists too are seeking understanding by subjecting these huge-scale phenomena to various processes of measuring, mapping, modelling etc. Such techniques are in evidence in the exhibition itself, which contains an array of scientific paraphernalia that helps to pin down aspects of the strange stories of the island's discovery and disappearance. The visitor is presented with a sub-aquatic wave model, the crumpling sounds of rock subjected to 1000 atmospheres of pressure, simulated earthquakes, video footage of landslide modelling, and a climate-controlled wax model of shifting geological fissures. Each has been produced by Tondeur in collaboration with scientists and institutions around the world.
It is the artist's distinctive visual evocations, however, that bring coherence to the exhibition's dizzying depth. Several dozen "shadowgrams" provide a narrative thread that ties together the diverse issues at stake here. The technique combines digital and analogue processes of photography, drawing and collage with beguiling, never-quite-trustworthy results.
This is not a display of individual works, however; but a completely realised concept, beautifully occupying the gallery space. Rarely has this kind of exhibition been so carefully thought through and presented with such verve. Every room contains a new surprise – from underlit vials of deep-sea water samples to a mock-up of the artist's own studio / research centre (almost an exhibition in its own right). The more time you spend here, the more you begin to understand, or think you do, at least for a moment.
Tom Jeffreys is a writer, curator and editor of The Learned Pig www.thelearnedpig.org
Categories
Tags