25th October – 7th January 2015 Jerwood Gallery Rock-a-Nore Road Hastings East Sussex TN34 3DW www.jerwoodgallery.org
October is Art Fair season in London; opening with the art world behemoth that is Frieze and all its accompany parts in early October and closing with the family friendly all comers welcome Affordable Art Fair, now on in Battersea Park.
But down on the South Coast we like to cut our own furrow and October is all about festivals and fireworks.
On the exhibition front, here's a taster of what we can offer those brave and hardy souls that make the journey "down from London"
Jake & Dinos Chapman – In the Realm of the unmentionable opens to the public tomorrow Saturday 25th Oct and runs until 7th Jan 2015 Jerwood Gallery, Rock-a-nore, Hastings East Sussex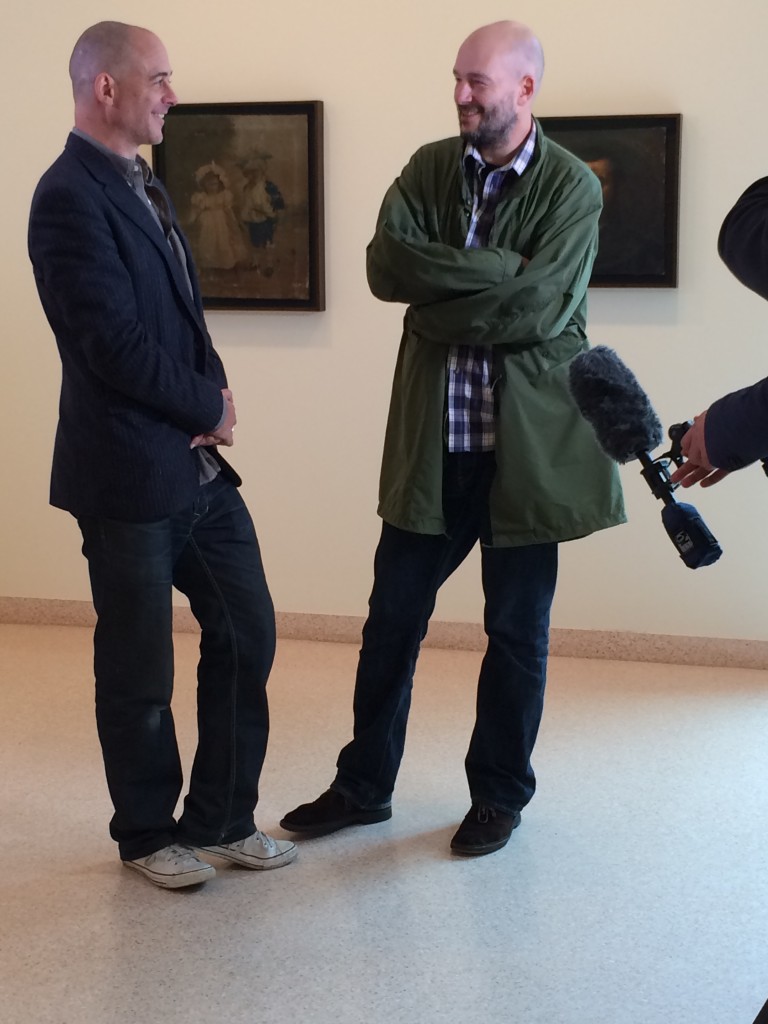 Taking over the entire ground floor of the gallery for the Autumn/Winter season is a major exhibition by local lads turned art world rock gods Jake and Dinos Chapman – although, having heard them interviewed this morning, I suspect they would be highly amused by this description, likening themselves more to the bad boys smoking behind the bike sheds – Their humility and the playful interaction between the brothers is endearing however you are left in absolutely no doubt they take their work very seriously and are in complete control of their artistic output – every aspect has been carefully considered, even down to how people might conceive it in the distant future.
Jake & Dinos' work is particularly concerned with consumer culture, mortality, religion and horror and the fundamental question's which surround what it is to be human and in this outing they continue to be both provocative and confrontational, assaulting the senses and challenging our view of the aesthetic.
The exhibition brings together some two hundred works in total, including iconic pieces from the last decade including the epic Sum of Evil installation, which forms the centre piece in the main gallery space, having been specially reworked for this exhibition; past works that have not previously been on public display, and new works created specifically for this exhibition, including the exquisitely sinister and grotesque bronze sculpture Sturm und Drang which has been placed in the gallery's inner courtyard, open to all the elements this sea front location might throw at it over the coming months.
I personally found the exhibition well curated and compelling – a real page turner – encompassing a vast array of art forms and media including sculpture, installation, doctored portraits, mannequins and sound.
It is in equal measure both approachable and a complete assault on the senses. You will find yourself leaving the main gallery space visually exhausted, only to return a few minutes later hungry for another look!
I will definitely go back several times between now and January.
Words Lesley Samms
About the Jerwood Gallery:
Less than 90 minutes by train from London, the award-winning Jerwood Gallery is situated next to the fishing beach in Hastings' historic Old Town. Part of the South East Coast Art Map and cultural trail linking Hastings, Bexhill and Eastbourne, the gallery is home to the Jerwood Collection of 20th and 21st century art and an exhibition programme showcasing the best of modern and contemporary British art.
"The gallery nestles on the shingle beach between the tall timber net shops and breeze-block winch sheds, continuing the loose grain of courtyards and alleyways with its own cluster of boxes. Clad in a skin of dark pewter-glazed tiles that shimmer with an oily iridescence, the gallery contains a sequence of rooms of a low-key domestic scale, carefully tuned to the nature of the collection."
– Oliver Wainright, The Guardian
Categories
Tags