There are loads of art events such as private views, artists talks, and screenings happening around London, to help you with the choice Jenny Judova from Art Map London will be advising on what events seem worth attending during the week.
TUESDAY 21 OCTOBER
Private view 'A London Eye: Three Artists Look' @ Leyden Gallery 6:30-9pm
In our long-awaited London show we have invited three contemporary artists to offer their impression of London, its streets, sights, people, and ever- changing landscape. Looking at the city as a mutable and vibrant space their look is an attempt to trace its marked affects. We hope you are able to join us in this landmark exhibition that brings the work of three exceptional London artists into dialogue.
Leyden Gallery, 9/9a Leyden Street, London, E1 7LE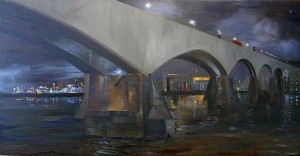 Artists' Talk by Carolina Khouri and Robert Meldrum @ The Griffin Gallery at 1pm
ARTISTS: Eli Acheson-Elmassry, Kimbal Quist Bumstead, Siro Carraro, Dagmar Dost-Nolden, Carolina Khouri, Robert Meldrum, Jean-Pierre Roffi, Dylan Shields, Tess Rachel Williams, Annie Zamero
The Magma Group of artists, at the invitation of the Griffin Gallery in West London, will be exhibiting for a month on the theme 'The Instability of Being'. The private view will be on Thursday 30th October from 6.30-8.30 pm with live music from the Eastern European band 'Balabustah'
http://artmaplondon.com/artmap/events/carolina-khouri-and-robert-meldrum/
The Griffin Gallery, The Studio Building, 21 Evesham Street, London W11 4AJ
WEDNESDAY 22 OCTOBER
Private view Spotlight 2014: Kate McLeod @ Andipa Gallery at 6:30pm
McLeod's practice is underpinned by the concept 'becoming other'. The work is visceral; an expressive pursuit concerned with materiality within a figurative sculptural practice. She uses archetypal materials such as clay to work into figures, which are supported by off-cuts and junk. Her technique begins with a 'prop', either architectural or found object, against which clay is thrown. Throwing is instinctive; McLeod is bypassing the brain and engaging the animal self (or other). The resultant clay forms are then observed and interpreted until a figure emerges. A model is then filmed shifting and moving in the pose, from which stills are taken to determine the final posture. These images are used to model the clay into a rough figure. 'Bracing' supports the growth of the work, as an external armature. The dialogue between the figure, the bracing and the props is fundamental.
Andipa Gallery 162 Walton Street, London, SW3 2JL, UK
TEXT2SPEECH: Contemporary Art (Theory) @ ICA at 6pm
Free, booking required
Join the ICA Student Forum in a series of free reading groups that respond to the ICA's programme of exhibitions and events.
The group is targeted at the widest possible public, but will be most attractive to students and recent graduates who seek an incentive to read and discuss the most recent contemporary art theory with others. It provides a platform for the discussion of texts that have not necessarily reached university syllabuses yet and also provides an opportunity to network with others.
ICA The Mall, London SW1Y 5AH
THURSDAY 23 OCTOBER
Workshop 'Why Edit? @ Flat Time House at 6:30-9pm
Approaches to editing in independent art publishing.
Flat Time House, 210 Bellenden Road, London SE15 4BW artmaplondon.com
Private view Marcus Jansen 'Whistleblower' @ Lazarides at 6-9pm
Lazarides is thrilled to present Whistleblower, the latest showcase of dynamic paintings and mixed-media landscape installations by New York born artist Marcus Jansen.
Over the last decade Jansen's subject matter continues to question a puzzling, fast moving world transformed through rich gestural paintings. The artist leads his audience on a journey across multiple views of abstract narrative scenes, combining action painting with objective subject matter while playing with space, light and perspective. The new series of complex constructions comment largely on socio-political issues of today, suggesting depth and movement within a flat plane using dramatic contrasts of colour, form, and texture.
Lazarides, 11 Rathbone Place, London, W1T 1HR www.lazinc.com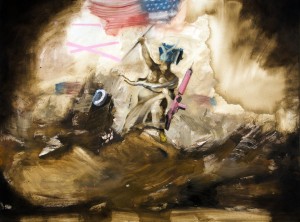 Private view SCHIZOPHRENIA TAIWAN 2.0 @ Ambika P3 at 6:30pm
SideBySide Studio e.V., La Maison Laurentine and Ambika P3 are delighted to present Schizophrenia Taiwan, a major touring programme which introduces the work of young and emerging Taiwanese new media artists. Taiwan's schizophrenic nature will be diagnosed under the following lenses: a condensed symbol of world history, a powerhouse for global digital economy and an ambivalent national status. Part of the world and at the same time apart from it, like a satellite, Taiwan observes, orbits, and transmits messages to this world. These messages coincide the challenges and potential of globalization and cybernetics.
Ambika P3 University of Westminster, Wood Lecture Theatre, 35 Marylebone Road, London, NW1 5LS
More Info:artmaplondon.com

FRIDAY 24 OCTOBER
Private view Andrea Zvadova 'Systems/Layers' @ cueB Gallery at 7-9pm
Andrea Zvadova was born in Bratislava, Slovakia. Her beauty, fashion and portrait photography has been widely published in periodicals from New York, Paris, London, Berlin and Prague, amongst others. She has contributed cover stories to various fashion and style magazines across Europe.
More recently she has been shortlisted for the International Cannes Photo Mode Festival 2014, a prize she was runner-up for last year.
cueB Gallery 325 Brockley Road, London SE4 2QZ artmaplondon.com
Private view 'Photomasters' @ The Old Truman Brewery at 6-9pm
As part of this year's PHOTOBLOCK, The Old Truman Brewery will be bringing you PHOTOMASTERS. Coordinated and produced in house we aim to bring you an inspiring showcase of recent MA Photography Graduates work from across the UK.
The Old Truman Brewery, F Block G4, Ely's Yard, 91 Brick Lane, E1 6QL More Info: artmaplondon.com
SATURDAY 25 OCTOBER
Full Circle Artists in conversation @ Drawing Room at 3-4pm
Participating artists from offsite exhibition Full Circle will be in conversation about the project with the exhibition curators Jacqui McIntosh & Mairia Evripidou.
Full Circle is the fifth exhibition curated by Drawing Room in collaboration with UBM plc for the top floor of UBM's London headquarters building. Focussing on ideas of continuity and change, the exhibition has altered throughout the course of the year, the list of participating artists growing as the exhibition has progressed. The discussion will explore exhibition themes as well as looking at how ideas continue and evolve within each artists' practice.
Full price 25/10/2014 £5.00
Concession 25/10/2014 £3.00
Free for Network Members 25/10/2014 £0.00
Drawing Room Tannery Arts, 12 Rich Estate, Crimscott Street, London, SE1 5TE artmaplondon.com
Hannah Berry Part of Graphic Details – Confessional Comics by Jewish Woman @ Space Station Sixty-Five at 2pm
A series of comics workshops where you can have a go at making your own artwork, led by the acclaimed graphic novelist Hannah Berry.
A workshop on the dramatic potential of comics, looking at the powerful subtleties that can be conveyed through the artwork and exploring methods of characterisation and storytelling using image alone. Open to participants of all skill levels.
Space Station Sixty-Five, 373 Kennington Road, London, SE11 4PS artmaplondon.com
Categories
Tags