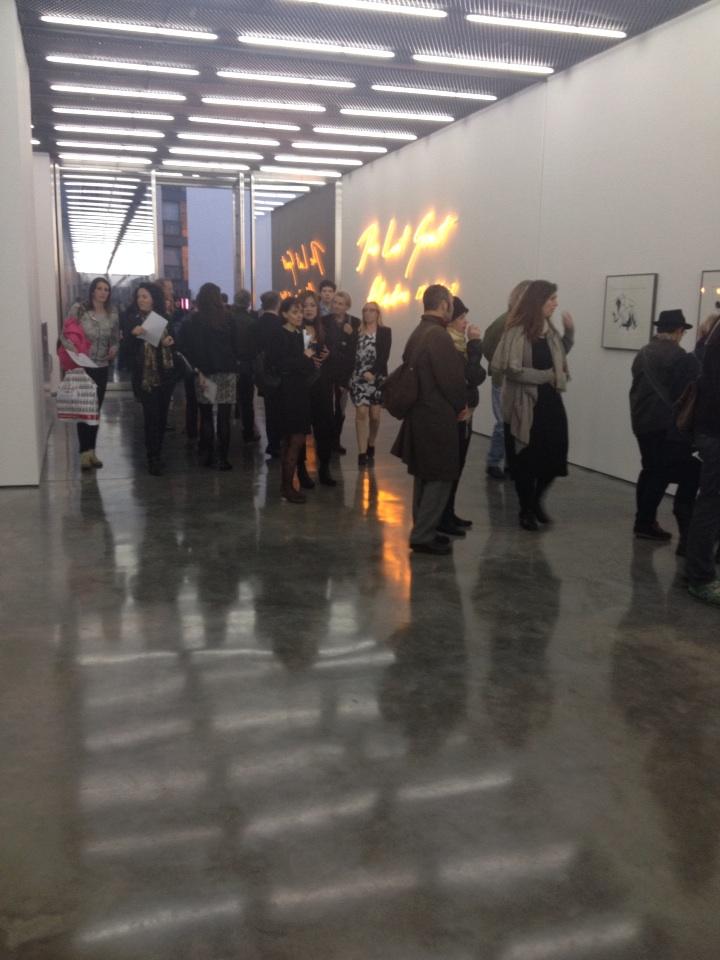 As Frieze approaches, there is an uncomfortable mixture of dread and delight: you dread the long days and late nights, the hangovers and the art-blindness; but you also delight in the long days of earth-shattering importance and late nights of intoxicating thrill, the parties where everyone thinks you're simply fabulous and the unbelievable proliferation of art.
This morning it was wet and warm, and all the galleries were open when usually they do deals behind closed doors. It was like a parallel universe in which art galleries opened on a Monday and artworld people didn't quite understand why their phones were ringing incessantly. Everyone I met was still able to control the panic, but by the end of the week it will swell into hysteria, either because too much money has jettisoned across the airwaves or because the drugs no longer work. Monday is the plot device that justifies the rest of the week.
Tonight saw the opening of a new Steve McQueen show at Thomas Dane and Andro Wekua at Spruth Magers. Both worth a look, I'm sure, but I was detained elsewhere; detained, in fact, in the loving arms of Tracey Emin. A VIP opening of Emin's masterful show, 'The Last Great Adventure is You', took place at White Cube Bermondsey bringing the great and the good together to steady themselves against the giddy excitement of the week. My heart remains with Tracey, and that exhibition is a lesson in how to make art. It is the fire against which the brimstone of the week has to compete.
The overriding sense I get is that Frieze is this year poised to be more serious, more sober than ever before. They've changed the days, so it's not open on Sunday – surely to prevent poor people who work in galleries from attending – and they've also initiated a programme of live events that threatens to tear the limbs off contemporary commercial art. I met the great Mary Corse tonight, who is showing at both Frieze and Frieze Masters; her paintings, born from colour field and yet so essential to now, are among the most magisterial I have ever seen. She was polite, excitable, gracious and the diametric opposite of her art, which is not bad for someone who is both a contemporary and a master. It made me think that if there are two Corses of painting in store, then perhaps Frieze is going, after all, to be about art that matters…
Words: Daniel Barnes
About daniel barnes