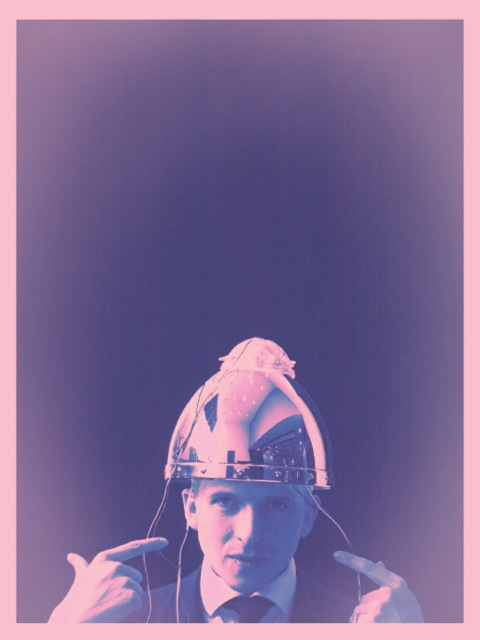 Celebrated British Art duo, Bompas & Parr will be challenging visitors at this year's MERGE Festival to interact with science and the spirit world through their latest installation, 'Sensed Presence'. Open to the public from 1st – 19th October, each free 15 minute session will be held in the basement of the atmospheric Kirkaldy Testing Museum on Southwark Street.
'Sensed Presence' combines the eerie surroundings of the historical Bankside museum with the experience of wearing a headpiece based on the famed 'Koren Helmet' which was used as a neuroscience tool to investigate the brain's role in religious and mystic experiences. The helmet is harmless, but is said to stimulate the part of the brain that is most susceptible to supernatural experiences.
The Koren Helmet uses tiny electromagnets to stimulate the brain's temporoparietal lobes, the area of the brain said to be responsible for religious and paranormal experiences. The installation fuses cutting edge science, art and spirituality transporting visitors in a small-scale multimedia seance that plays on both the technological and supernatural meanings of the word 'medium'.
With 60% of the British populace believing in ghosts, it is rare that a family or social group doesn't have its own ghost story. The art installation allows people to make up their own mind up on both the supernatural, and the contentious science around the Koren Helmet.
You can book your free visit here
About MERGE
MERGE is an annual arts festival which draws upon the rich heritage and contemporary culture of Bankside. The festival runs until 19th October 2014 and will see unique spaces in Bankside transformed as major names from the UK and international art world stage exhibitions, installations and musical performances alongside emerging artistic talent.
MERGE Festival is curated by Illuminate Productions and is supported by Tate Modern, Better Bankside, Laing O'Rourke for Alex Chinneck's 'A Pound of Flesh for 50p'.mergefestival.co.uk
About Bompas & Parr
Bompas & Parr creates spectacular experiences. In the past the studio has worked with Heston Blumenthal to make glow-in-the-dark jellies, flooded a Grade One-listed building with four tonnes of alcoholic punch that visitors boated across before drinking, created a breathable cloud of gin and tonic that intoxicates through the lungs and eyeballs and created the world's first multi-sensory fireworks during the London 2014 New Year's Eve display over the Thames.
Sam Bompas and Harry Parr have also recently opened an exhibition at MoSex, cooked with lava and lightning and realised a 200-year-old dream of scientists and novelists by curating the creation of a magnificent, modern pipe organ – the world's first working flavour organ.
The studio now consists of a team of creatives, cooks, designers, specialised technicians and architects. With Sam Bompas and Harry Parr the team works to experiment, develop, produce and install projects, artworks, jellies and exhibitions, as well as archiving, communicating, and contextualising the work. Bompas & Parr also collaborates with specialist technicians, engineers, artists, scientists, musicians and many other disciplines to create wondrous events.
Bompas & Parr has written four books, published in London and New York, and its fifth book Memoirs of a Stomach will be published on 9th October through Bompas & Parr Editions.
The studio works with some of the world's foremost cultural institutions and the biggest companies in the world to give people emotionally compelling experiences. Bompas & Parr has exhibited at Barbican Art Gallery, Garage Center for Contemporary Culture, Salon del Mobile, San Francisco Museum of Modern Art, Serpentine Gallery, Victoria & Albert Museum and the Wellcome Collection and collaborated with such firms as Diageo, Cargill, Selfridges, Disney, Louis Vuitton, Unilever, Vodafone, Kraft Foods, Heinz and Mercedes-Benz.
About the Koren Helmet
The eponymous Koren Helmet refers to the Canadian technician and patent inventor Stanley Koren. It is used to denote a laboratory apparatus (which initially had the shape of a helmet), developed by Koren in close collaboration with the American-Canadian neuropsycologist Michael A. Persinger. The device is able to apply complex computer generated of 10nT to 1 mT. It has been used as a research tool to study the roll of the temporo-parietal lobes in the mediation of religious and mystic experiences.
It has been claimed by Persinger et al. that in this way they have succeeded in evoking sensory deceptions such as sensed presence, ecstatic aurae and visual hallucinations, a substantial number of which have had a bearing on the image or presence of God or Jesus Christ. Reportedly the Koren helmet has also aided in mediating visions of demoniac beings, out-of-body experiences, visions of 'other realities', and a range of other sensory deceptions. It has been suggested that the results obtained by Persinger's group indicate that religious experiences in general may have a neural basis.
More reading: en.wikipedia.org/wiki/God_helmet
Categories
Tags