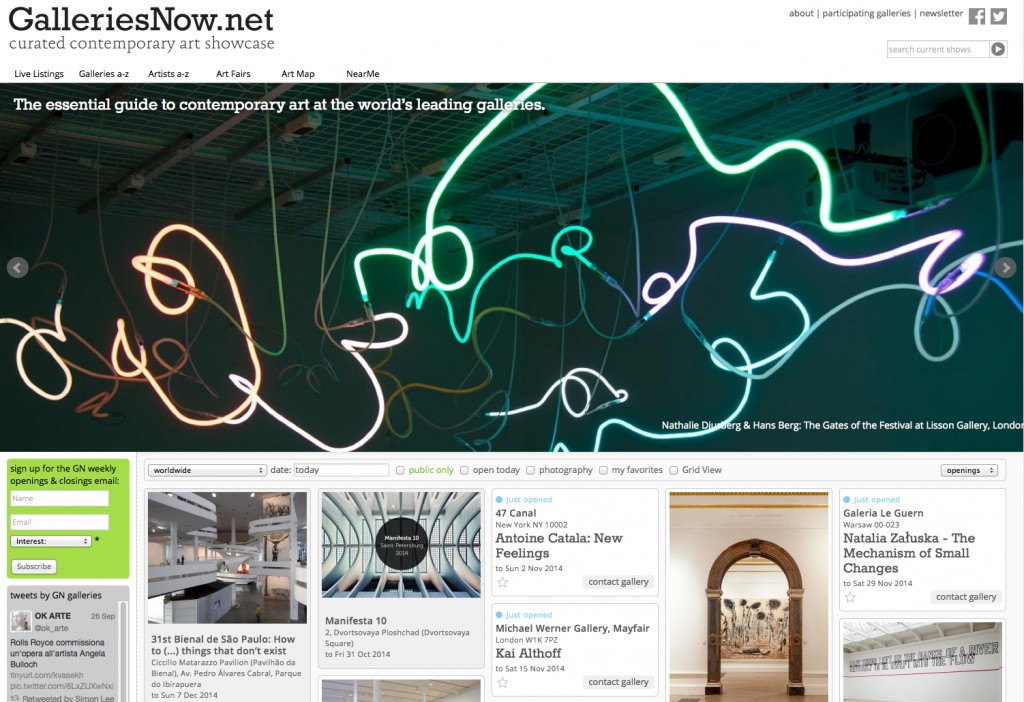 Today (September 30th, 2014) is the launch of GalleriesNow.net, "A revolutionary guide to the international world of contemporary art."
To mark the occasion, GalleriesNow.net reveals their list of the world's most significant commercial contemporary art spaces: (in alphabetical order): David Zwirner, Gagosian Gallery, Galerie Perrotin, Galleria Continua, Hauser & Wirth, Lehmann Maupin, Marian Goodman Gallery, Matthew Marks Gallery, Pace, White Cube.
Tristram Fetherstonhaugh, GalleriesNow.net co-founder, says:
"The methodology we use for our ranking is similar to Google and uses an algorithm developed by us at GalleriesNow.net. The top ten, which we have put in alphabetical order, is emphatically not based on which gallery sells the most art, or which attracts the most press, but on a set of criteria that takes into account many aspects of each gallery's activities, including where the gallery is, where it shows, and other factors. "It is interesting to note that six of the ten have a presence in London, which indicates the city's increasing importance in the art world – for galleries, collectors and artists."
GalleriesNow.net is the brainchild of brothers Tristram and Patrick Fetherstonhaugh, both felt that the proliferation of galleries showing contemporary art in the city necessitated a one-stop guide and that what they needed was a "passport to the artworld".
"There are a number of websites that do listings, but we saw the need for something curated, to help find your way through all the options," says Patrick Fetherstonhaugh. "Our objective is to present a clear and authoritative guide to the most interesting contemporary art at home and around the world, a platform which democratises and de-mystifies and helps people discover the art of our time."
The listed exhibitions can be found in many ways: geographically; by title, artist or gallery; by date – the aim being to make it as easy as possible to engage with the exciting world of contemporary art.
While initially created as a tool for consumers, it has also won plaudits from many leading art world figures, amongst them Hans Ulrich Obrist, co-director of Exhibitions and Programmes and Director of International Projects at the Serpentine Gallery, who considers GalleriesNow.net "Magnetic". Matthew Slotover, the co-founder of Frieze magazine and the Frieze art fairs, was also impressed by the platform and this year GalleriesNow.net is an official partner of London's Frieze Art Fair, providing a range of services for its VIP guests.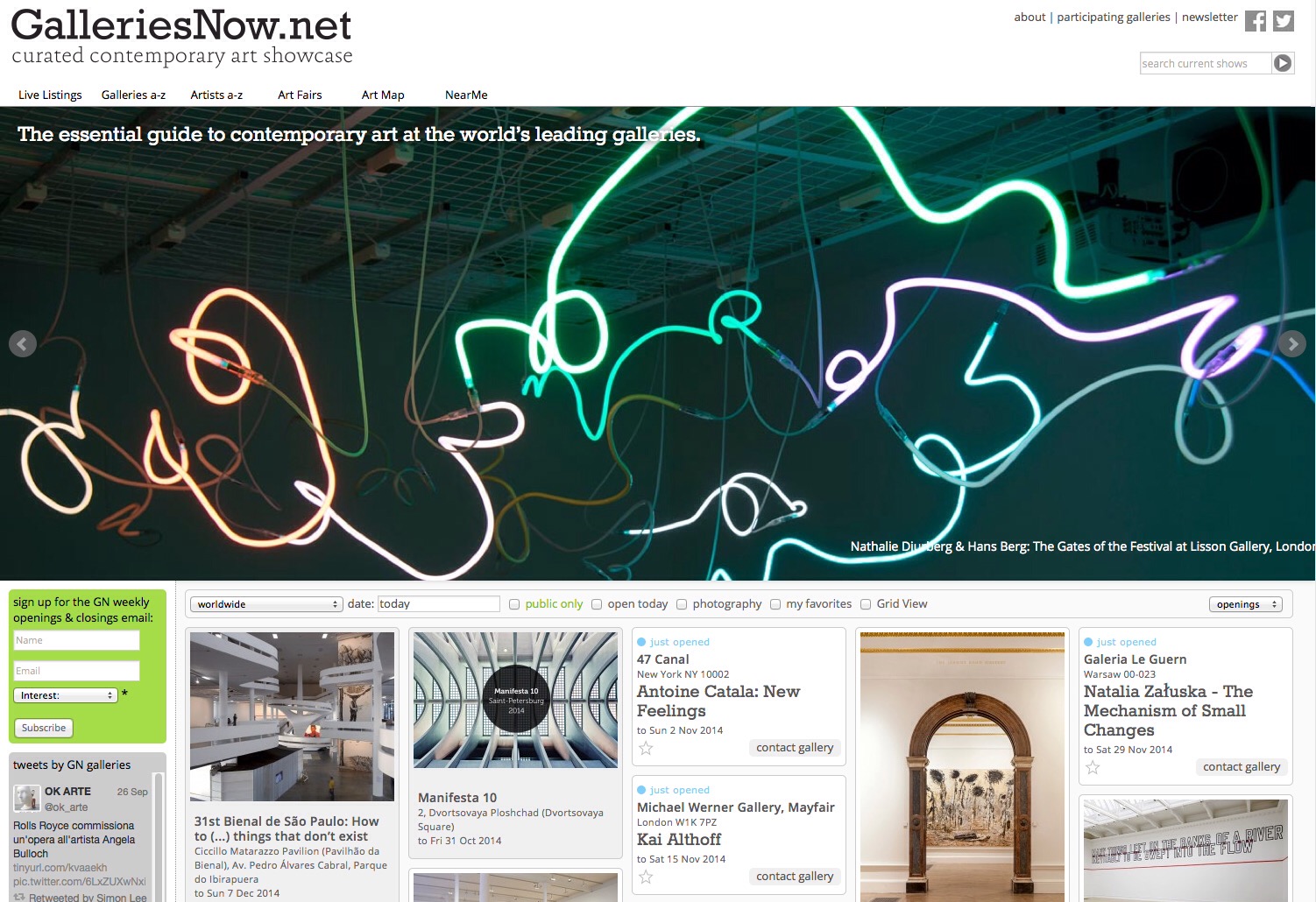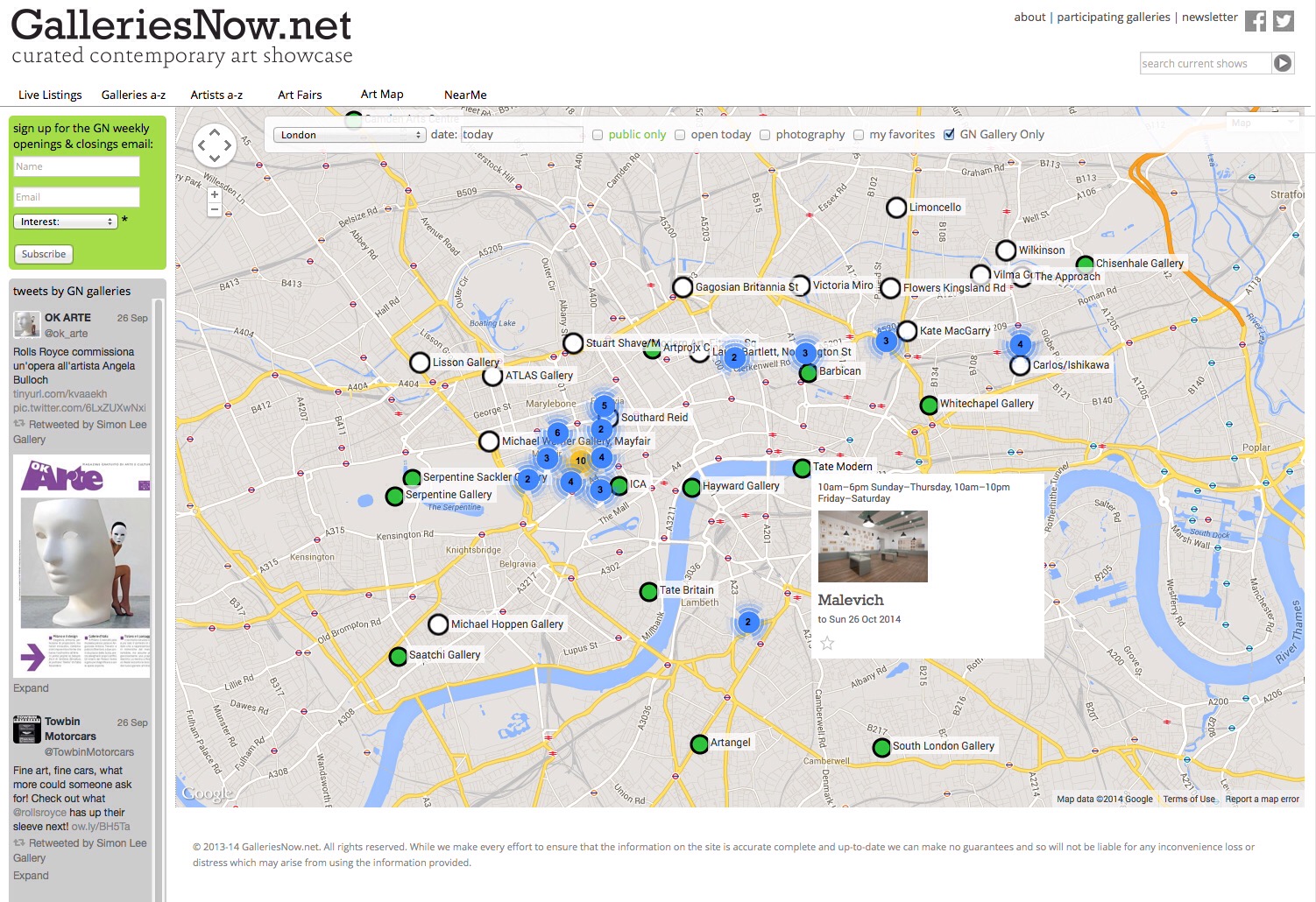 Categories
Tags