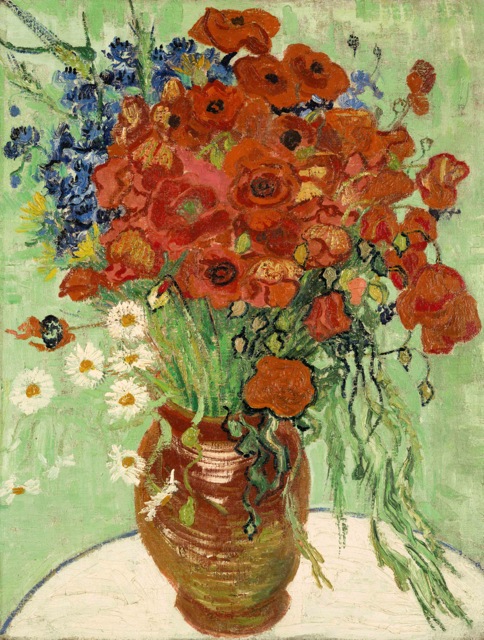 During the month of October you have the chance to view Vincent van Gogh's Still Life, Vase with Daisies and Poppies (1890) in Sotheby's showrooms in London, New York and Hong Kong . It is estimated that the painting could sell for $50 million and the chances are it will be a private collector.
So make sure you take your chance to see it before its gone.
The artwork will be sold during the evening sale of Impressionist and modern art in New York on November 4th. Sotheby's calls it "the most important still life by Van Gogh to appear at auction in more than two decades."
Simon Shaw, co-head of the Impressionist and modern department said the "beautiful, vibrant composition captures in sharp relief the intensity of the artist at the height of his mania, only weeks before his tragic end."The painting has a storied history; Van painted the work in 1890 at the house of his close friend Dr. Gachet in Auvers-sur-Oise, and the work "presumably came immediately into his possession upon completion." The artist settled in Auvers upon his release from the asylum at St.-Rémy-de-Provence in May of 1890. He rented a room at Ravoux Inn and spent his days in the fields painting as well as visiting with Dr. Gachet.
Whether Van Gogh gave the painting to Dr. Gachet as payment for medical services is not known, but at the time the artist was heavily dependent upon his brother Theo for money and art supplies. Eager to prove to his brother that he could make a living as an artist, Van Gogh was convinced his still lifes would sell well. Indeed Still Life, Vase with Daisies and Poppies is one of the few works actually sold during his lifetime.
According to Sotheby's, the painting was acquired by Impressionist collector Gaston-Alexandre Camentron, who later sold it to the Paul Cassirer Gallery in 1911. It remained with a series of private collectors in Germany until the mid-1920s when it went to New York via London. Collector and MoMA co-founder Anson Goodyear bought it through Knoedler Gallery in 1928. It was eventually gifted in part by the Goodyears to the Albright-Knox Art Gallery in Buffalo, where it was on display for over 30 years before it was sold at the request of the family.
Categories
Tags