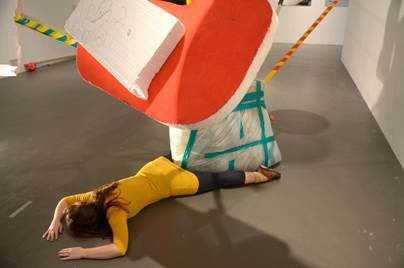 NOW Gallery, The Gateway Pavillions, Peninsula Square, Greenwich Peninsula, SE10 0SQ
For the NOW Gallery on the Greenwich Peninsula, Florence Peake is creating a new sculptural performance work. A play with the weather and environment of the glass-walled gallery, dancers will build structures in response to the light and atmosphere and presence of people in the space.
SHIFT CONSTRUCT will move between indoor and outdoor spaces over three hours; audiences are welcome to come and go at their leisure.
Florence Peake is a London-based artist. With an extensive training in dance and a background in painting, Florence Peake's performance practice uses drawing, painting and sculpture materials combined with found and fabricated objects placed in relationship to the moving body. Site and audience, live and recorded text, wit and humour are key to her work. Recent work includes; MAKE at BALTIC (2013) and Yorkshire Sculpture Park (2012); Duckie Goes To The Gateways commission (2013); REMAKE at V22 Young London (2013), Moving Museum (2013), Baltic 39 (2012) and the Lanchester Gallery (2012); Chorus; Swell The Thickening Surface Of at Tintype (2013) and David Roberts Foundation (2013), Paper Portraits (2010) at the National Portrait Gallery. As a performer she works with filmmakers, artists and choreographers, most recently touring with Station House Opera's Roadmetal, Sweetbread. Florence Peake is an Associate Artist with Artsadmin. SHIFT CONSTRUCT is produced by NKT.
www.florencepeake.com
Performances on 26th (6-9pm) and 27th September (2-5pm)
NOW Later events launched in September 2014 testing the temperature of art and design by collaborating with the latest practitioners in dance, music and performance art. www.nowgallery.co.uk
Categories
Tags