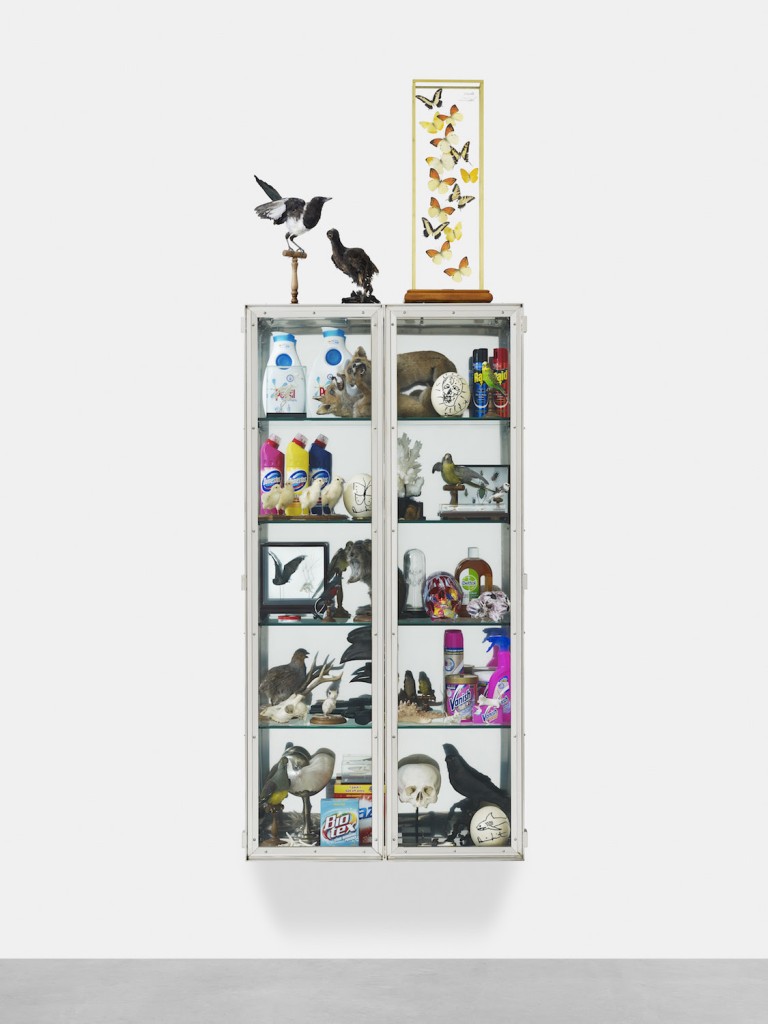 Damien Hirst, Signification (Hope, Immortality and Death in Paris, Now and Then), 2014. © Damien Hirst and Science Ltd.
Paddle8 presents Damien Hirst's cabinet of curiosities, a new work drawn from the collections of Deyrolle, the renowned house of taxidermy and natural sciences in Paris
Proceeds support Victim, the UK charity founded by Damien Hirst, and Deyrolle's program of natural sciences education and conservation
Damien Hirst avec Deyrolle: Le Cabinet de Curiosités, 'Signification (Hope, Immortality and Death in Paris, Now and Then)' launches on Paddle8 on October 14th, with bidding through October 28th.
With this collaboration, Hirst joins the rich lineage of artists who have worked with and been inspired by Deyrolle since its founding in 1831, from Salvador Dalí and Jean Dubuffet to contemporary artists such as Huang Yong Ping and Mark Dion. Hirst's work, entitled Signification (Hope, Immortality and Death in Paris, Now and Then) (2014), has been donated by the artist and will be sold to raise money for Victim, the UK charity founded by Hirst, and to support Deyrolle's program of natural science education and conservation. This project is the first chapter in a long-term collaboration between Paddle8 and Deyrolle.
A testament to Hirst's enduring love of natural history, Signification is a Wunderkammer, a contemporary cabinet of curiosities that follows a historical tradition dating back to the sixteenth century. The style of the cabinet derives from the artist's iconic series of stainless steel and glass 'Instrument Cabinets', conceived in the early 90s. Hirst has filled the wall-mounted cabinet with a cornucopia of taxidermy, entomology and skeletons, chosen by the artist from Deyrolle's extraordinary collection of natural specimen, which are displayed alongside manmade or appropriated objects. Signification explores themes fundamental to the artist's work, namely the complex relationships between nature and science, myth and reality, art and beauty, and life and death.
Each curiosity object in the cabinet has a corresponding paired item—signed and mounted—which the artist has grouped into 50 additional lots for auction in support of Deyrolle. The cabinet itself will be on view in the Deyrolle emporium at 46 Rue du Bac on Paris's Left Bank from tomorrow Tuesday September 23rd to October 28th. The sale will be available online at Paddle8 from October 14th through October 28th.
"I love natural history and have since my first visit at age five to the City Museum in Leeds—it's the immediate visual impact of it, the wonder, you just can't help but go 'wow'! Being able to use Deyrolle's incredible collection to create my own contemporary Wunderkammer is just amazing. People have been making curiosity cabinets for almost 500 years, and it's something that's always fascinated me: they inhabit a space between life and death that says so much about who we are as humans, and who we might want to be."
– Damien Hirst
About Deyrolle
Since its founding in 1831, Deyrolle has been a boutique museum, emporium, and mecca for collectors and artists worldwide, beloved for its spectacular collection of taxidermy as well as its collections of minerals, fossils, shells and coral, and entomology, as well as its library of natural sciences books and prints. For the past two centuries, Deyrolle has occupied the same location on Paris's Left Bank. In 2001, Prince Louis Albert de Broglie—drawn to Deyrolle because of his own interest in natural sciences education—purchased the shop and restored it to financial health. Following a devastating fire in 2008, Deyrolle has been completely refurbished after receiving enormous support from the art and fashion community, and Broglie is now focusing on the company's mission of learning and teaching through the observation of nature, explaining biodiversity, and reinforcing the links between the artistic world and the universe of sciences. deyrolle.com
About Damien Hirst
Damien Hirst was born in 1965 in Bristol and grew up in Leeds. He studied Fine Art at Goldsmiths College from 1986 to 1989, and whilst in his second year, he conceived and curated a group exhibition entitled 'Freeze'. The show is commonly acknowledged to have been the launching point not only for Hirst, but for a generation of British artists. Since the late 1980s, Hirst has used a varied practice of installation, sculpture, painting and drawing to explore the complex relationships between art, beauty, religion, science, life and death. Through work that includes the iconic shark in formaldehyde, The Physical Impossibility of Death in the Mind of Someone Living (1991) and For the Love of God (2007), a platinum cast of a skull set with 8,601 flawless pavé-set diamonds, he investigates and challenges contemporary belief systems, and dissects the uncertainties at the heart of human experience. Hirst lives and works in London, Devon and Gloucester.
Since 1987, over 80 solo Damien Hirst exhibitions have taken place worldwide, and his work has been included in over 260 group shows. Hirst's solo exhibitions include Qatar Museums Authority, ALRIWAQ Doha (2013-2014); Tate Modern, London (2012); Palazzo Vecchio, Florence (2010); Oceanographic Museum, Monaco (2010); The Wallace Collection, London (2009-10); Galerie Rudolfinum, Prague (2009); Rijksmuseum, Amsterdam (2008); Astrup Fearnley Museet fur Moderne Kunst, Oslo (2005); Museo Archeologico Nazionale, Naples (2004). He was awarded the Turner Prize in 1995.
Victim is the UK charity founded by Damien Hirst to aid charities that support causes including health, disabilities and education for children, alongside providing support to an organisation that works towards the survival of indigenous communities around the world.
About Paddle8
Paddle8 is the auction house for the 21st-century collector. We have created a destination for a global community of collectors by offering authenticated inventory—from art and design to jewelry and collectibles—through curated online auctions, as well as benefit auctions in collaboration with non-profit organizations. Using innovative technology, we've streamlined the collecting experience, combining the excitement and expertise of an auction house with efficient operational solutions and an international perspective. Founded in 2011 by Alexander Gilkes, an auctioneer and LVMH veteran, and Aditya Julka, a Harvard Business School MBA and serial entrepreneur, Paddle8 has over 50 employees worldwide, with teams in New York, L.A., and London. Paddle8 is funded by the investors behind Uber, Vimeo, Buzzfeed, Paperless Post, Warby Parker, and Bonobos, among others, as well as art-world insiders including artist Damien Hirst, art dealer Jay Jopling, and Matthew Mellon. paddle8.com
Categories
Tags