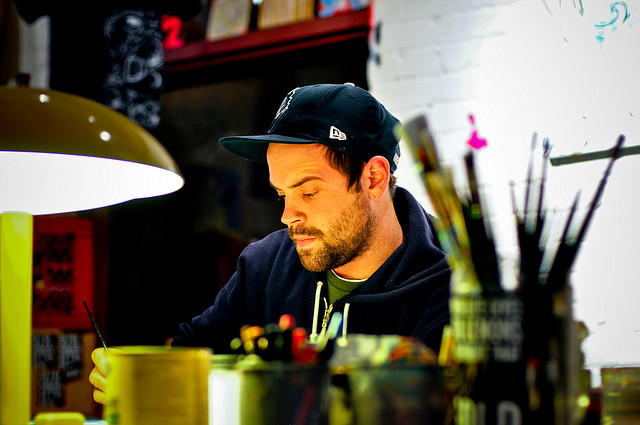 Ink in his studio, photo courtesy of: Ted Salzman
His birth name is Eric Inkala, but most people refer to him as: Ink. A native of the Twin Cities of Minneapolis and St. Paul, Minnesota, Ink draws, sketches, sprays, paints and coagulates and he has been grindin' in Brooklyn for 5 years now. A calculated, soulful artist whose work is both characterized and marshaled by the focused flow of color and form, with swift, steady hands combined with meditative mind states, his graffiti like creations, whether on canvas or on the streets, articulately braid variations of deliberate lines and wild pigments. As he vehemently yanks these elements from their initial two dimensional state, fragmented and splintered characters from alternate portals dramatically emerge, producing colorful and carefully carved dimensions which pop, bounce and penetrate in a thunderously playful, yet poignant way. And similar to warped vertical and horizontal stretching which occurs when you look into a mirror at a fun house, when faced with his canvases, viewers are evoked to poke around puzzling questions surrounding the validity of their own egotistical presence.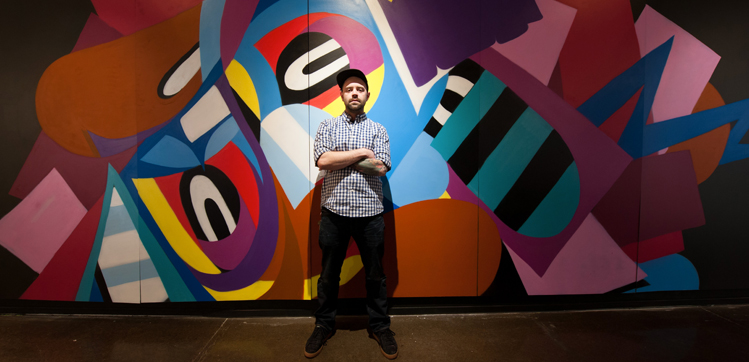 His work has been exhibited nationally at galleries such as THIS Gallery (CA), One River Gallery (NJ), Grasshut 811 (WA) and Fox Tax Gallery (MN), First Amendment Arts (MN) and XYandZ Gallery (MN) and Gallery Poulsen (Copenhagen). And recently, Ink and I linked up at his Bushwick based studio which overlooks a fantastic view of the dichotomous counterpart to Brooklyn's raging art scene: Manhattan. While embracing the horizon of this seemingly distant world which so many emerging and established NYC creatives are both enraged with and inspired by, we discussed how this double sided perspective is comparable to the oscillating paradigms his works cleverly contemplate and extrapolate. Fluctuating from joke telling and explorations into his early inspirations, to where he would like to see his work hanging next and which artist, dead or alive he would like to take for a drink… Ink and I curiously dove in.
1. If you were not an artist what would you be instead?
Homer Simpson
2. You hailed to NYC from Minnesota in 2009. What ignited the move, and what can you reveal is the most frustrating and inspiring thing about being an artist living and working NYC?
I had been consistently visiting New York since I was 17 and always knew I wanted to live here.  I got to a point artistically and in my personal life where I really needed to push myself and New York seemed like the right choice.  I have been here 5 years now and loving every bit of it.  New York is inspiring so many ways, the art scene, the culture, the amazing and inspiring people I have met through living here, and just the city itself is inspiring.
That New York grind, it's totally my speed.  Frustrating parts are just trying to get galleries to your studio for studio visits, there are so many artist here, so much competition so you have to network like crazy to meet the right people and get introduced properly by the right person for anyone to take you seriously. But it just makes me work even harder for it I guess, hence my motivation for moving here, I needed to push myself artistically and I have had so many amazing opportunities that I wouldn't have had if i didn't make the move out here.  Its also very expensive to live in New York and have a studio separate from your living space which is very important to me. I still bartend four nights a week to pay the bills and paint seven days a week in the studio, like i said before, that New York grind! It isn't for everyone but I love it, keeps me on my toes.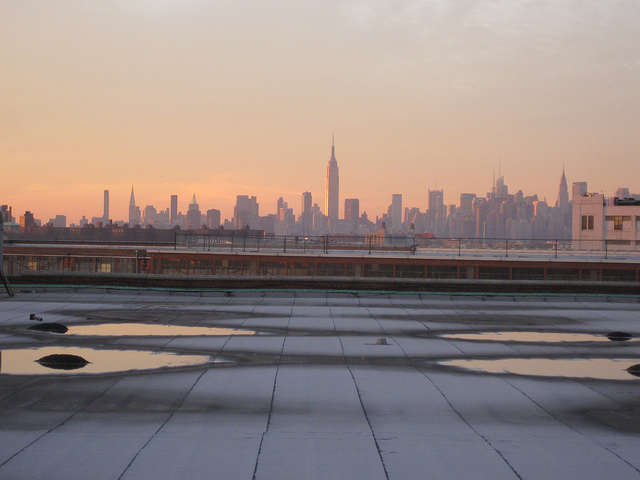 Rooftop view from Ink's Bushwick studio 
3. It is fascinating that you are actually colorblind! How does this affect which colors you choose to work with?
It affects my color choices alot, I use very bright and contrasted colors because of it.  If I was to attempt to paint a portrait it would be nearly impossible for me to translate the color properly.  On a couple occasions I have painted out an entire piece because I couldn't process the colors that I chose.
4. If you could title your process like an author would a book, what would it be called?
The Adventures of Rick Dikala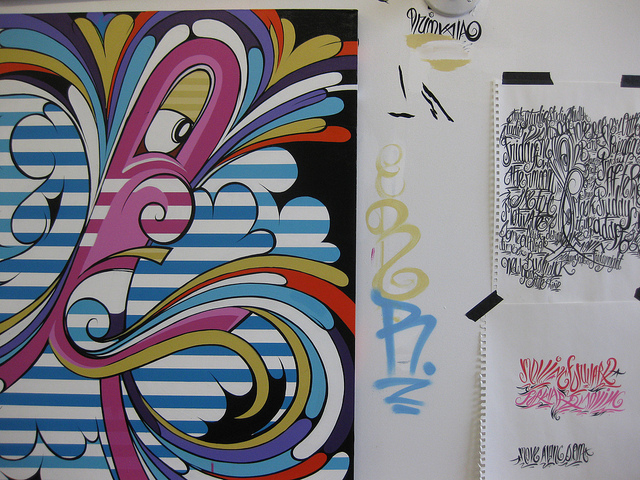 Untitled, Acrylic on canvas, 2012
5. How did your most recent pop up show at Gallery Poulsen rise to fruition?
I was introduced to Gallery Poulsen through a good friend of mine Isaac Arvold.  He had the opportunity to invite one person as a guest to the 10 year anniversary show and chose me.   I ended up selling my piece and had a studio visit with Morten who owns the gallery a couple of weeks later and he loved my work.  He told me he wanted to take everything I had done and to finish all of the stuff that I was working on in three months to crate and ship.  I think it was 24 paintings total, cleared out my entire studio. It was a crazy couple of months.
6. In an artistically inclined city like NYC, artists, creators and entertainers are constantly working, and some probably have two or more jobs to help pay the bills. What do you like to do when you are NOT in the studio?
Catch up with friends, drink whiskey, ride my bike.  Walk around the city and take photos, explore abandoned freight lines.   Drink more whiskey, check up on artist friends process at their studios.
7. Haha, so pretty much you are always working?
Yep.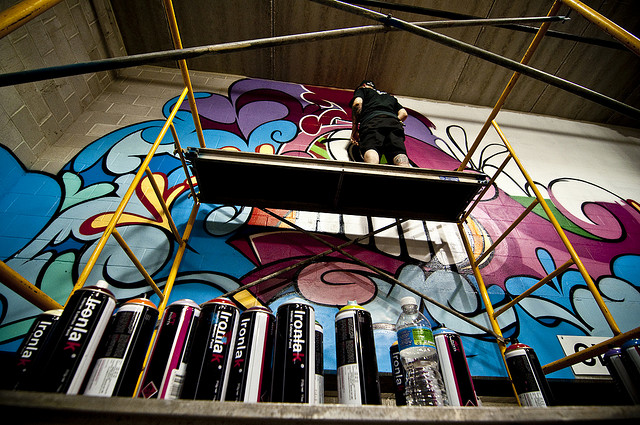 Untitled, Spray Paint, Photo courtesy of: Ted Salzman
8. Best show you have seen in Manhattan recently?
The Walton Ford show at Paul Kasmin blew my fucking mind, his paintings are insane.  Also Todd James at Sandra Gering was super rad, and the Kaws show at Gallery Perrotin was really good.
9. Best show you have seen in Bushwick?
Honestly I haven't seen a show in Bushwick in a while, I don't get out of my studio much. Do studio visits count? Haha, went to Aaron Johnson's studio a couple months back, his work is amazing and very inspiring.
10. Most inspiring artist/creator you have ever collaborated with?
I would say just being connected to Gallery Poulsen, which is funny in a way.  I had to fly across the globe to meet a handful of amazing artist's that live in the same city as me.  Artists like Tom Sanford, Jean Pierre Roy, Barnaby Whitfield, Christian Rex Van-Minnen, Eric White and Alfred Steiner.  All extremely talented artists and have been very inspirational to me.
11. If you had $49,000 to buy art from an emerging artist who would you buy from?
I wouldn't call him an emerging artist at all but I would love to own a Stephen Powers painting.  Or a Christian Rex Van-Minnen or Todd James piece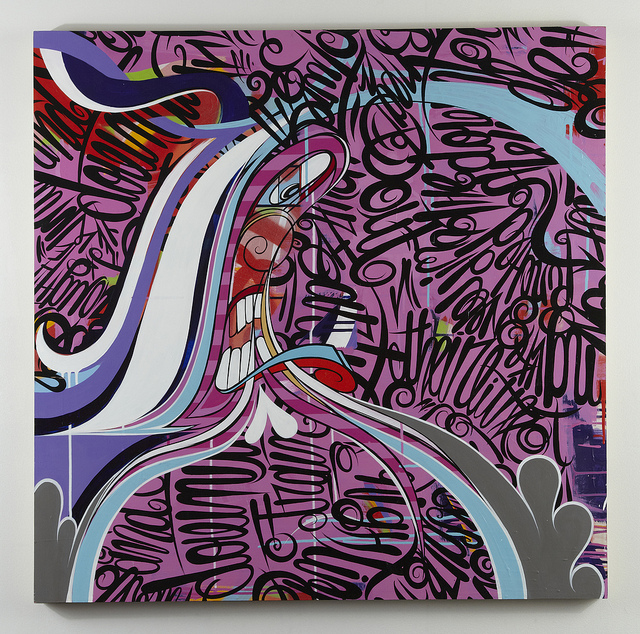 Downtown Train, Acrylic on panel, 2014
12.The most interesting comment you have heard about your work?
You're colorblind?!!
13. Where would you love to see your work hanging next? And how BIG!?
I don't know if I want to go into specific galleries but I am currently looking for New York representation.  Also I really want to get back into painting murals, I have kinda neglected that part of my artistic side since I have lived in New York because I have been strictly concentrating on my studio work.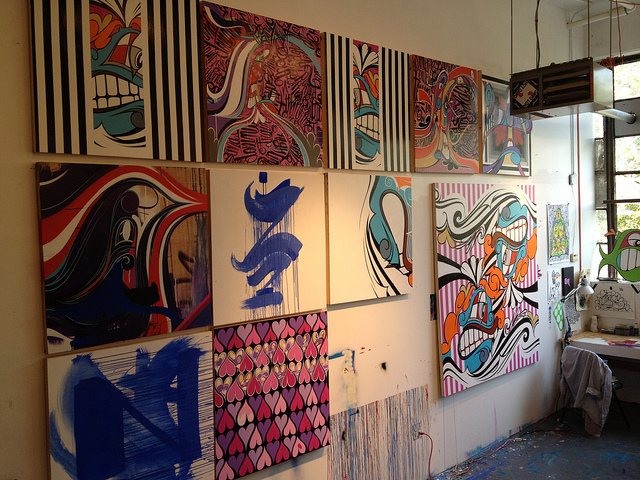 Series of works in studio, Acrylic on panels, 2014
14. Any artist (dead or alive), any bar and any drink: Who would you choose and what would you do?
I wanna drink whiskey with Francis Bacon and Philip Guston! Or walk around New York City with Keith Haring and write on shit or go back to the eighties and paint whole cars with Dondi and Iz The Wiz!
 15. Final Question: How do you stay on top of the most current art news/openings?
I have a couple of galleries I frequent because of their roster of artists.  I wouldn't say I am the best at keeping up on openings as I am a very busy dude and am usually grindin' in the studio.  Although when I do go to openings Artcards is pretty awesome for seeing what other openings are going on in any particular neighborhood.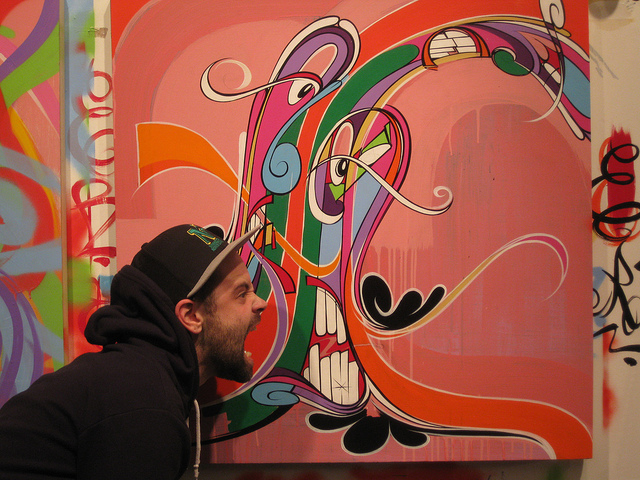 Untitled, Acrylic on panel, 2014
Check this wicked video featuring the works of Ink and Isaac Arvold for their past show @The Beloved in Brooklyn.
Eric Inkala and Isaac Arvold from Bikestock on Vimeo.
Video production courtesy of:  Joseph Huba
All images courtesy of: The Artist
To see more of Ink's work visit: ericink.com
Categories
Tags