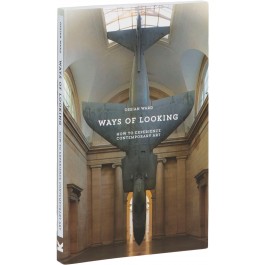 Ossian Ward has a new book to shift , Ways of Looking, and he's just done an interview with VICE about it :
Ossian advises against pretentious art jargon, suggesting the only way to approach contemporary art is with a clear, open mind. Read The Interview:www.vice.com *You can also get a 20% discount if you follow the link as well.
About The Book
Art has changed. Familiar styles and movements that characterized art production prior to the twenty-first century have all vanished. Traditional artistic media no longer do what we expect of them.
Ways of Looking provides a six-step programme for understanding contemporary art based on the concept of the tabula rasa — a clean slate and a fresh mind. It transforms a potentially intimidating encounter with cutting-edge art into a dramatic, sensually rewarding and thought-provoking experience.
About the Author
Ossian Ward is Head of Content at the Lisson Gallery. He was previously chief art critic at Time Out London.
Buy The Book: www.laurenceking.com
About Mark Westall