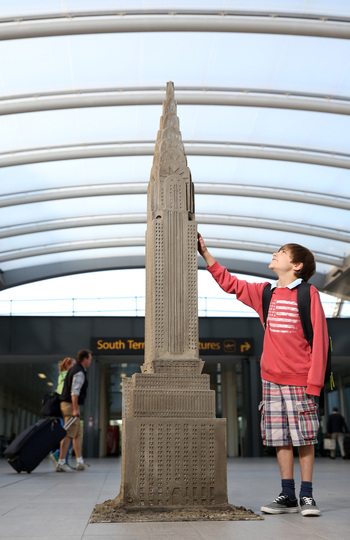 GatwickSculpture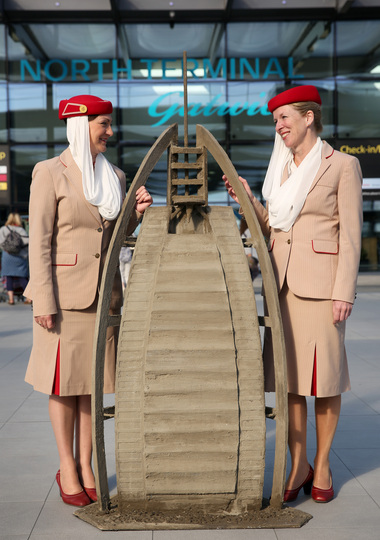 Ahead of the busy bank holiday weekend when around 425,000 passengers are expected to pass through its terminals, London Gatwick has unveiled two large-scale 'urban sculptures' designed to welcome and inspire passengers and celebrate the ongoing expansion of its route network.
At around two metres in height, the impressive sculptures depict New York's Chrysler Building and Dubai's Burj Al Arab and symbolise just two of the iconic landmarks that can be reached via Gatwick's long-haul routes. Earlier this year, Emirates began operating one of its three daily services to Dubai from Gatwick of its A380 aircraft while in July Norwegian launched direct flights to New York City from Gatwick.
The sculptures, which will be installed for two months at the airport, will be viewed by around 7.5 million passengers expected to pass through Gatwick's terminals during the period. Insights gathered from Gatwick's Airport Passenger Panel, an independent body set up to highlight potential improvements to the airport passenger experience, highlighted that UK airports needed more 'heart and soul'. As a result, over the last few years Gatwick has invested in brightening its spaces and building its contemporary art collection.
Zeus, the artist for the two new sculptures, said:
"I am delighted that these two urban sculptures will be exhibited at London Gatwick, the inspiration for which was taken from two of the flagship cities Gatwick flies to – New York and Dubai. Airports are symbols of modern metropolises like London, so what better place to display the works where millions of passengers can see them. My aim is to give people passing through Gatwick's terminals a place to reflect before they travel and when they return home to London."
About the artist
Born Dean Zeus Colman, his middle name naturally became his tag. It could be seen across London throughout the 80s and, still in his teens, Zeus earned the reputation of being a prolific writer. His work caught the attention of many of the influential faces of hip-hop at the time, figures like Tim Westwood who commissioned him to create designs for one of the first hip-hop clubs, Spatz, in 1984.
Through Westwood, Zeus also had the opportunity to work with the likes of Paul Oakenfold, making backdrops and posters for artists signed to his Def Jam label, including Dougie Fresh and Whizz Kid. When house music took off Zeus also received commissions from the warehouse clubs that sprung up around the capital, such as West World at the Brixton Academy. All these contacts served as an effective catalyst for his career, encouraging him to think beyond the limitations of spray paint and walls.
Zeus has worked with numerous community centres throughout London, teaching young offenders graffiti techniques, and helping to establish the art form as an effective, positive outlet for the energies and creativity of teenagers. He was invited to teach Prince Charles how to spray paint as part of a Princes Trust initiative.
Zeus returned to college and secured a place at Chelsea College of Art to study for a degree in Fine Art, majoring in sculpture. This took his art into three-dimensional form, creating graffiti sculptures out of light wooden sheets.
Over the next decade interest in Zeus intensified. He was described as a 3D graffiti pioneer by The Face magazine and his work appeared at a variety of venues throughout the UK, including the Victoria & Albert museum as part of its StreetStyle exhibition.
Categories
Tags