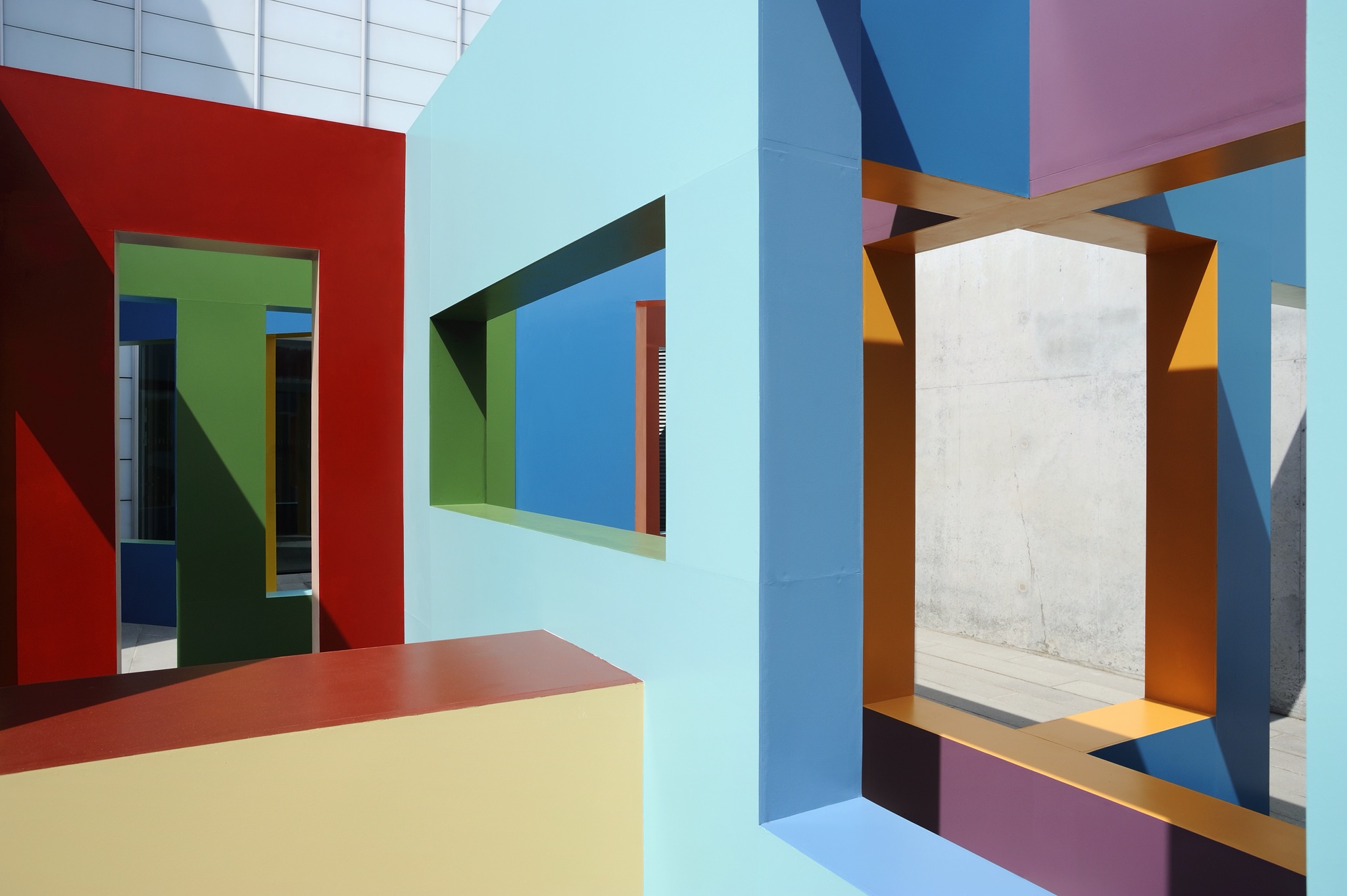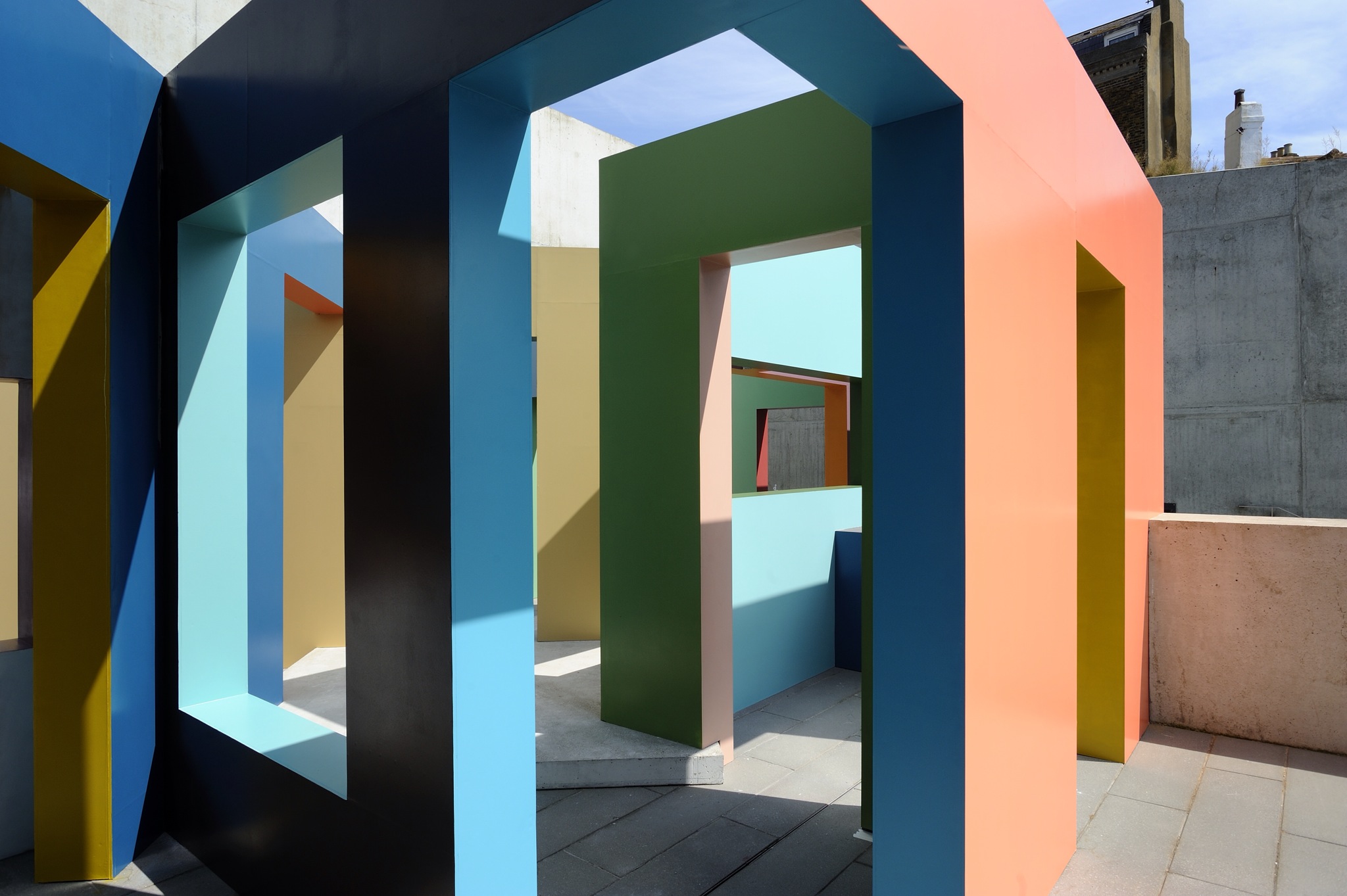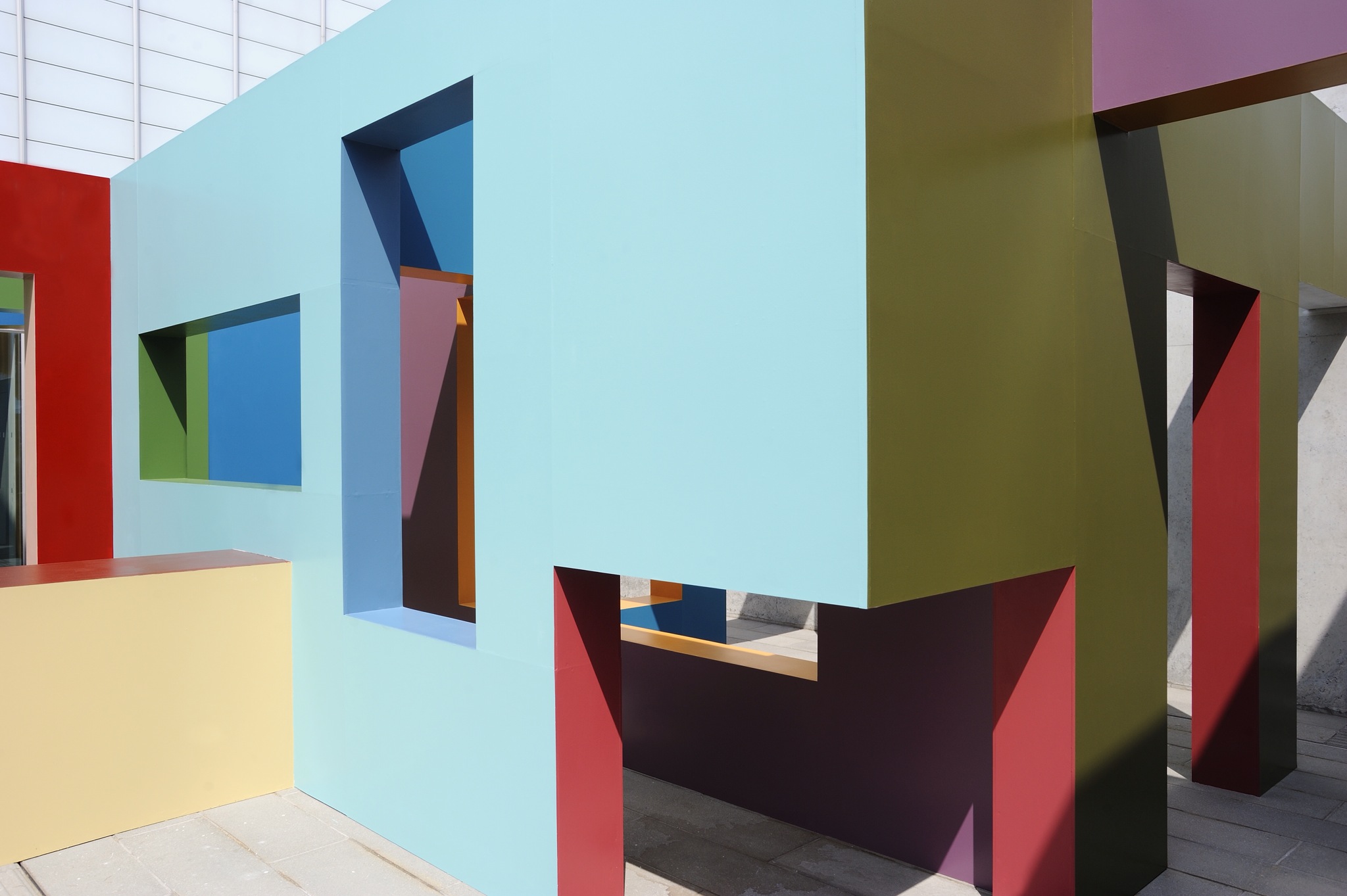 Until – 2nd November 2014
Dwelling (Margate / Folkestone) is the first public commission in England by Dutch artist Krijn de Koning. This new temporary artwork has been produced by Turner Contemporary for its Summer of Colour festival and
Folkestone Triennial , and is the first time Turner Contemporary and the Creative Foundation have collaborated on an artist commission.
The artwork, a colourful architectural labyrinthine walkway, is conceived and sited in two different outdoor locations in Kent: Turner Contemporary's South Terrace adjacent to the gallery opened on 31st July and within a Victorian grotto on Folkestone seafront which will open 30th August.
Krijn de Koning (b.1963, Amsterdam) builds labyrinthine architectural structures that are in dialogue with the environment in which they are placed. The artist's site specific works – part architecture, part sculpture – challenge the viewer, offering new possibilities to navigate and experience the space the works inhabit. Often featuring bright colours and typically constructed in simple materials, his playful structures connect inside and outside spaces and invite direct interaction on the part of the audience. His interventions reference the traditions of 20th century art, such as geometric abstraction and Minimalism, but are equally engaged with architecture and 3-dimensional space.
At Turner Contemporary Dwelling, (Margate /Folkestone) has been inserted between the external walls of the gallery and the site boundary walls, in a public area that is used as a walkway for visitors and the general public. A shallow concrete plinth forms the base of De Koning's sculpture, which will radiate out from this point, extending towards and pushing against the glass-clad gallery and site boundary walls. Described by de Koning as a 'dwelling', the structure will combine a framework of painted wooden beams with a series of voids suggestive of architectural features such as doors, walls and windows to create a space to be walked through, into and around.
De Koning's interest in this particular area is as an 'in between' space on the gallery site where a number of architectural features conjoin and collide in what he refers to as a 'strange encounter'. In a reversal of many of his previous works, which are inserted into ruined or disused sites, the structure will disrupt the apparent purity of a newly designed environment. Rendered primarily in concrete and glass, the 'undefined space' will be built from recyclable timber and plywood and painted in brightly coloured gloss paint.
Half of the sculpture at Folkestone replicates half of the sculpture at Turner Contemporary. However, this part will be constructed to appear as though it is inserted into the cave walls, seeming partly buried within them and only partially visible as a result. De Koning is interested in the impossibility of making the experience of the work the same in both sites, playing with the notion of repetition and seriality in conceptual art practice.
The different characters and uses of the two sites add another layer of interpretation to the work. What both sites have in common is an attempt at providing some sort of protection or shelter: the fake Victorian caves or grottoes on the one hand, versus the hard-edged contemporary architecture of Turner Contemporary on the other. Both sites lend themselves to this notion of a 'dwelling', which in turn plays with the traditional idea of seaside pavilions and beach huts, a common feature of the UK coast.
Turner Contemporary, Rendezvous, Margate, Kent CT9 1HG T turnercontemporary.org www.folkestonetriennial.org.uk
Categories
Tags