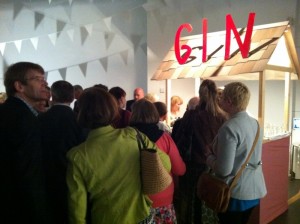 12 Rich Estate, Crimscott Street London SE1 5TE drawingroom.org.uk
Hosted by artist Peter Liversidge A fundraising event to support Outset Study
Join us and take part in Peter Liversidge's infamous 'Gin Proposal', supported by Sipsmiths. This performance event lasts the duration of the gin supply; once the bottles and glasses are empty, the performance is over! From his makeshift gin stand the artist will be mixing Sipsmiths G & T's in limited edition hand etched 'GIN' glasses. Soak up the liquor with sausages made to Hubert Liversidge's (Peter's grandfather) recipe and select music tracks from Peter's 'drinking songs' jukebox. This event celebrates the launch of Peter Liversidge's affordable limited edition print Rules of the Library. Created for our Outset Study in 2013, The Rules of the Library are based on real library rules alongside those of other widely differing organizations including: The Library of Congress, Rules of how to travel the Panama Canal, Rules from the British Library, The Frick Collection, Rules from the Monks (a 1960s avant-guard garage rock band) and Rules for Pool-side etiquette and invented rules.
' Kindly refrain from: running, pushing, acrobatics or gymnastics
No smoking, no drinking, no horse play
Use your inside voice '
All proceeds from the evening and print sales will raise essential funds for the continued development of Drawing Room's Outset Study.
A limited number of hand etched glasses are available
– 1 GLASS at £25 – reserve your glass in advance here
– PAIR OF GLASSES at £40 – reserve your glasses in advance here
(Glasses come with a free G & T)
– This event is free to attend, pay bar, all welcome
Categories
Tags