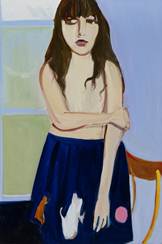 Chantal Joffe, Esme, 2014 Oil on canvas 183 x 122 x 3.5 cm
The Threadneedle Prize has just announced the eight artists that have been selected by Guest Curator Sacha Craddock and will exhibit in the Curated Space, a new section introduced to The Threadneedle Prize exhibition this year to complement the open entry competition: British artist and psychogeographer Laura Oldfield Ford; renowned British figurative painter Chantal Joffe; London based sculptor Daniel Silver; painter David Lock; figurative, expressive painter Georgia Hayes; sculptor Sarah Lucas, who will represent the UK at next year's Venice Biennale; painter Grant Foster, and finally painter Vicky Wright.
For this inaugural year of the Curated Space, The Threadneedle Prize appointed independent art critic, writer & curator Sacha Craddock as Guest Curator. Craddock's selection of works, all of which use figurative art as their starting point, will enhance and complete the exhibition's comprehensive annual survey of Figurative Art Today.
In each of the last six years The Threadneedle Prize has showcased the best contemporary figurative art made in the UK and Europe. In line with the approach adopted for the 'open' competition, Craddock brings together a selection of works from UK and international artists that range in experience, backgrounds and training, placing established artists alongside emerging names. Craddock will be adding further names and works to her final selection, which will be unveiled at the opening of this year's Threadneedle Prize exhibition (24 September 2014).
Sacha Craddock, Threadneedle Prize Guest Curator for 2014, commented on her selection:
"I am happy to bring a range of work I admire to run alongside The Threadneedle Prize. Whether historical, futuristic or current, figurative art surrounds us, it represents experience with a range of scale, from the surface of the skin to an overview of existence."
Figurative art is more than ever at the forefront of contemporary art practice. With many high profile art prizes still stuck on conceptualism, The Threadneedle Prize deliberately sets out to examine Figurative Art Today, producing a comprehensive current survey. This new curated section will play alongside the final selection of works for this year's Threadneedle Prize, which is being made by four internationally regarded selectors: Arts Commissioning Editor and an Art Critic at The Times Nancy Durrant, sculptor Kevin Francis Gray, Independent Advisor and Curator of the Hiscox Collection Whitney Hintz and London-based Gallerist John Martin.
Lewis McNaught. Director of Mall Galleries, who has overseen the Prize since its inception, adds:
"The Threadneedle Prize provides a forum which throws light on work helping to shape the future of art and has attracted huge interest across Europe from a diverse group of artists, irrespective of age, experience or nationality. We hope the introduction of Sacha's Curated Space will encourage even more people to engage in our conversation about 'Figurative Art Today.'
Figurative Art Today Exhibition Opens: 25th September – 11th October 2014 (Private View: 24th September 2014) Mall Galleries, The Mall (near Trafalgar Square) London SW1
www.threadneedleprize.com Join the conversation at #figurativearttoday
Categories
Tags