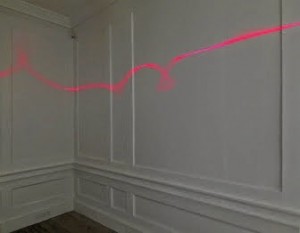 www.ravenrow.org 56 Artillery Lane, London E1 7LS
On two consecutive nights Robert Whitman (born 1935, lives in New York) will perform Inside Out (1987), his first ever theatrical appearance in London.
A pioneer of happenings and performance art in New York in the early 1950s and 1960s, Whitman was part of a group of artists invested in what Richard Kostelanetz has called 'theatre of mixed means' and what Whitman himself refers to as 'theatre pieces'. Along with artists Allan Kaprow, Claes Oldenburg, Red Grooms and Dick Higgins, such performative works typically involved rudimentary sets, props and costumes.
In his early theatre pieces, Whitman often made use of projected images and screens. He pursued his interest in light and projection as a co-founder of Experiments in Art and Technology (E.A.T.) in 1966 with Billy Klüver, Fred Waldhauer and Robert Rauschenberg.
For Raven Row, in the context of Play What's Not There, Whitman will perform Inside Out. First staged in 1987 when the Marcel Duchamp scholar Ulf Linde invited Whitman to take his place at a conference at the Philadelphia Museum of Art celebrating the centenary of Duchamp's birth, this work was inspired by Whitman's conversations with Linde, and invokes the image of Duchamp as Rrose Sélavy.
These events are free but booking is essential as space is limited. Please email:info@ravenrow.org to reserve a place, specifying the performance you wish to attend.
www.ravenrow.org
Categories
Tags