WEEK: 28th April – 4th May
There are loads of art events such as private views, artists talks, and screenings happening around London, and often it is impossible to choose where to go and what to see. To help you with the choice Jenny Judova from Art Map London will be advising on what events seem worth attending during the week.
MONDAY 28 APRIL
Zabludowicz Collection, 12-8pm Live broadcast: We interrupt this transmission
A live broadcast by CATALOG, which is a collaborative project between artists Frances Scott and Joyce Cronin, using material found in Swiss Cottage and the Zabludowicz Collection libraries. Produced especially for the Swiss Cottage Library environment, this event is an extension of an ongoing work We interrupt this transmission, a monthly online image-broadcast using email and twitter. For more information visit: http://catalog.org.uk/we-interrupt-this-transmission/
Drop-in anytime between 12 – 8pm. FREE
www.zabludowiczcollection.com
TUESDAY 29 APRIL
2-in-1 at White Cube this Tuesday
White Cube, 6-9pm private view 'Inside the White Cube' group show
Artists: Brendan Lynch, Alex Perweiler, Peter Sutherland, Alex de Corte, Jack Greer, Augustus Thompson
and
White Cube, 6-9pm private view Andreas Gursky solo show
The exhibition centres around a new series of photographs that appropriate images taken from Hollywood 'superhero' feature films. These 'superhero' works from 2013-2014, depict scenes from the Ironman III, Batman and Spiderman films respectively, portraying instantly recognisable comic characters amid idealised, isolated landscapes.
www.whitecube.com

The Show Room, 6:3-8:30pm private view How To Work Together: Gerry Bibby
After his project at Frieze Art Fair in 2013, this will be the artist's first solo presentation in a public space in the UK. Venturing beyond the scope of a typical artist commission, Bibby will take up residence at The Showroom and work behind the scenes, exploring the possibilities and limitations of the artist/institution dynamic. From this shift in position, he will probe the idiosyncrasies of the organisation's apparatuses – focusing in particular on The Showroom's heating system, rendering it as potential creative material.
www.theshowroom.org
THURSDAY 1 MAY
Maria Stenfors, 6:30-8:30pm private view Philip Newcombe 'Company' 
Newcombe often uses familiar and democratic objects such as lollipops, darts, folded up paper, thread, perfume, other people's business cards and scent dispensers. As with previous works where Newcombe has filled a beach ball with the air from the lungs of a dying man, or carries around a folded A4 image of the most beautiful place in the world in his back pocket, COMPANY performs as an arena to suggest that the exhibited objects are activated through action and language, allowing them a subversive intimacy with the viewer. The exhibition forms a dialogue between the art objects and its potential as a trigger to exist beyond the gallery space and time frame of the exhibition, both temporarily and physically. They feed off against each other like protagonists in a play, a company, if you will.
www.mariastenfors.com/exhibitions/philip-newcombe-company
Fourth Floor Gallery, 6-11pm private view Eigengrau – visual noise
Art Students are taking over the Fourth Flour Studio for a one day show. Its always interesting to find out what the emerging artists are up to.
www.facebook.com/events/631047813629257/?fref=ts
The CASS Gallery, 6-8pm private view CuRate group show 
cu·rate attempts to open up a new and undiscovered discourse in curating; to define what curating is (or isn't) today, through the research and display of varied practitioners. The exhibition will feature a range of new commissions, site-specific installations and unseen archive film footage. Whitechapel Gallery curator, Daniel F. Herrmann will comment on the future of curating in a publication that will accompany the exhibition.
www.facebook.com/events/586262131465252/

FRIDAY 2 MAY
Furtherfield Gallery, 6-8pm private view 'Piratbyrån and Friends' group show
Piratbyrån and Friends traces the stories of cultural sharing and affinity-building among the activities and values of the members of Piratbyrån (The Bureau of Piracy). This Swedish artist/activist group was established in 2003 to promote the free sharing of information, culture and intellectual property. The exhibition presents screenings, installations and artworks by founding and more recent members, keen to tell the story of the group on their own terms.
www.furtherfield.org/programmes/exhibition/piratbyran-and-friends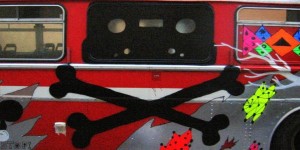 Cuntemporary, party Deep Trash Italia 
Cuntemporary are a Feminist and Queer theory platform that support anything and everything related to queer and fem.
A line-up of performances and non-stop acts will be showcased at this unique event paying homage to the best and the worse of Italian culture, from mainstream to underground. Experience Italian extravagance, spaghetti decadence, a Venetian-inspired fashion Carnival, Donatella Botox realness, Pasolinian homages, prescription pill Mona Lisa smiles, Very Dolce Vita, saintly fetishism (rosary jobs included), flying pizzas and much more. Mammas allowed.
www.facebook.com/events/623926904354003
SATURDAY 3 MAY
Anise Gallery, 5-8pm private view Drawing on Architecture group show 
Artists:members of Society of Architectural Illustration
The exhibition promises to bring together all members of the Society of Architectural Illustration (the world's oldest organisation of its kind) which means in one exhibition we will se some ink and watercolour illustration side by side with the modern computer 3D images and architectural photography – a striking testament to the organisation's craftsmanship and ability to evolve and embrace the new
www.anisegallery.co.uk
Categories
Tags