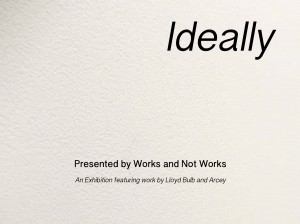 The exhibition which features original works by the elusive Lloyd Bulb and Arcey explores both the perception of what we consider reality and audience interaction with space. Ideally presents the first major exhibition in the UK for both artists.
At the core of both their practices, both Bulb and Arcey are drawn to illusionary perception, the audience's role as spectator and physical interaction with artworks and present here, not just an exhibition but an experience.
Arcey's practice explores the physicality of being, demonstrating a largely research based body of work. The concepts in Arcey's work clearly play with the notion of the spectator and the experience of art based on individual perception and interpretation.
Bulb's practice touches on similar concepts – dealing with the individuality of our perception and the significance of belief. The viewer's understandings of their existential surroundings are brought to their attention by placing them in a time and space where their physical presence is required.
The exhibition will present new works which combine stimulating and interactive installations, sound and sculpture. At the core of the exhibition will be Maze (2014), a collaborative piece which dictates the viewer's journey through the gallery and into the four installation rooms which feature new works which truly challenge any of the viewer's pre-conceived ideas of the white cubed gallery space, presenting the opportunity of a truly immersive exhibition.
For more details Email:los_8_14@hotmail.com
About Mark Westall