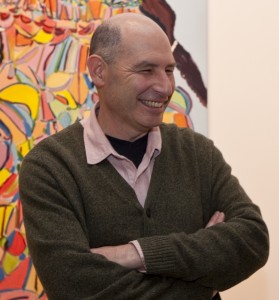 1 Have you always felt yourself an artist?
Not an artist exactly, but even as a child I wanted very badly to paint. I did study medicine for 2 years before going to art school.
2. Can you tell us more about your work and what are the main ideas you would like to express?
Each painting is different but they do share a common, slightly anarchic, spirit. There is often something carnivalesque about them, somewhere between burlesque and the picaresque, which tells you something about their showy nature and that there are stories in there too.
3. How do you start the process of making work?
With drawing, usually just simple doodles at first and then if it looks like there is an idea that I could develop I make a more detailed colour drawing and then a painting.
4. Do you consider the viewer, when making your work?
Not in any direct way but I sometimes feel aware of the presence of an imaginary viewer, as though they are eavesdropping on the conversation between myself and the developing image
5. Name 3 artists that have inspired your work
There could be hundreds but lets go with Goya, Guston and Braque.
6. What defines something as a work of art?
My own feeing is that art generally gets more interesting the more time you spend looking at it and thinking about it.
7. Why are you having this exhibition now?
For selfish reasons it seemed like a good time for me to review the last several years of my painting. Most of the paintings I selected for the show were those I thought I'd like to see again, and think about again.
8. How did you come to work with the Jerwood Gallery on this exhibition?
I was invited, I think the curators had seen my work over a number of years
9. The Exhibition is a survey of your work some new and some old pieces 15 in all, how did you choose what to show and how did you Stuart Shave and Jerwood work together?
I always like to get advice and I talked things through with Stuart and Kirk at the gallery but really I was very keen to see certain paintings again (see question 7).
10. Finally the exhibition is on from May to July are there special events planned such as talks etc?
Yes, I will be doing a walk around and a more formal discussion but I understand there are other events planned.
For more details on Ansel Krut's Exhibition Verbatim follow the link: www.jerwoodgallery.org
*ALSO make sure you enter our competition to win an Original Art Work from Ansel Krut enter HERE
Categories
Tags