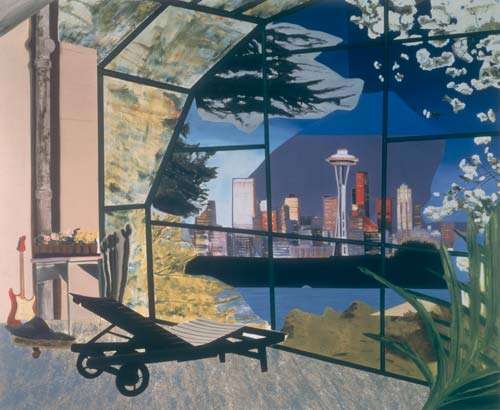 Dexter Dalwood, Kurt Cobain's Greenhouse, 2000, Oil on canvas, 214 x 258cm
This month Saatchi Gallery presents its new exhibition PAINTERS' PAINTERS: Artists of today who inspire artists of tomorrow, featuring the work of nine present-day painters ranging from their 30s to their 60s.
In an age where painting has become one strand among many in contemporary art making, Painters' Painters brings together a small group of distinctive figures in the field. Painters' Painters focuses on a group of artists who have been undeterred by the gradual decline in interest in this perennial art form.
There is no discernible style or movement these artists belong to, and as an exhibition, it examines the very individualistic and nonconformist approaches explored by painters who are proving to be inspirational to a younger generation of artists emerging from the world's leading art schools.
Painters' Painters features the work of Richard Aldrich, David Brian Smith, Dexter Dalwood, Raffi Kalenderian, Ansel Krut, Martin Maloney, Bjarne Melgaard, Ryan Mosley and David Salle.
Painters' Painters pays tribute to artists who have forged their own intriguingly diverse paths and techniques and continue to contribute to the ongoing development of painting today. They effectively negotiate the paradox of being both mainstream and niche, homogenous yet highly distinctive at the same time.
PAINTERS' PAINTERS ARTISTS OF TODAY WHO INSPIRE ARTISTS OF TOMORROW
30th November 2016 – 28th February 2017 www.saatchigallery.com

David Brian Smith My Soul Hath A Remembrance And Is Humbled In Me – II 2011 Oil on herringbone linen
180 x 150 cm
About the Artists
Richard Aldrich (Born in Virginia, lives and works in New York)
Aldrich has a highly complicated relationship with the history of painting. His work does not move in any particular direction but shifts between the figurative and the completely abstract, with a bit of installation thrown in. This deliberate avoidance of a style, and hence of any internal stylistic progression, is perhaps the most radical aspect of his approach. Aldrich received his BFA from Ohio State University and has since then exhibited at the ICA in London, Palais de Tokyo in Paris and Pecci Center for Contemporary Art in Prato.
David Brian Smith (Born in Wolverhampton, lives and works in London)
Some of the works by David Brian Smith were derived from a cache of family snaps he discovered taken by his great-grandfather, reminiscent of Gerhard Richter's series of paintings based on photographs of his relations. A shepherd appears in some of the works by Smith who comes from a Shropshire farming family. The figures in other works were derived from a photograph reproduced in the Armistice Issue of the Daily Express in 1933. The artist's mother found it under the floorboards of her house. Hence, the image is almost a magic talisman, a way of triggering imagination and very far from photo-realism. Smith has previously exhibited at Art Brussels, courtesy Albert Baronian in Brussels and the Saatchi Gallery in London. In 2005, he was awarded the Royal Academy Landscape Painting Award.
Dexter Dalwood (Born in Bristol, lives and works in London)
Dalwood relates his works to the tradition of history painting, a genre now half-forgotten but one of the principle forms of art. His process, as he puts it, is "a more brutal method of picking visual information then putting it all together to make a different sort of reality". He underlines the heterogeneous nature of his source material by piecing together cuttings from magazines and books to recreate landscapes and interiors that the viewer may already feel familiar with. In 2010, he was one of the four nominees of the Turner Prize and has featured in exhibitions at the Royal College of Art and Tate Britain in London and the Whitney Museum of American Art in New York.
Raffi Kalenderian (Born and works in Los Angeles)
Kalenderian has painted portraits of his friends and acquaintances ever since receiving his BFA in 2004. By painting directly from life, he ties himself to an increasingly narrow, yet hardy branch of art-making. He uses economical brushstrokes, suggesting he has found a delicate balance between attending to the process of painting and taking in a fuller experience that involves sounds, colours, conversations and underlying feelings. He uses this restrained medium to comment on the self-centred confinement of today's society, while drawing on predecessors' works for his subjects' settings. Kalenderian has previously exhibited at the Saatchi Gallery in London and University of California in Los Angeles, amongst others.
Ansel Krut (Born in Cape Town, lives and works in London)
Some of Krut's work revisits the genres and idioms of the past in a spirit of sinister farce. Still life that sends up the portrait tradition, where handles of pots and pans, as Krut has pointed out, could be ear-flaps, a saucepan itself a spiked helmet and sausages a mouth. Classic still life paintings are reconfigured as a naughty joke about bottoms, while other works return to cubism in a mood of disconcerting jollity. The crucial point about his humour is that you don't quite know how to take it, making it much more than just a visual gag. Krut was awarded the Abbey Major scholarship at the British School in Rome after graduating from the Royal College of Art in 1986 with an MA in painting and has since then exhibited internationally.
Martin Maloney (Born and works in London)
Maloney's work is drawn from varied sources, but the result is a homogeneous, highly distinctive and idiosyncratic style. The cheery, apparent naivety of Maloney's pictures is a way of connecting them with the contemporary urban reality of tower blocks and city parks. The world he has recreated through his paintings in an unexpected, unorthodox manner is a mixture of observation and invention. Martin Maloney has studied at Goldsmiths College and has featured in exhibitions at the ICA, the National Gallery and Royal Academy of Arts in London, amongst others.
Bjarne Melgaard (Born in Sydney, lives and works in New York)
Melgaard simultaneously responds to several chronological layers of predecessors. He has been described as the most internationally prominent Norwegian artist since Edvard Munch. Melgaard's preoccupations with sex, death and angst echo Munch's works, as does his wandering lifestyle. Visually, however, the shrieking colours and vehement paint marks of Melgaard's paintings have more connection with the graffiti art of Jean-Michel Basquiat, an only slightly older contemporary of Melgaard. Both Basquiat and Melgaard ultimately derive from Paul Gauguin, the first in modern western art to explore the expressive potential of the rough and the raw. Melgaard has exhibited at the ICA in London, Museum of Contemporary Art in Oslo and Palais de Tokyo in Paris.
Ryan Mosley (Born in Chesterfield, lives and works in London)
Ryan Mosley likes to work by inventing pictures from his imagination. He uses a process called de tête in which the painter allows imagery to well up and flow, one mark to the next. In describing works that combine a whirligig of limbs and body parts blending into each other and into patches of colour, Mosely describes how such pictures grow organically, "Painting something that you've never experienced, there's something fantastical about it; sometimes [starting] with an idea for narrative, then sometimes, according to the process of the painting, the narrative arrives." Mosely graduated from the Royal College of Art and along with exhibiting internationally, his work is part of the Arts Council Collection, the Falckenberg Collection in Hamburg and the Saatchi Gallery Collection in London.
David Salle (Born in Oklahoma, lives and works in New York)
"I've always thought about art like a river system", Salle remarked recently, "a great, wide river with all sorts of tributaries, that we are all part of". Salle's images come from a variety of sources including magazines, stock photographs, and pornography. He puts these images together in a painting the way another artist might create a collage using scraps of paper. His work reflects the ongoing modern preoccupation with the problem of reconciling one's individuality with the constant input of images and ideas from the outside, media-dominated world. Salle has exhibited at the Whitney Museum of American Art in New York, the Stedelijk Museum in Amsterdam, Museum of Contemporary Art in Los Angeles and the Guggenheim Museum in Bilbao.
Categories
Tags