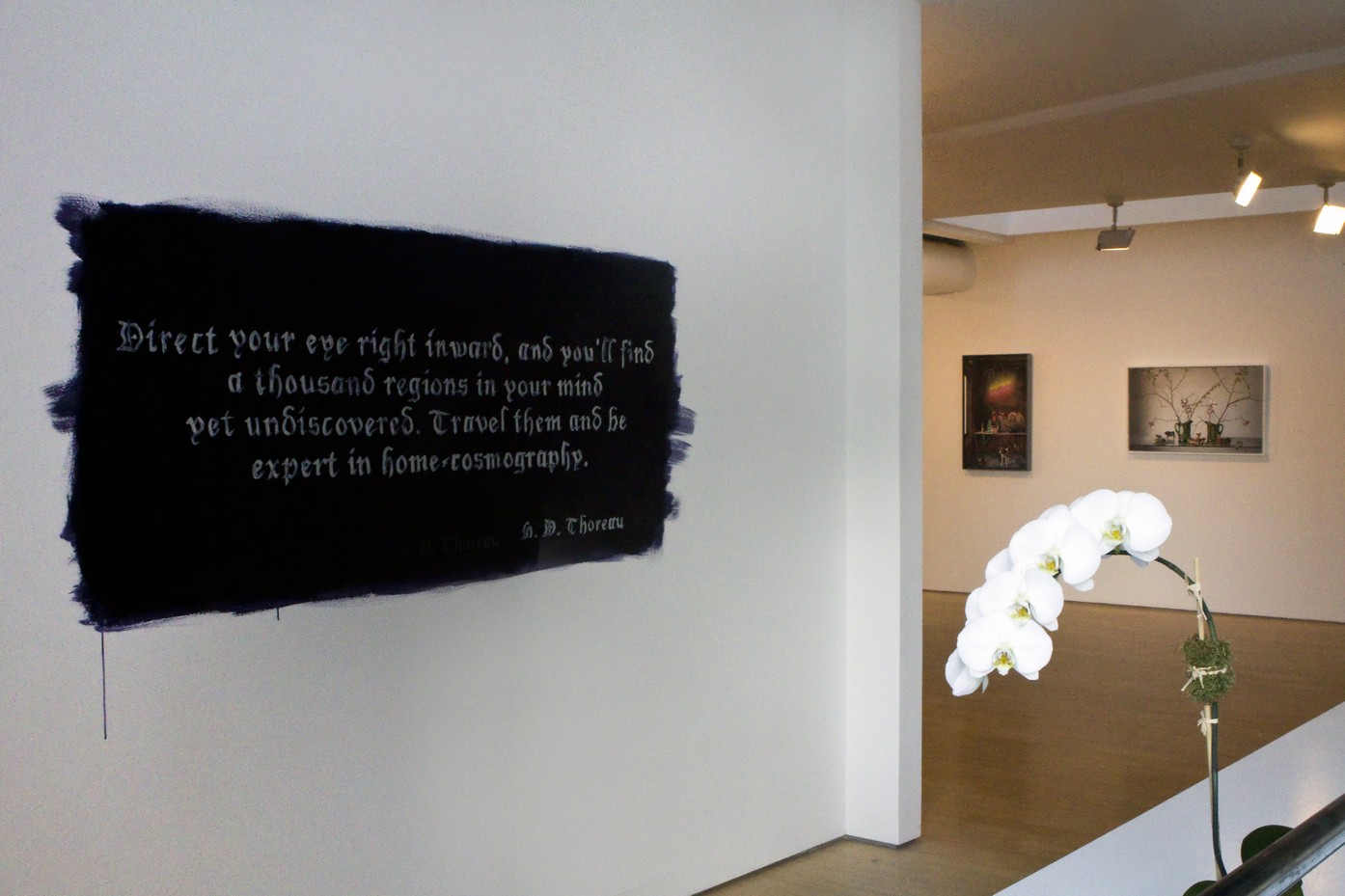 Installation shot
How does one begin to capture what it feels like to sail directly into the ambiguous, guided only by the light of the stars and the moon? Or, how do we as human beings, trapped in this purgatory of a dimension ever fully comprehend how surreal it must be to venture into complex universes which inherently defy all meaning of space and time? To leave the physical self  and escape into a place where the lack of certainty is, for once, comforting and inviting, like an ascending and descending spiritual spiral staircase, John Gordon Gauld's work welcomes intrigued minds to charter into convoluted, yet penetrable landscapes, awakening visions of illusionary worlds that one might thought to never have existed.  Gauld does not attempt to provide answers, but to only ask questions and instigate intellectual and impressionable conversations of how and where human beings fit in the grand scheme of things-or, if we even fit at all.
It was 5:30 pm on a Wednesday afternoon when I received the fateful, and equally grateful, opportunity to link up with New York based artist  John Gordon Gauld to chat about his latest exhibition- 'Interstellar Overdrive' now on view at Salomon Contemporary through May 10th in NYC's notable Chelsea Gallery district.  While the soft afternoon light danced in to say, "Hello and Congrats" to all of the freshly hung pieces, there was an unusually serene energy which consumed me, and after meeting Gauld- I immediately understood why.
Northern Gate of the Sun (Cancer), Egg Tempera on Panel, 2014
Tucked around the corner of the gallery space like one of his inconspicuous, yet symbolic objects seen in any of  his featured painted panels, I found Gauld staring out the window into the late afternoon sun patiently awaiting my arrival with a cup of tea in hand.  Dressed in a denim jacket, dark pants, brown boots, and a black beanie, his face adorned with a crimson beard, looking as though he had just stepped out of a long day in his studio- he greeted me with a smile and a friendly handshake- a quintessential artist and even more so, a quintessential gentleman.  A calm soul with complex layers, it is quite a rarity to come across a proficiently passionate painter in the year 2014, and even more, to uncover one who is so well versed in the processes of the 1000 year old painting technique of egg tempera.
Known by most, in the contemporary art scene, for his 16th century inspired allegorical still lives, where his carefully constructed panels contain playful, yet honest objects which remind viewers of death's inevitability, to his various grandiose and remarkably detailed storefront window installations commissioned by the exclusive and internationally renowned Bergdorf Goodman department store; this particular third solo exhibition at Salomon Contemporary, 'Interstellar Overdrive' is a hypnotic show all on it's own.  With a title inspired  by the psychedelic track produced by the groundbreaking musical legends Pink Floyd, (featured on the album,  'The Piper at the Gates of Dawn' 1967), and with content driven by Zodiac and Chinese astrological calenders, Hippocrate's four temperaments, and artists such as Bruce Nauman and Piero Fornasetti; this exhibition inherently commemorates and examines the great explorers, philosophers, creators and thinkers through time, and even more specifically,  through the lens of one of history's most infamous maritime disasters.
In July 1956,  on its way to New York City, the SS Andrea Doria Italia was struck by the MS Stockholm and sunk into the depths of the Atlantic. In Gauld's new Zodiac Series, inspired from recovered remnants of the ship's famed Zodiac Suite, he continues to examine the historical still life while expanding his focus on the allegorical history of the natural, philosophical, and spiritual and the roles these intrinsic elements play in the meaning for existence of man. Fascinated with the tantalizing tentacles of the seas and the oceans, the stars which sometimes seem too far away to connect with, and all of the states of existence in-between stimulate and arouse the mental lobes of Gauld. Saluting experimental voyagers such as  the brave astronaut crew from the 1986 Challenger Mission, the American aviator pilot and poet John Gillespie Magee, Jr., the philosopher and transcendentalist, Henry David Thoreau, and of course Pink Floyd, Gauld exhibits an innate understanding  with these valiantly courageous and intellectual souls, where whispers of their bold adventurous spirits are heard and felt through every gesture of his sincere brushstrokes.
Similar to the egg which binds pigments to wood panels, we embarked on our own voyage slowly, and serendipitously, around the transient gallery space, like floaters of microgravity, we began to dive deeper into the painted puddles he so specifically created  for this charismatically themed show. While zigzagging, and swaying through, and around, the corners and crevices of his outlandish dimensions, while creating our own metaphorical five pointed star, an immense depth laced with a heightened aura of  harmonious complexity took over and I felt as though I was instantly transported into a different dimension.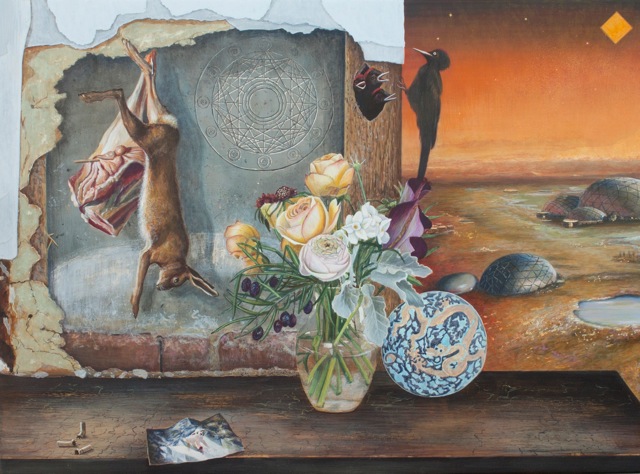 The Hired Man (Aries), Egg Tempera on Panel, 2014
All of the six paintings, (The Hired Man (Aries), Seven Sisters (Taurus), Dioscuri (Gemini), Northern Gate of the Sun (Cancer), The Great Lion (Leo), and Fertile Goddess (Virgo) and one cryptically challenging piece entitled, Nancy and I.) seen on either the right or the left of the gallery's walls, organically hang in such a mathematical and calculated way creating an impeccable 'interstellar' of a space, inevitably evoking a cross cultural conversation where faint, yet concise glimpses of alternate paradigms are witnessed causing the viewer to feel as if they are oscillating between alternate realms.  And, like waves of perpetuating insight that occur when observing distant shadows brought about by the rising of the eastern sun, upon deeper observation characters, symbols, and motifs inherently begin to breathe life through the canvas creeping into your own space, assisting one in becoming more acclimated to his carefully woven emblematic images.While emphasizing to me that although each piece is idiosyncratic, one piece does not hold more value or meaning over the other, and synonymous to the way in which the placement of an individual star within a constellation inevitably defines the placement of the next, lies in direct parallel with the curatorial formula of this exhibition.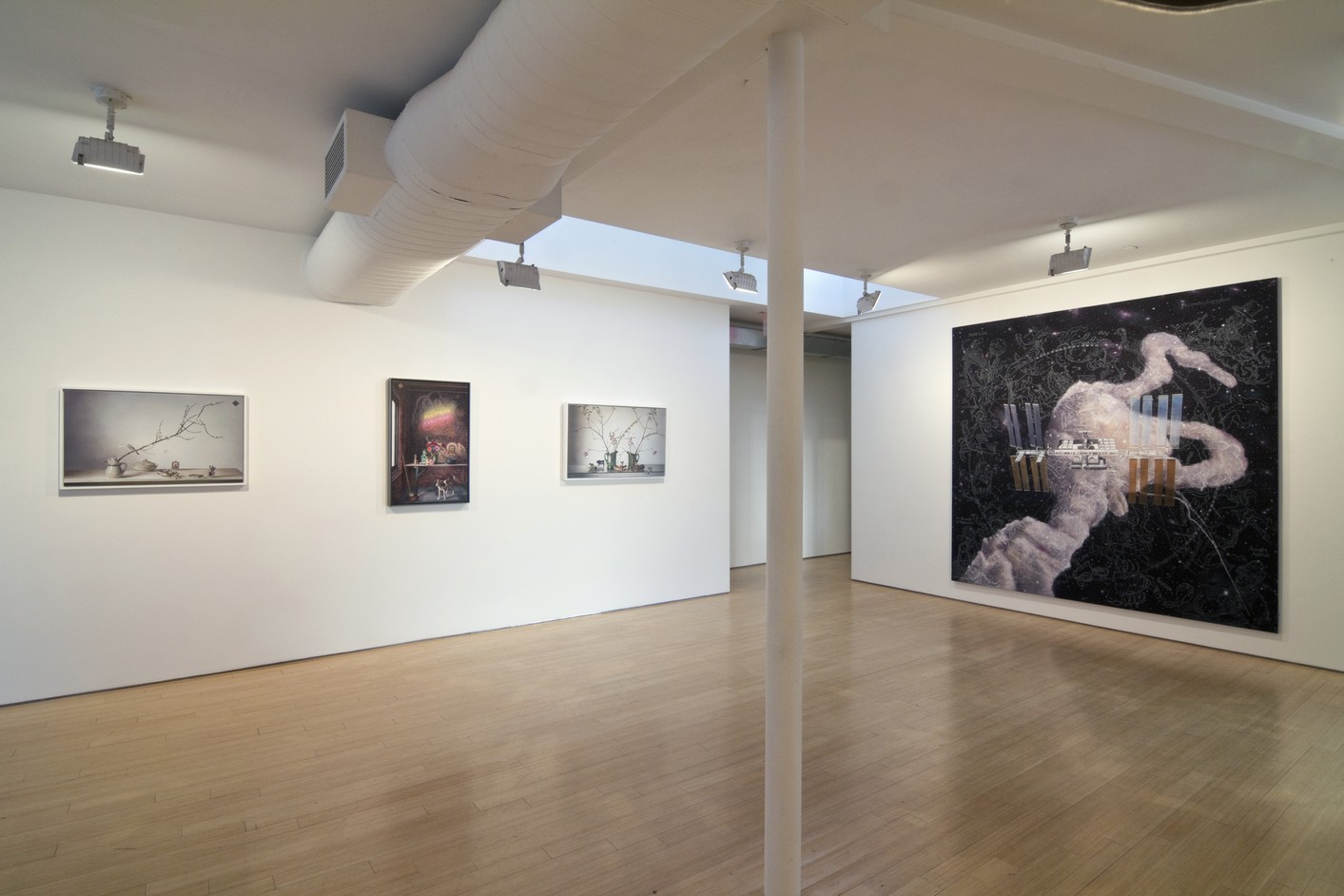 Installation: (Seven Sisters (Taurus), The Great Lion (Leo), Dioscuri (Gemini), 2014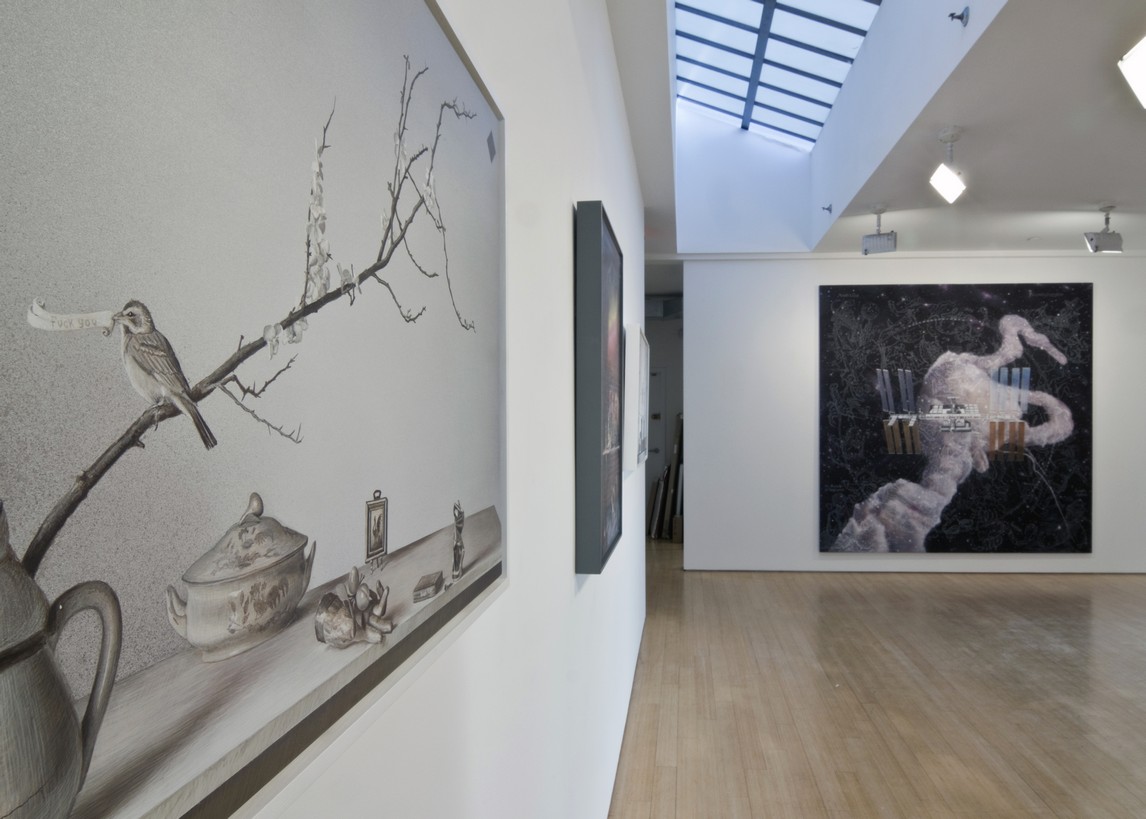 Installation: (Seven Sisters (Taurus) and Nancy and I., 2014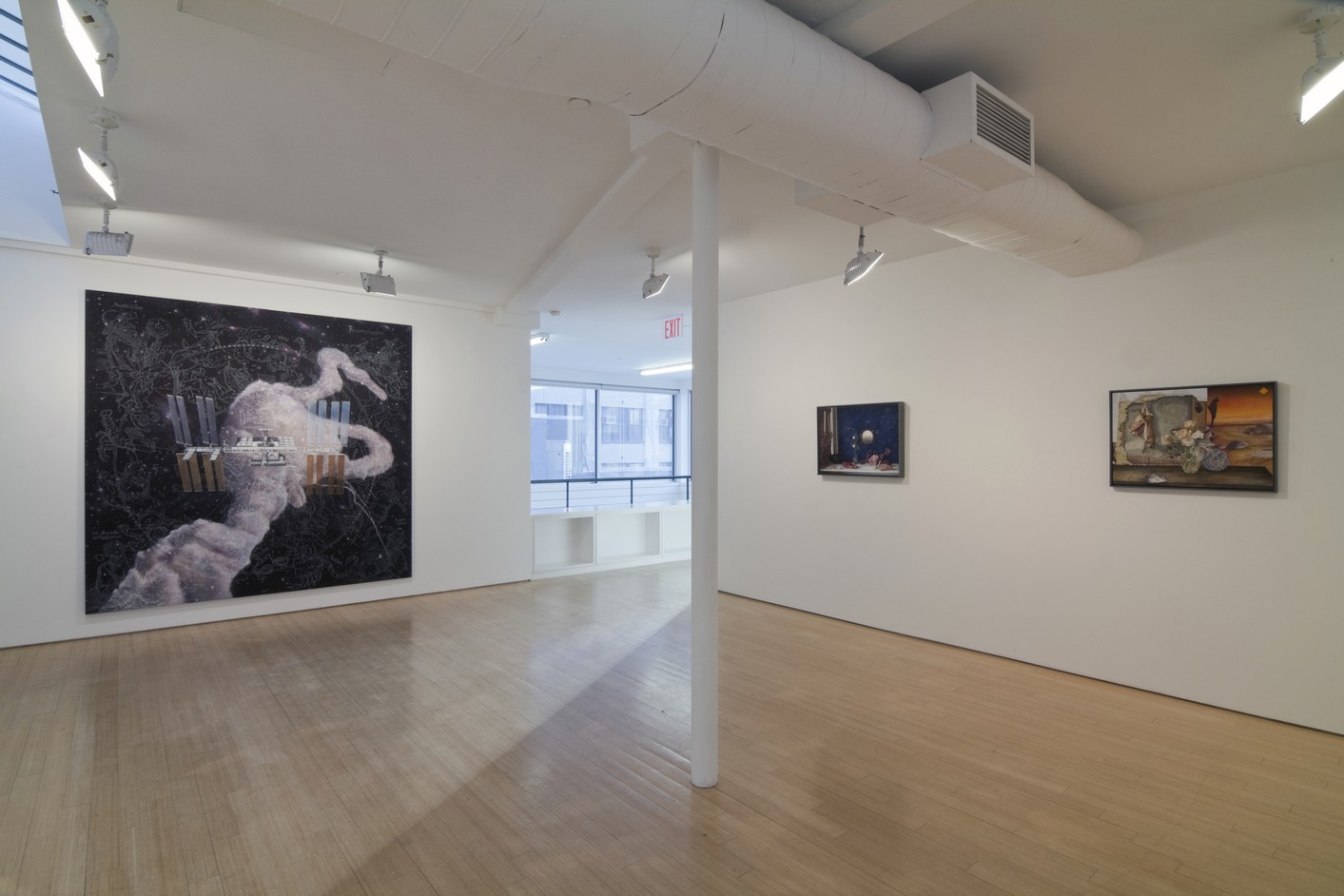 Installation: Nancy and I and Northern Gate of the Sun (Cancer), 2014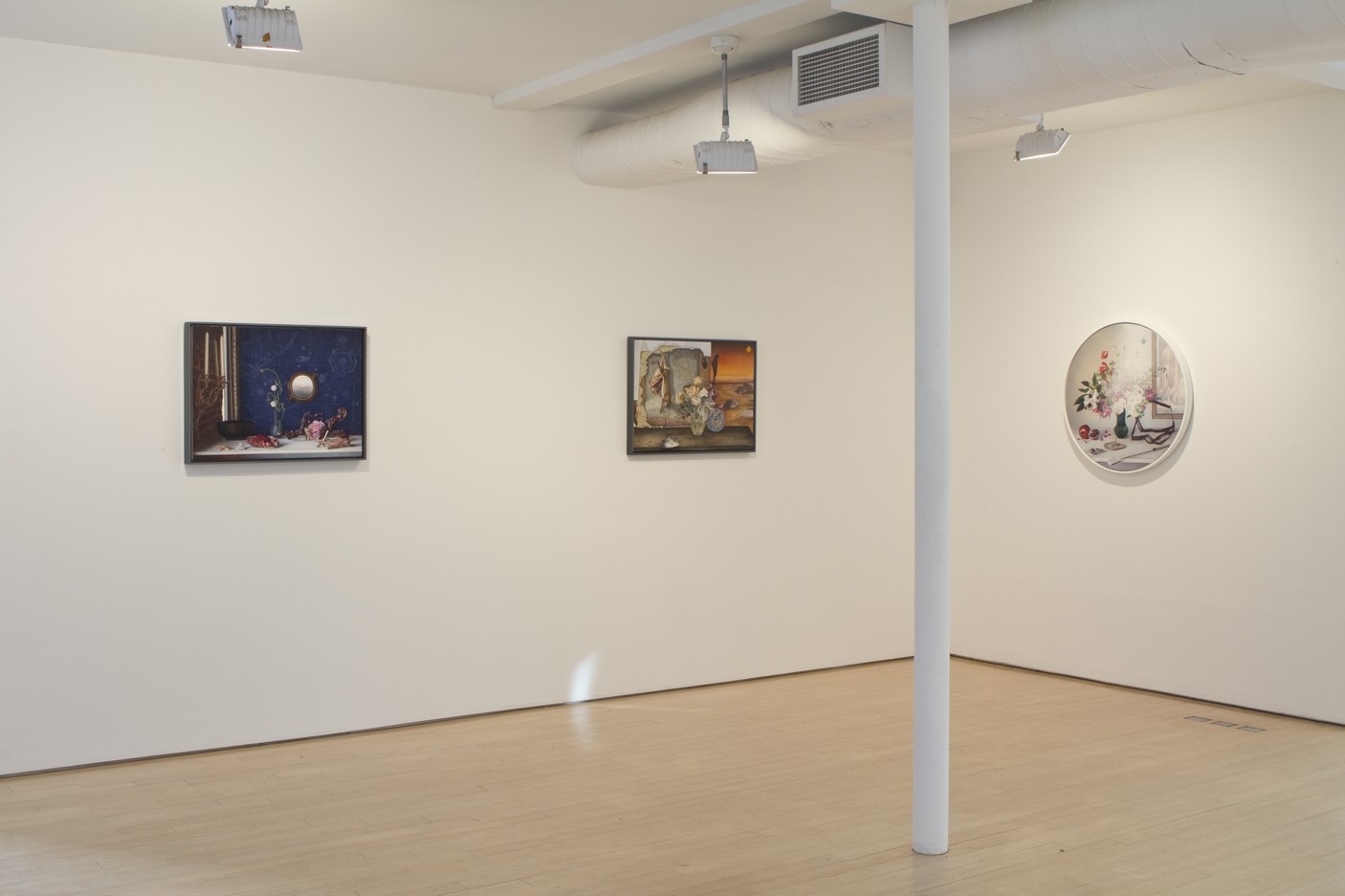 Installation: Northern Gate of the sun (Cancer) and The Hired Man (Aries), 2014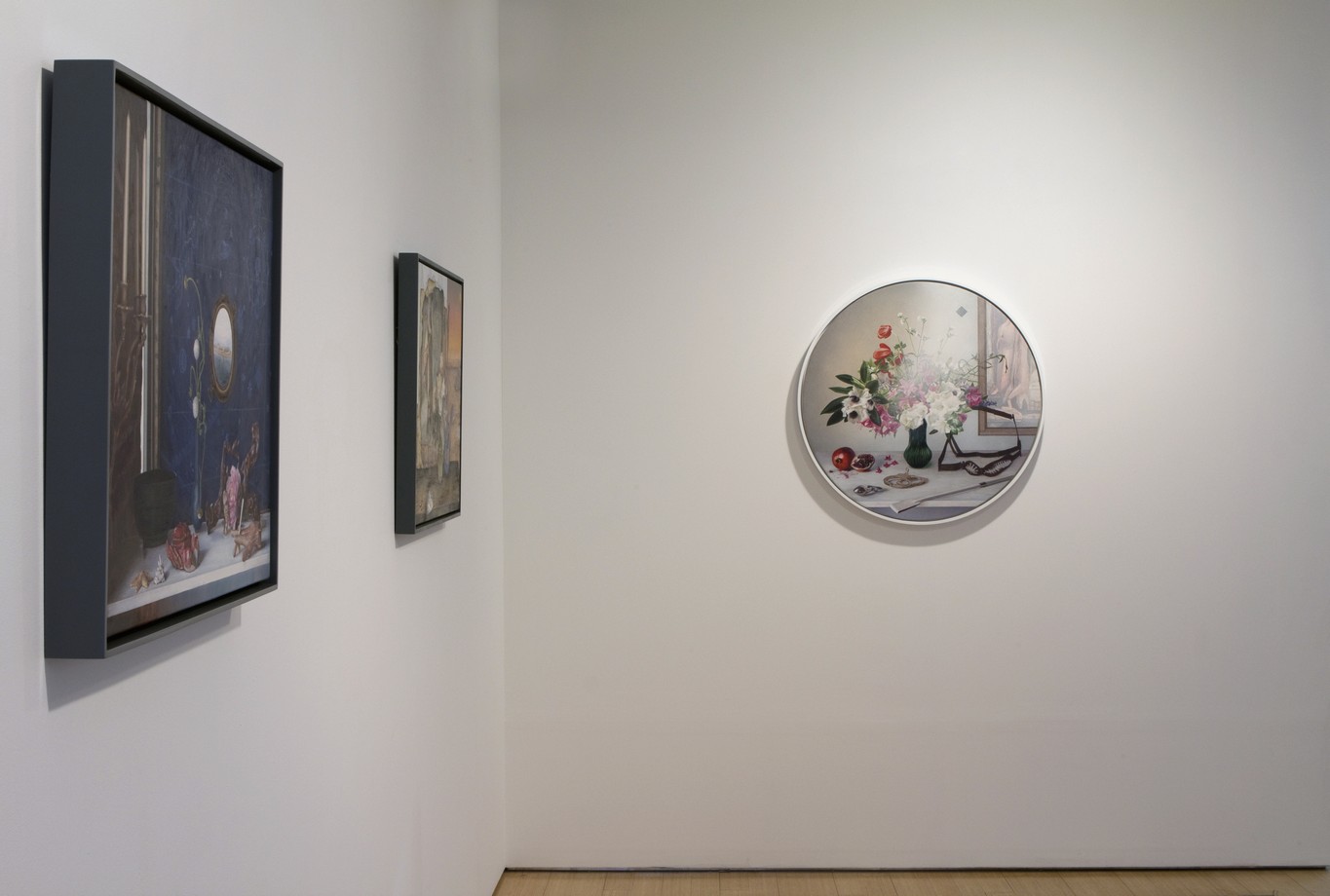 Installation: Northern Gate of the sun (Cancer) and The Hired Man (Aries), Fertile Goddess (Virgo), 2014
Although painting since he was a child, it was while earning his BA @ Rhode Island School of Design (1995-99) where his fascination with egg tempera emerged. While studying images of great Italian masterpieces of the Renaissance (when the technique had reached its peak) Gauld became just as equally entranced by the detailed 15th century artists of the North, such as the legendary German engraver Albrecht Durer, and the Flemish innovator of the oil technique, Jan Van Eyck. While observing as much as he could through these images, he simultaneously taught himself to master these intricate labor intensive processes, relaying to me, "It was much trial and effort, a lot of push and pull and finding the perfect rhythm. But I just love the fact that the application of hand ground pigments combined with the naturalness of egg binding yolks allows for  an awakening of thoughtful and deep reflections of light to seep through the many implemented layers, causing for the narratives I wish to reveal, or the conversations I am seeking to ignite to actively shine on their own."
The literal star of the show, displayed on the wall closest to the staircase,  functions as a colossal canopy which helps to balance and harmoniously unite the other personified six medium bodied astrological signs. As equally alluring  as the other six pieces, Nancy and I  is absolutely captivating, and this constellation instantly swallowed me whole.  Accustomed to making such large landscapes, if not larger, for his Bergdorf Goodman window installations, Gauld explained to me how this spectacular painting was inspired by the explosion of the Challenger Mission which occurred on that disastrous day of January 28th 1986.
As the whole world was incredibly shocked and moved by this explosion, it was the speech which Ronald Reagan so strategically delivered that compelled Gauld to produce his own version, or translation, of what this catastrophe meant to him, and to the evolution of discovery- both on an individual and collective scale.  In the background, legendary engraver and print maker Albrecht Durer's (1471-1528) astrological map is referenced, with the layering of Gauld's vivid interpretation of the Challenger explosion placed directly in the center. Old world meets new- yet the interpretation of loss and to what it means to be found always remain the same.  All encompassing, magnetic, and sublime, this piece most effectively braids the six astrological signs featured on either side of the wall in a most otherworldly of ways.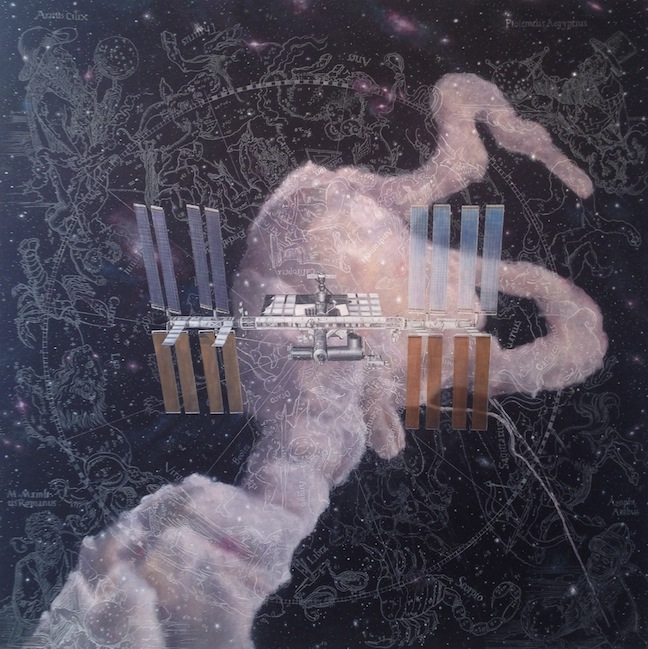 Nancy and I., Egg Tempra on Panel, 2014
When asking Gauld, if he indeed had a favorite, he replied with a dedicated gaze and complimentary smile: "that is like asking which child you love more."
And where, may you ask, are the other six signs of the astrological wheel?  The missing six signs are still enduring waves of completion, or rather, Gauld is still continuing to explore the potential dimensions these remaining sun signs have yet to explicitly expose…
Art novice or art expert, anyone would notice and applaud Gauld's fine attention to symmetry, balance, and choices of complimentary colors.  But, if one chooses to embark on the challenge of continuing to swim deeper, inanimate objects with playful, yet solemnly impressive voices begin to intercept.  Gauld's paintings are tiny explorations within their own right. Navigating through ideas concerned with past methodologies of calculated mathematical exploration, the Zodiac and Chinese calendars, and even somewhat political pop icons.  John Gordon Gauld's works are contemplative, meditative, and seek to poignantly question dimensions of space, time, and history while offering his viewers the rare chance to dive into alternate universes and into a paradigm of infinite possibilities and endless interpretation; works which continue to give, pulling your quiet consciousness in and out of what might have once seemed like a simple existence. Travel boldly away from what you may think is reality and EXPLORE THIS SHOW!
Salomon Contemporary is located @ 525-531 WEST 26 STREET, 4TH FLOOR NEW YORK, NY 10001
For more information visit: www.salomoncontemporary.com
To view more of John Gordon's Gauld's works, other exhibitions and projects visit: johngordongauld.com
*All photos courtesy of the Artist 
Categories
Tags