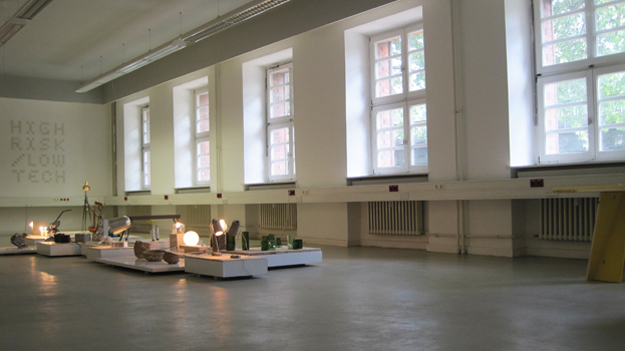 Opening on Wednesday April 23rd 7PM Muse Fuse will be back at NURTUREart Gallery. Brooklyn gallerist Leah Stuhltrager, of Dam, Stuhltrager will speak in an event moderated by Karen Marston, Brooklyn-based artist and President of NURTUREart's Board of Trustees. Stuhltrager is visiting from Berlin where she has relocated and launched a multidisciplinary contemporary art and tech hub, The WYE. 
Leah Stuhltrager is known for uniting Art and Technology as a gallerist, curator and project manager. Stuhltrager began her career by co-founding
Dam, Stuhltrager in Williamsburg Brooklyn in 1998. Dam, Stuhltrager artists included Cris Dam, Ryan Wolfe, Loren Munk, Ruth Marshall, Mark Esper, Carol Salmanson, Mark Andreas, Brose Partington, Anna Frants, Devrim Kadirbeyoglu, William Powhida, James Austin Murray among others. Highlights of Stuhltrager's gallery projects with these artists included Public Art at Lincoln Center, Coachella, E-Halle, Contemporary Istanbul, Circulo de Bellas Artes, The Hermitage Museum, The Oriental Pearl Tower, IMAL, Cà Foscari Zattere during the recent Venice Biennale and Cyberfest.
In 2012, Stuhltrager opened The WYE, a contemporary Art and Tech hub which houses studios, co-working spaces and event spaces. Without receiving any public funding and not charging a penny over actual costs to anyone housed at The WYE – Stuhltrager attracted and carefully curated Berlin's top creative and tech innovators ("doers") to invite to join The WYE. Together those at The WYE support their own community by providing approximately $10,000 a month minimally in space and resources to support nonprofits as well as participate in fundraising effort.
To know more visit: www.damstuhltrager.com
Wednesday, April 23, 7PM NURTUREart Gallery 56 Bogart Street Brooklyn NY 11206
About NURTUREart: NURTUREart Non-Profit, Inc is a 501(c)3 New York State licensed federally tax-exempt charitable organization founded in 1997 by George J. Robinson. NURTUREart receives support from the New York City Department of Cultural Affairs, including member item funding from City Council Members Sara Gonzales, Stephen Levin, and Diana Reyna, the New York City Department of Education, and the New York State Council on the Arts.  NURTUREart is also supported by the Harold and Colene Brown Foundation, Edelman, the Golden Rule Foundation, the Greenwich Collection, Ltd., the Joan Mitchell Foundation, the Milton and Sally Avery Arts Foundation, the Walentas Family Foundation, and the Wolf Kahn and Emily Mason Foundation. We receive in-kind support from Brooklyn Brewery, Societe Perrier, Tekserve, and Volunteer Lawyers for the Arts.
Categories
Tags