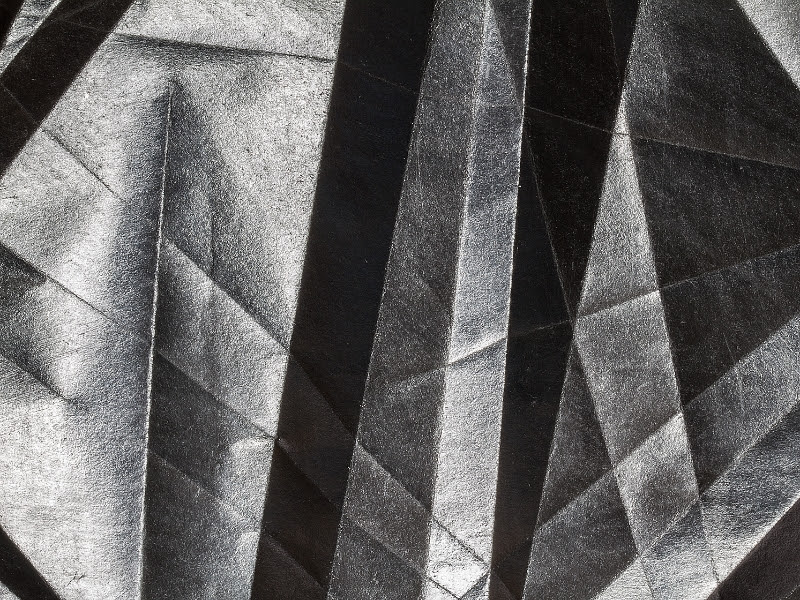 Charley Peters – _MG_2332, Pigment Print, Edition of One, 2013
Launch 7pm, Thursday 17th April Online Only Virtual Exhibition in association with Exhibbit
Exhibition Page
'The art that Charley Peters makes is exquisitely sensual, although somewhat otherworldly' – Robert Clark, The Guardian.
Peters' work destabilises boundaries between what we see and what we know. Her enigmatic visual constructions operate in a liminal space in-between structure and abstraction, the material and that which lies beyond it.
Operating within the expanded field of drawing Peters utilises her own unique working process as a vehicle to evoke active engagement within the viewer. The artist's work is simultaneously direct and open-ended. Peters builds up layers of intense tone resulting in works that respond to material and spatial conditions. An ambivalent series of dialogues are acted out on the work's surface; tensions between the light and dark, the definite and indefinite, the industrial and the organic. In Peters' work, geometric lines and the spatial fields that they define exist in a continuous state of flux.
??
Encounter Fine Art
Encounter Fine Art was founded in 2013 by young art market entrepreneurs Alexander Caspari and Jordan Harris. The company brings audiences closer to critically selected contemporary art through the creation of co-existing digital and physical exhibition spaces. At the forefront of the ever-changing art market, Encounter Fine Art combines dynamic exhibitions, comprehensive consultancy and an accessible digital marketplace. www.encounterfineart.com
Exhibbit
Exhibbit was founded in 2004 by Peter Worrall and Amanda Lane. The Exhibbit team has spent the past five years developing and refining their online 3D gallery software. The result is a sophisticated digital space with comprehensive tools enabling the curation, management and marketing of exhibitions in a virtual gallery environment. Exhibbit is an elegant, accessible, easy to use and affordable art marketing solution with a worldwide reach. www.exhibbit.com
Charley Peters
Charley Peters lives and works in London. In 2012 she was shortlisted for the Salon Art Prize and the Beers Lambert Award for Emerging Artists. In 2013 she was Artist in Residence at the Centre for Drawing, University of the Arts London.
In 2006 Peters completed a PhD in Fine Art Theory and Practice, which explored notions of the interior space in art and its relationship to Freud's writings on The Uncanny. She has held academic posts lecturing in Fine Art and Critical Theory at institutions including University of the Arts London, Manchester Metropolitan University and Victoria and Albert Museum, and visiting lectureships at Royal College of Art, University of Wales Institute Cardiff and Leeds University.
Launch: Online Only: www.encounterfineart.com
Categories
Tags