The Vinyl Factory's Brewer Street Car Park space between 4th April and 16th April
Photographer Richard Mosse brings his multichannel video installation to The Vinyl Factory Space at the Brewer Street Car Park.
A culmination of his work in the war-torn eastern region of Democratic Republic of Congo, The Enclave will be Richard Mosse's debut London show, exhibiting his forty minute multi-channel film alongside a series of large scale photos, all presented in a darkened and immersive chamber soundtracked by composer and experimental electronic music producer Ben Frost.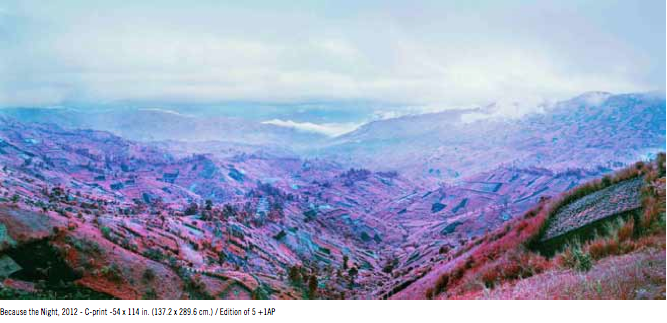 Psychedelic and unsettling in the extreme, Mosse shot The Enclave on a discontinued line of military reconnaissance film initially developed to root out camouflaged enemies using an invisible infrared spectrum to render the green landscape in vivid hues of lavender, crimson and shocking pink.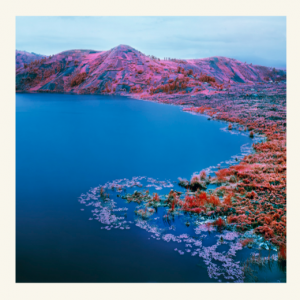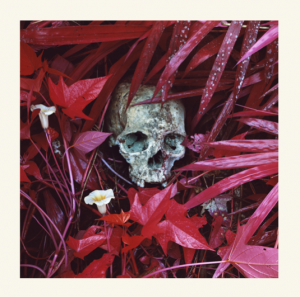 Crucial to this multi-faceted approach is the chilling and cinematic soundtrack contributed by Frost, who also spent time with Mosse in Democratic Republic of Congo. Ahead of his full length album A U R O R A for Mute Records, Frost will release a brace of extended pieces from The Enclave on limited edition 12? with The Vinyl Factory, which clock in at over 15 minutes each. Check out the original artwork below and look out for audio previews in the coming weeks.
Originally commissioned for the Irish Pavilion at the 55th venice Biennale and presented here by The Vinyl Factory in collaboration with Edel Assanti, The Enclave will open to the public at The Vinyl Factory's Brewer Street Car Park space between 4th April and 16th April. It will be open daily Tuesday – Saturday between 11.30am and 5.30pm.
Released on 7th April, the limited 12? will be available exclusive from The Vinyl Factory online shop and the exhibition itself.
Categories
Tags