The growth of art fairs, and their influence on the art market and the traditional gallery system, has been at the centre of many a debate in recent years.
Love them or hate them, the art fair offering does have some significant benefits for the collector, including an opportunity to view the work of a broad range of artists under one roof and in a short space of time, to discover new artists and broaden your knowledge of what is being produced by artists beyond your personal focus, and to network with galleries participating and other collectors visiting the fair.
Now in its 19th edition, miart has confirmed its place on the circuit of the leading European contemporary art events, and one of the most successful art fairs in Europe.
This year miart included 148 international galleries, split into five sections:
(1) Established: International galleries that have been promoting modern and contemporary art for several years.
(2) Emergent: Young, avant-garde galleries with recognized activities in experimental artistic research.
(3) ThenNow: An invitational section, a face-off between an artist from an "older" generation and artist coming from a younger one.
(4) Object: Galleries that promote contemporary design objects originally conceived as limited editions, but that are framed or contextualized as works of art.
(5) Project: Conflux: A newly created platform of the miart fair exhibiting site-specific, solo or 2 artist projects and installations by international contemporary artists represented by renowned galleries from Latin American, United States, the Middle East and Europe.
The rationale for my trip to Milan on Friday was to take advantage of a rare opportunity to see the work of a number of artists whose work I admire and who rarely exhibit on this side of the pond (some of which are included in my highlights below), and also to meet a number of galleries whose programme I admire and who have always been a pleasure to deal with by email and phone from afar:
1. Rod Barton
The London-based gallery has a growing reputation for selecting and exhibiting promising young artists. In this year's miart, Rod Barton chose to have a solo presentation of Chris Succo's work.
Tucked away in the corner of the fair, Rod Barton's 'emergent' booth was one of my personal highlights. Like many of the artists exhibiting at the fair, this was my first opportunity to see Chris' work in person and it didn't disappoint. The gallery exhibited four paintings from the artist's 'White Paintings' series and reported that they had sold all four paintings by the close of the first day.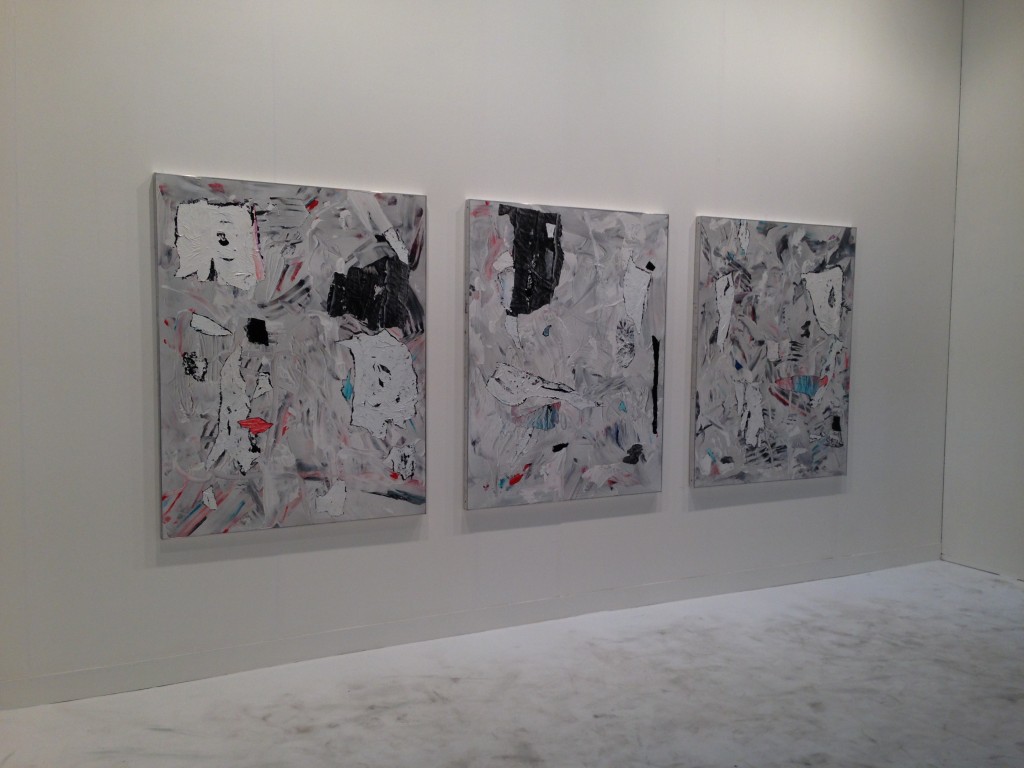 2. Brand New Gallery
The Milan-based gallery with a good track record of exhibiting some of the art market's recent success stories (including Oscar Murillo, Lucien Smith and David Ostrowski to name a few) had a group presentation of works by James Krone, Jackie Saccoccio, Ryan Conrad Sawyer and Alain Biltereyst.
Brand New Gallery's booth was a dual presentation with Anat Egbi from Los Angeles, who represents the American artist Joe Reihsen. Reihsen's work is becoming increasingly popular with collectors, and was certainly one of my personal the highlights of the fair. Bold in colour and composition, the large abstract paintings were beautifully presented and sales were reported to be strong.
3. Luce Gallery
Based in Turin, Luce Gallery was another 'emergent' gallery selected to exhibit in this year's miart. Run by Nikola Cernatic, Luce Gallery is another gallery that has developed a strong track record for showing young artists starting to gain momentum in their field.
Having shown the likes of Sam Falls and Parker Ito in recent years, the gallery used this year's fair to showcase the work of two three promising artists: Hugo McCloud, Graham Collins and Alfredo Aceto. Both based in New York, Hugo McCloud's aluminium and tar collages and Graham Collins' composites of glass scrims, spray enamel and reclaimed wood, were two further highlights.

Edgar Orlaineta at Steve Turner Contemporary
4. Steve Turner Contemporary
The LA-based gallery were invited to present a solo project for miart 2014 with the Mexican artist Edgar Orlaineta.
This follows a solo exhibition at Zone Maco in Mexico City (again with Steve Turner Contemporary), where the artist was awarded the Premio Tequila 1800 Purchase Prize (including prize money of $40,000).
Titled Suspended, the miart 2014 project consisted of works that were inspired by Sophie Taeuber-Arp's work, an artist widely considered to be one of the most important artists of geometric abstraction of the 20th century.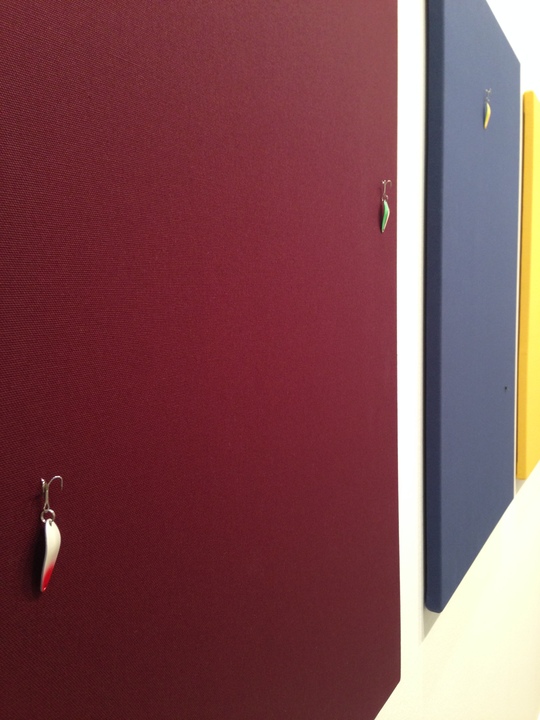 Paul Cowan detail at Jonathan Viner
5. Jonathan Viner
One of the benefits of attending an art fair is discovering the work of artists that you hadn't previously come across. Jonathan Viner's presentation at this year's miart included the works of two such artists: Paul Cowan and Will Boone.
Based in New York, Paul Cowan uses the likes of fishing lures to challenge the careful craft and touch of the artist while opening up new discussions about the significance of the painter's gesture. Will Boone is a young US artist; information about his practice is sparse but we understand Jonathan Viner will be exhibiting his work at Dallas Art Fair next week, and a solo show will follow in the coming year.
Further photos from miart can be viewed here
miart on ARTSY
Categories
Tags