Olympia's hallowed Grand Hall is the setting for Art14, the second edition of this global art fair from Art Fairs London. Whilst London art circuit stalwart Frieze has begun to feel a little jaded, Art14 is carving itself a reputation as the go-to art fair for discovering contemporary artists from all corners of the globe. Galleries and Artist from Europe, Asia, Africa and the Middle East are displaying their wares until 2nd March, with Fay Maschler curating a series of Pop Up restaurants showcasing some of London's best chefs, and an Art & the City programme examines how art is reinventing cities globally. With 182 galleries amassed under 1 roof, it's difficult to pick out favourites, but here is my Top 10;
1. Pakistani artist Irfan Hasan uses his skills as a miniaturist to portray President Obama with drones flying into his mouth in 'Target Kissing', a wry take on US stealth drone attacks. Check out his devilish portrayal of Damian Hirst too. (ArtChowk, Pakistan I1)
Yves Hayat and Parfum de Revolte from galleryIntell on Vimeo.
2. Continuing with the political theme that was evident was an ironic twist on the iconic Chanel No. 5 bottles: Yves Hayat's No.6 Kiev Ukraine is one of a series of 'Parfum de Revolte' perfume bottles named after uprisings during the Arab Spring through to the present day. (Galerie Mark Hachem, Paris )
3. Young gallerist Jack Bell promotes contemporary African artists, with a focus on Sub-Saharan Africa. Cameron Platter's hand-carvings stand out. (Jack Bell Gallery, London )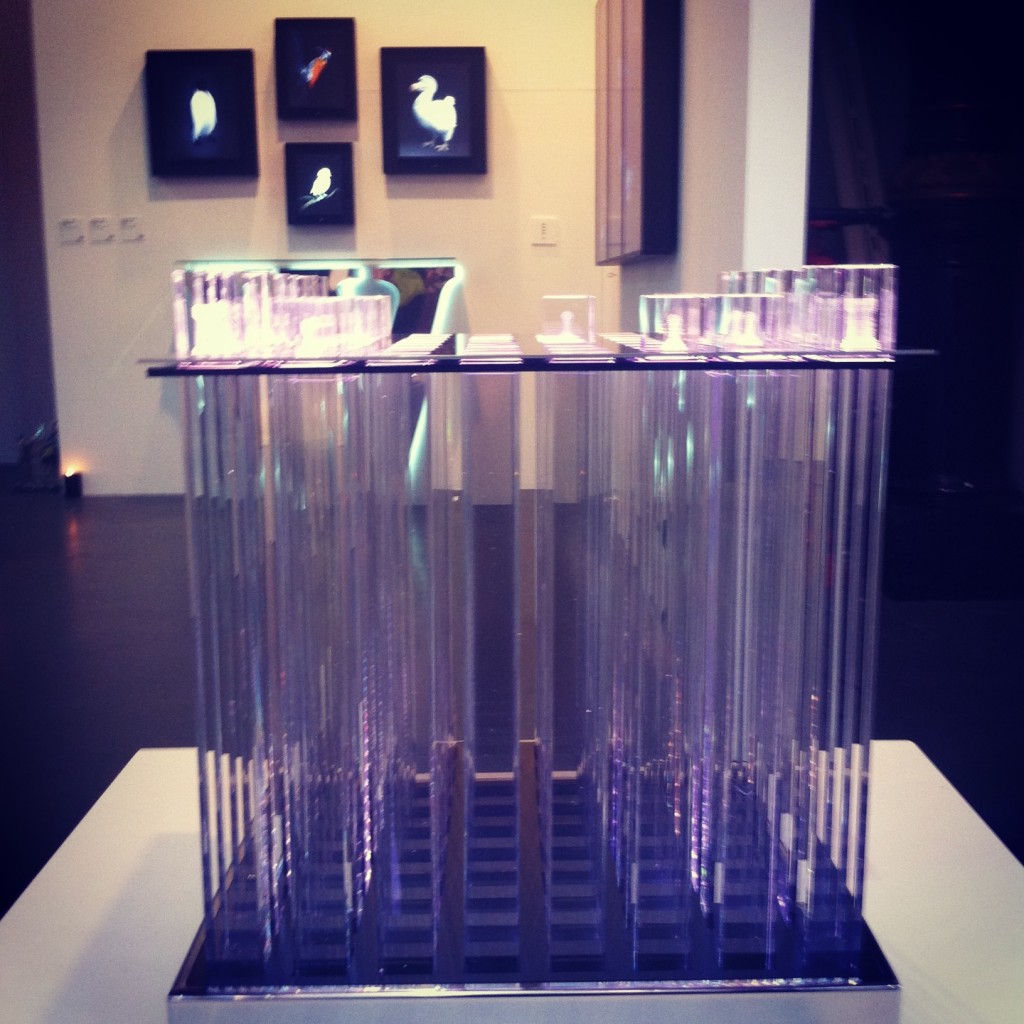 Dominic Harris
4. Dominic Harris's light-filled interactive artworks and installations straddle the divide between fine art and highly collectable design. (Priveekollektie Contemporary, Netherlands)
5. Ronald Manullang's series of hyper-real paintings of Indonesian first President Soekarno depict his 5th wife Naoko Nemoto as a naked Goddess, a metaphor for the artists' belief in intervention by a Supreme Being when an important leader is about to make a historical decision. Based on a book where a 50-7ear old Naoko posed nude and had her body painted by a famous Japanese artist, the series has a decidely Pop Art feel. (Contemporary Indonesian Art, Jakarta)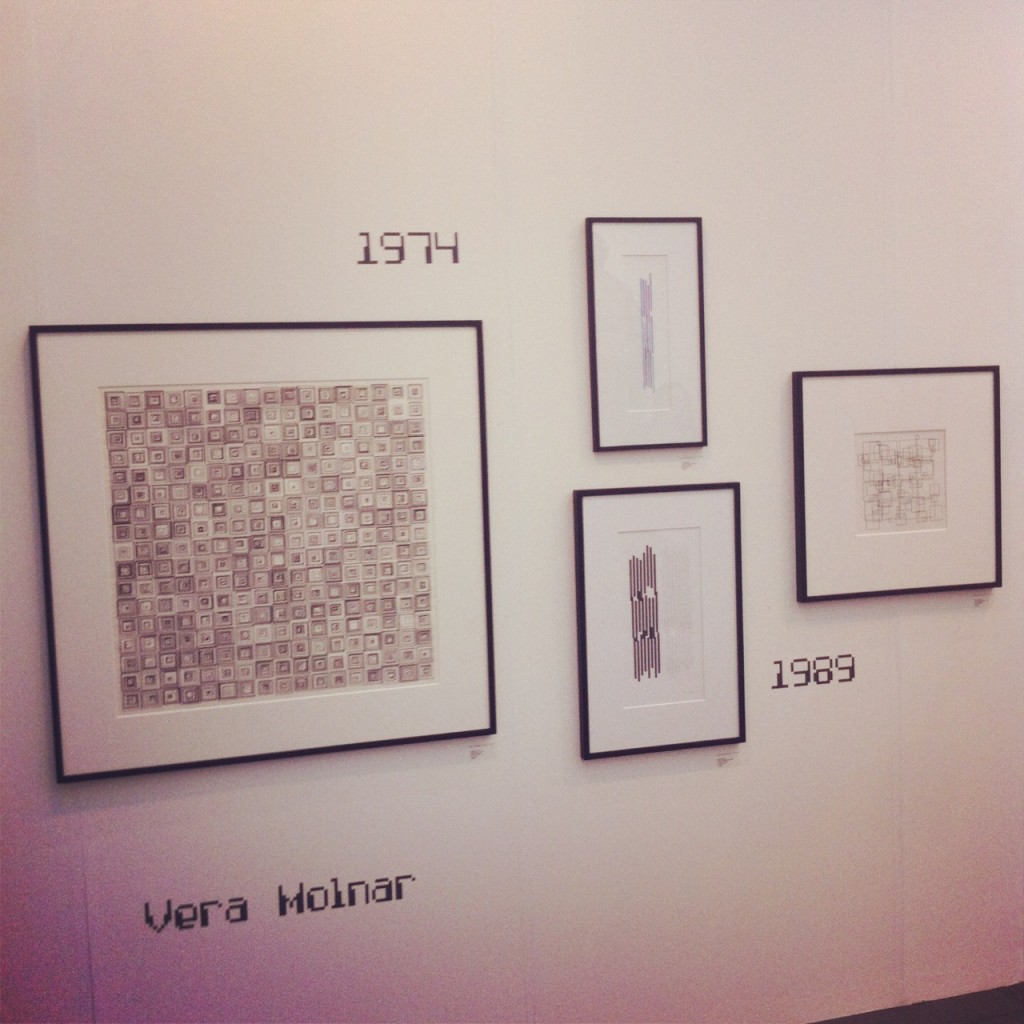 6. Dam Gallery from Berlin are one of a rare breed of gallery specialising in digital media, and they provide an interesting survey of digital art from 70s artists such as Vera Molnar, through to the present day.
7. Japanese artist Emi Miyashita's installation is a Psychoanalysts's delight, with micro pencil drawings of miniature horses straddling bare boobs, Phallus trees and tiny naked ladies frolicking on nipple-topped cup cakes. Hung in ornate frames on 19th Century wallpaper, and observed through magnifying glasses, the drawings are inspired by Miyashita's childhood when she came across her Father's erotic magazine, hidden in a Victorian fashion. (Maddox Arts, London)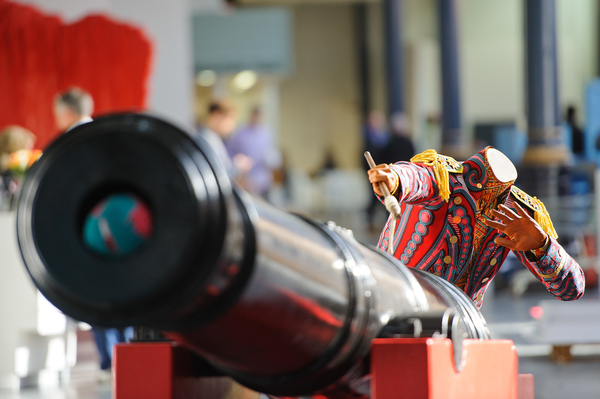 Yinka Shonibare MBE 'Cannonball Heaven' – presented by Pearl Lam Galleries in association with Stephen Friedman Gallery
Art14 London –at Kensington Olympia from Friday 28th February until Sunday 2 March.Getty Images for Pearl Lam Galleries
8. Yinka Shonibare's 'Cannonball Heaven' is hard to miss, a riot of colour and costume, this eye-catching installation was developed out of research the artist undertook whilst working on his 4th Plinth commission. (Art14 London Projects)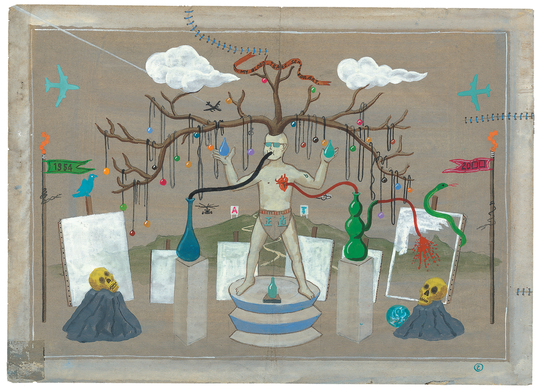 9. In the Emerge section a new, curated area featuring galleries less than 7 years old, Kim Eull's disturbed drawings of skulls, heart valves and macabre objects evoke Medieval Vanitas or the disturbed canvases of Hieronymous Bosch. It's only modern-day motifs such as Airplanes in the sky that reveal these drawings to be contemporary. (Gallery SoSo, South Korea)
10. Queen of abstraction Bridget Riley is one of my all-time favourite artists, and to see her early work juxtaposed with some new paintings by rising star Ann-Marie James is a refreshing way of presenting established artists with their young contemporaries. (Karsten Schubert, London)
Words and Images : Lee Sharrock
About Mark Westall