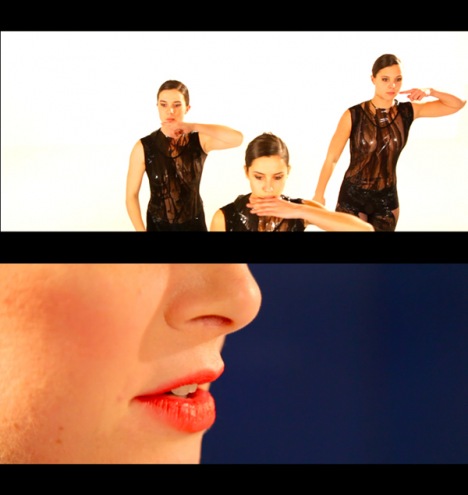 Part of the series BMW Tate Live 2014: Performance Room
Following her live musical at Tate Britain, And You Were Wonderful, On Stage, the second part of Cally Spooner's BMW Tate Live commission transforms the musical into an extended trailer for a future film that doesn't yet exist.
Part promise that something new will arrive, and mostly a sketch as to what this could be, Spooner's Performance Room production finds itself situated somewhere between a rehearsal, a chat show and a promo; featuring the gestures of public figures who stumbled at a moment of liveness, a mezzo-soprano narcissist channeling public disappointment via YouTube comments, a lip-syncing employee and a gossiping, absent Chorus Line.
The performance is followed by a live Q&A for which you are invited to tweet your questions @Tate_Live #BMWTateLive
And You Were Wonderful, On Stage is evolving and itinerant, with musical composition by Peter Joslyn devised with Rhiannon Drake, Helen Hart, Jenny Minton, Piya Malik, Rebecca Thorn and Cloe Turpin; costumes by Malene List Thomsen; choreography by Adam Weinert; and a growing cast of performers.
About The Artist
Cally Spooner lives and works in London. Using theory, philosophers, current affairs and pop cultural figures as alibis to help her write, and casts of arguing characters to help her perform, Spooner produces plotless novellas, disjunctive theatre plays, looping monologues and musical arrangements to stage the movement and behaviour of speech. Recent work has explored how high performance economies have affected speaking as a live, undetermined event. Her work includes writing, film, live performance, and broadcasting. Spooner's productions have been presented at Performa 13, Stedelijk Museum, Amsterdam; Kunsthal Charlottenburg, Copenhagen; KW Institute, Berlin; Wysing Art Centre, UK; Jeu De Paume, Paris; Serpentine Gallery, London. Cally Spooner is a recipient of the Paul Hamlyn Foundation Awards for Artists 2013.
She is represented by MOTINTERNATIONAL, London and Brussels.
Categories
Tags