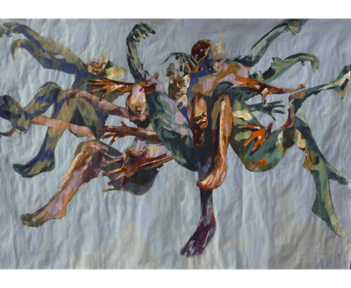 Coercive Coalescence by Josh Bowe Materials: Acrylic on Paper Size (H x W x D): 220 x 300 x 5 cm Year created: 2013
£15,000
We are delighted to announce the winners of the Peoples' Choice Award 2013/14.
The Signature Art Prize Peoples' Choice Award acknowledges the public vote, who decide which four artists walk away with a cash prize and entrance to exhibit on the Gala night.
This year's Peoples' Choice Award was run through our Facebook Page, where all applicants for the Signature Art Prize who weren't put through by the judges are then put to the public vote. This year's competition received an overwhelming response and the winners secured over 2,000 votes between them.
Another excellent showcase opportunity for up and coming artists, the winning artists will be exhibited at the Signature Art Prize Gala Pop-up exhibition as well as the gallery exhibition that runs throughout April at the DegreeArt Gallery.
This year's Signature Art Prize Peoples' Choice Award Winners are:
Painting – Josh Bowe
Sculpture – Hollie Mackenzie (Winner of 2012's Signature Art Prize People's Choice Award)
Drawing & Printmaking – Lorena Balea-Raitz
Photography – Tu?ba ?im?ek
Categories
Tags