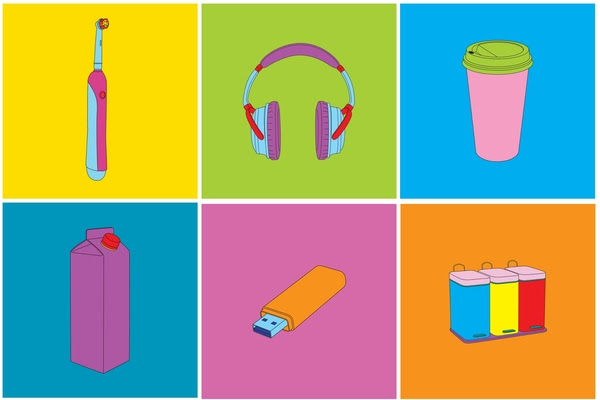 28th March – 2nd May 2014 (Private View: 27th March 2014)
The Alan Cristea Gallery will present a solo exhibition of new work by Michael Craig-Martin. The exhibition, which will take place at 34 Cork Street, will include his new series of twelve screenprints, Objects of our Time, alongside other recent editions in several different media all of which focus on everyday items and iconic objects from the worlds of art and design.
Concurrently, the gallery presents Master Prints selected by Michael Craig-Martin in the space at 31 Cork Street, an exhibition curated by Michael Craig-Martin bringing together iconic 20th and 21st century prints by major modern and contemporary artists both from his personal collection and from a panoply of important pieces which would ideally find a place amongst his collection.
The two exhibitions will coincide with an exhibition of his sculpture in the grounds of Chatsworth House from 16th March – 29th June 2014.
Using etching, digital printing, screenprinting, and light-box installations, Craig-Martin's instantly recognisable imagery is vividly coloured and crisply defined, with objects presented on one-colour backgrounds. The artworks and objects referenced are icons of art and design; signature pieces that have come to represent and symbolise an artist's or designer's work in its entirety.

Inspired by a trompe-l'oeil violin painted on the back of a secret door of the private apartments at Chatsworth, Craig-Martin has produced his own contemporary version of the violin in the form of an edition to be sold during the exhibition at Chatsworth.
??
?
About the Artist
Michael Craig-Martin was born in Dublin in 1941 and educated in the United States, where he studied at Yale University. He has had retrospectives at the Irish Museum of Modern Art (2006) and Kunsthaus Bregenz, Austria (2006), National Art Centre, Tokyo (2007) and has permanent large-scale installations at Regent's Place and The Laban Center in London. His work is held in numerous museum collections including the Tate Gallery, London, National Gallery of Australia, Canberra, and MoMA, New York. He received a CBE in 2001, and was elected to the Royal Academy in 2006.
Craig-Martin is well known to have been an influential teacher at Goldsmiths College London, and is considered a key figure in the emergence of the young British artists in the early 90's. Amongst his former students are Ian Davenport, Damien Hirst, Michael Landy, Sarah Lucas and Julian Opie.
Categories
Tags