WEEK: 17 Feb-23 Feb 
There are loads of art events such as private views, artists talks, and screenings happening around London, and often it is impossible to choose where to go and what to see. To help you with the choice Jenny Judova from Art Map London will be advising on what events seem worth attending during the week.
TUESDAY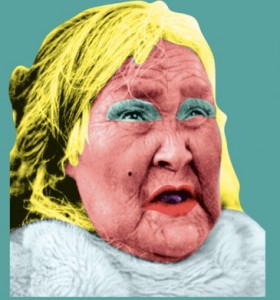 Ji?í Suruvka, Uplne cela MM II (Marilyn Monroe) collage series
Frameless Gallery, 6-9pm private view 'Czech Postmodernism – Lone Rangers'
I must admit the names of the artists don't tell me anything about this exhibition, and I know embarrassingly little about the Czech art scene which in itself is a reason why I should see this show. I will definitely go to this private view because I love the press release image and I want to see more!
WEDNESDAY
Alison Wilding Crate 3, 2001 Gouache, inks and charcoal on paper, 55.5 x 76 cm © Alison Wilding 2013. All rights reserved. Courtesy of the artist and Karsten Schubert, London
Drawing Room, 6-8:30pm private view 'Abstract Drawing' curated by Richard Deacon
6 – 6.30pm Directors' Tour of exhibition (open to all)
6.30 – 8.30pm Private view
I like the drawing room, I like how they manage to keep the delicate balance between academism, innovation and humour. Their shows are usually fun for those who know nothing about art and for those who studied it all their lives. The list of artists in this show includes such stars as: Richard Wright, Jackson Pollock, Anish Kapoor, Kazimir Malevich, Richard Serra and others, so there is a big chance that this show will turn into a must see block buster.
THURSDAY 20 Feb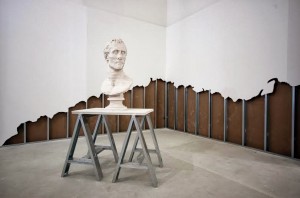 Beers Contemporary, 6-9pm private view Scott Carter 'The Shape of Things'
Beers Contemporary showed some of Scott Carters work during the London Art Fair and I want to see more! To create his works Carter will engage in a brief 'residency' on-site at Beers Contemporary, transforming the gallery space in the week prior to the opening of the exhibition, creating an immersive installation and numerous sculptural pieces using only the materials that are encompassed within – and sourced from – the walls of the gallery itself. In other words if you look at the picture you will see that the bottom part of the wall is gone – it was repurposed to become the bust that stands in front of it.
SUNDAY
V&A, 3.30 (4pm start) Swoosh around the V&A LGBT
In the spirit of LGBT history month Bird la Bird is doing a tour around V&A. If you have been to Bird la Bird events before you already know that she is a godess in the flesh, if you haven't then your life will never be complete until you hear this genius of comedy and sarcasm.
Meet at the meeting point near the ticket office in V&A
SUNDAY
Boxpark, 1-4pm Live Art and Q&A with The Krah Q&A: 1pm – 3pm, DJ and Drinks: 3pm – 4pm
If you are interested in street art this is the perfect event. You can watch the Graffiti artist Khan create a mural and then you can ask him everything you wanted to know about street art and spray painting.
Categories
Tags