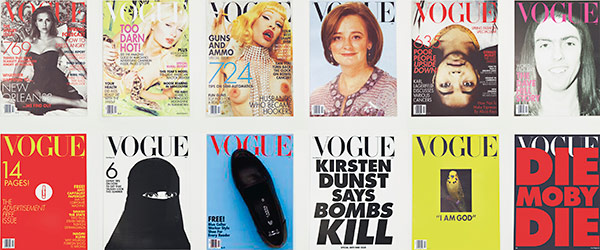 How I'd Sink American Vogue | London, South Kensington | digital print, paperclip, sellotape and shoe, in twelve parts | 27.5 x 20.5cm
Online – Building on the success of its debut in 2012 in live auction format, 90s to Now, will be available for online bidding through 20th February at www.christies.com/90stonow. 90s to Now reveals fresh young talent and revisits the early careers of now established artists, offering cutting-edge art at accessible prices. With estimates starting at £500, the auction includes works by John Baldessari, Linder, Matthew Brannon, Mathias Poledna, Rainer Ganahl, Carsten Nicolai, Haris Epaminonda, David Maljkovic, Norbert Schwontkowski, Lara Favaretto, Mircea Cantor, Dan Holdsworth, Darren Almond, Gabriel Kuri, Richard Hawkins and Scott King.
Complementing the online auction, is the 90s To Now Microsite, which features Artist Biographies, interviews with Fred Armisen and Massimiliano Gioni on the legacy of the 90s, and questionnaires on '90s. vs Noughties' with six tastemakers.
Categories
Tags