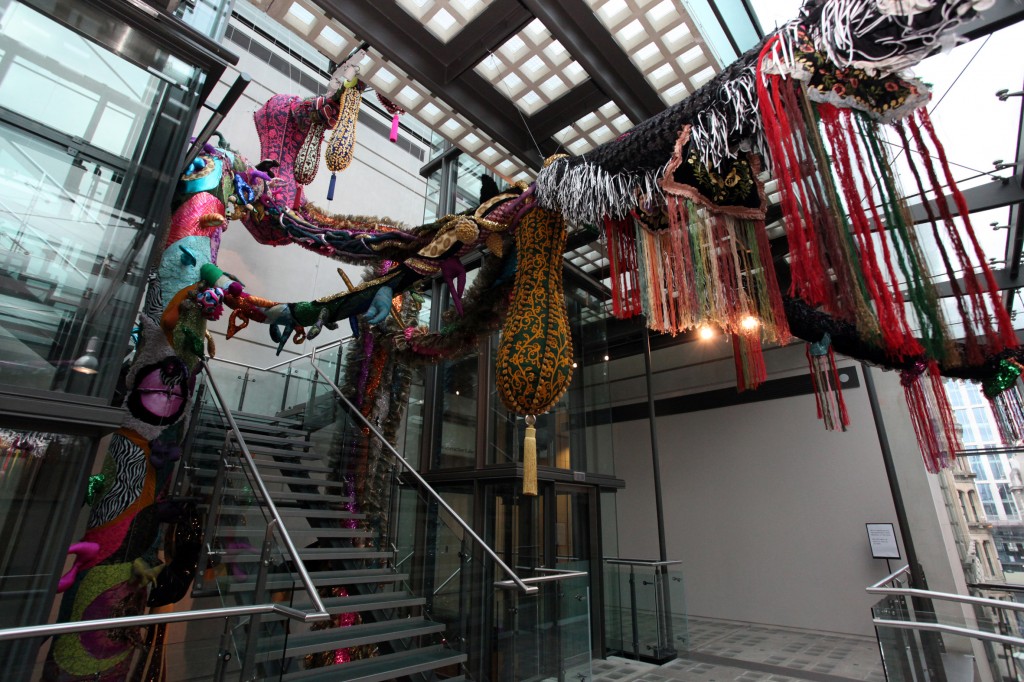 Joana Vasconcelos, Britannia 2014 Courtesy of the artist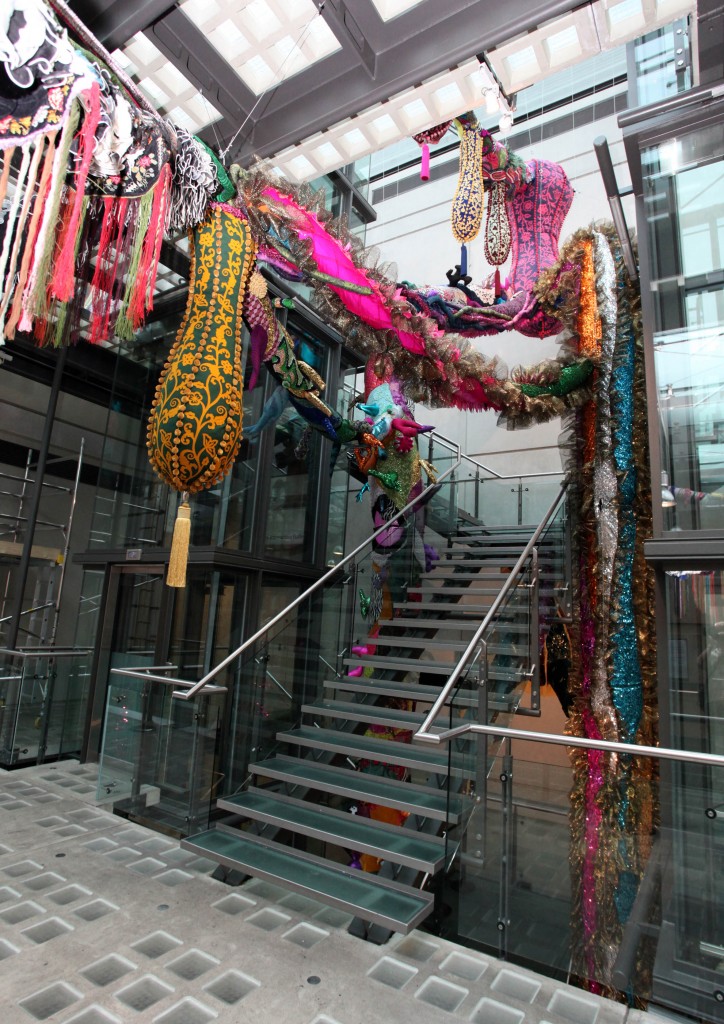 Joana Vasconcelos, Britannia, 2014 Courtesy of the artist
15th February – 1st June 2014 www.manchestergalleriestimemachine.org
From 15th February 2014, Manchester Art Gallery will stage the UK's most ambitious exhibition of works by Portuguese contemporary artist Joana Vasconcelos. Fresh from her success representing Portugal at the 55th Venice Biennale, Vasconcelos will bring her seductive and subversive large-scale sculptures to Manchester for an exclusive site specific exhibition. This major new show will feature over twenty of the Portuguese artist's most significant sculptures, which will fill the gallery's major exhibition spaces, adorn the exterior of the gallery and act as interventions with the gallery's permanent collection in spaces across the whole gallery building. The exhibition will include new and recent works, the majority of which are previously unseen in the UK.
The exhibition will feature the world premiere of a monumental new textile work that has been specially commissioned as a site-specific installation for Manchester Art Gallery's atrium and staircase. Vasconcelos' major new commission comprises brightly coloured organic forms that will cascade down the gallery's stairs from the main exhibition galleries and spill over the balconies into the atrium. It will be composed of many fabric elements including knitting and crochet, fine silks and cotton velvets (referred to as Manchester cloth across much of the world), recycled clothes and industrially produced textiles, embellished with Portuguese tassels, crystals and beads in a riotous patchwork of patterns, shapes and textures, hanging in striking contrast to the straight, clean lines of the glass atrium. This new piece from the iconic 'Valkyries' series is inspired by a previous work, Contamination, which was originally conceived for the Pinacoteca do Estado de São Paulo in 2008 and reconfigured for the historic Palazzo Grassi in Venice in 2011.

Joana Vasconcelos, War Games 2011 Photo: ©Unidade Infinita Projectos
For the first time, three of Vasconcelos' large-scale vehicle works are being shown together. Lilicoptère (2012), originally conceived for the artist's major solo presentation at the Château de Versailles in 2012, is a Bell 47 helicopter adorned with pink ostrich feathers and Swarovski Crystals and crafted with gold leaf, fine needlework rugs, walnut wood, and wood grain painting. War Games (2011) is a black Morris Oxford car covered in toy rifles and LEDs, and filled with brightly coloured soft and plastic toys which squeak and move endlessly. www.fatimashop (2002) is a tricycle van filled with factory made luminous statues of the Portuguese Catholic religious icon Our Lady of Fatima, accompanied by the video Fui às Compras (Gone Shopping).

Lilicoptère, 2012 Courtesy Haunch of Venison/ Christie's, London Work produced in collaboration with Fundação Ricardo do Espírito Santo Silva, Lisbon

Joana Vasconcelos, Full Steam Ahead (Red #1), 2/2 2012 Photo: Peter Mallet / Courtesy Haunch of Venison
Another three of Vasconcelos' sculptures entitled Full Steam Ahead will also be shown together for the first time. These kinetic sculptures in the shape of flowers have steam irons for petals which open and close to mimic the movement of real flowers. Red, yellow ?and green, the colours of the Portuguese flag, the sculptures slowly unfurl, hissing and releasing steam to create a dramatic, hot and humid robotic flower garden.

Joana Vasconcelos, Tutti Frutti 2011 Photo: ©Unidade Infinita Projectos
Two more works have also been selected to create a playful dialogue with the architecture of the building and public spaces. The sculptures Tutti Frutti (2011) and Fruit Cake (2011) from the series "Treats" will be positioned outside Manchester Art Gallery on either side of the building (Princess Street and Nicholas Street). These works, an oversized ice-cream cone and a giant cupcake, are made from plastic toys used by children to cast shapes in sand.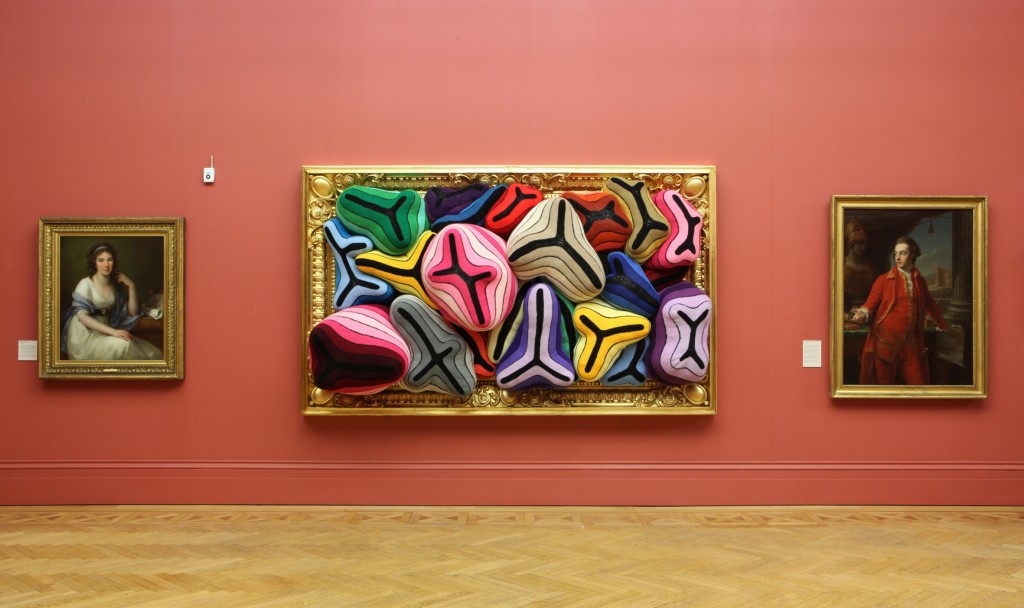 Joana Vasconcelos, True Faith 2014 Courtesy of the artist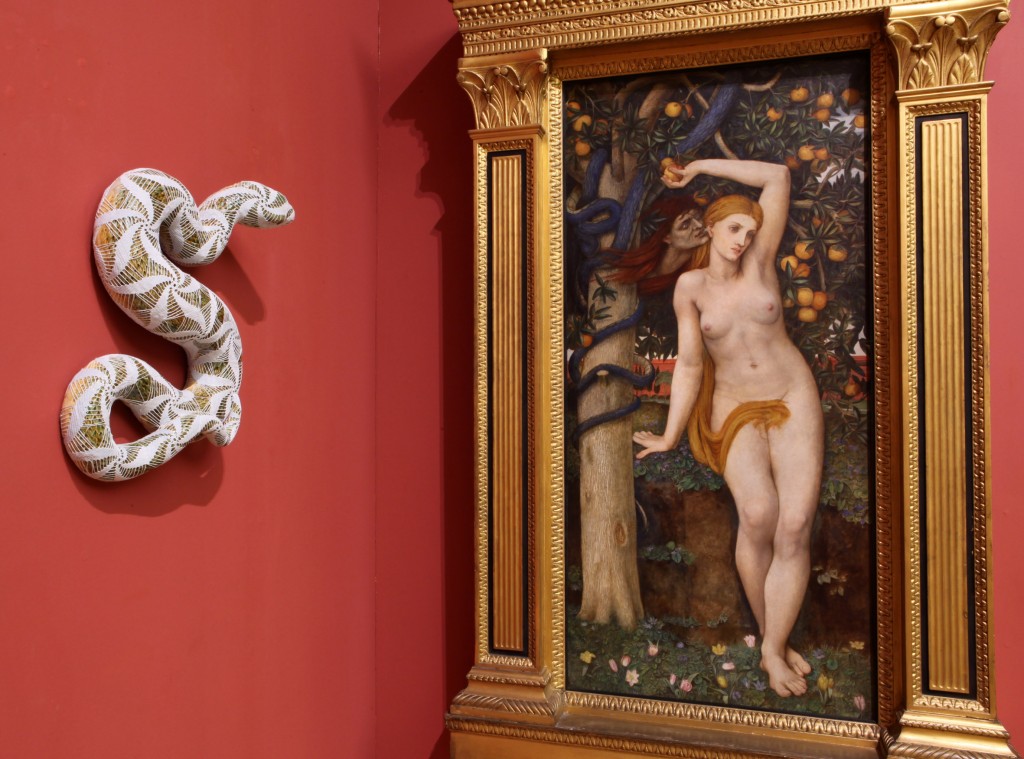 Joana Vasconcelos, Sibyl Vane 2014 Courtesy of the artist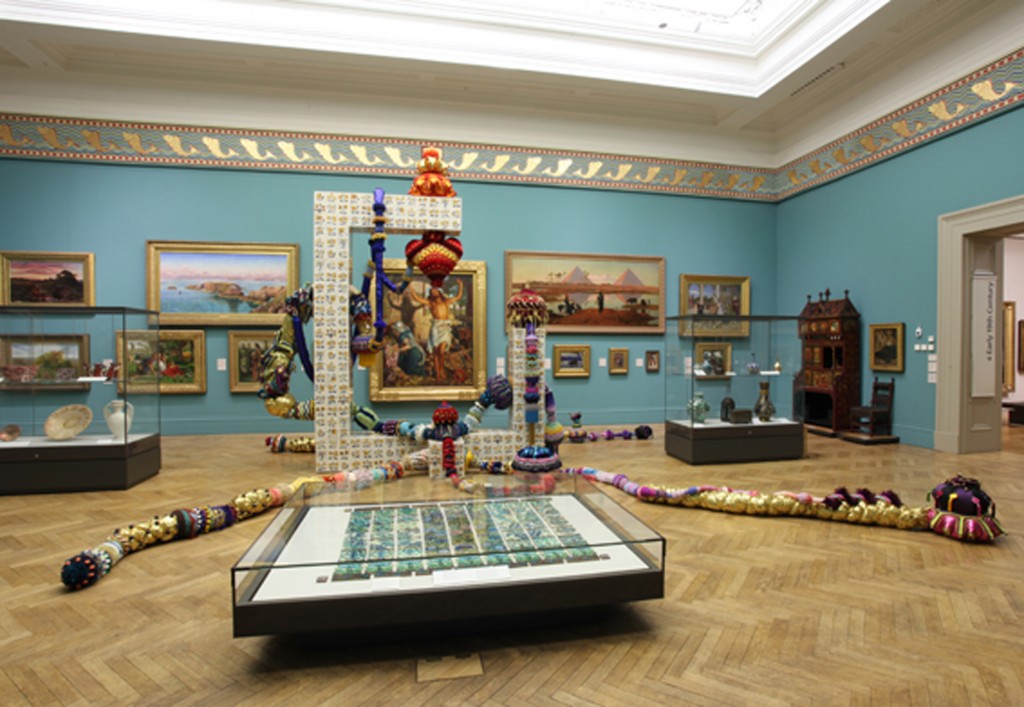 Joana Vasconcelos, Cottonopolis 2014 Courtesy of the artist
New and recent works will also be shown within Manchester Art Gallery's collection displays. These interventions will be carefully placed to create unexpected, humorous and thoughtful connections with both the historical architecture of the building and with works of art from the city's collections. Joana is creating a new addition to the three- dimensional series of "Crochet Paintings", produced in response to the gallery's 18th century works. William de Morgan wall tiles on display in the Pre-Raphaelites gallery will be referenced in a new piece from Vasconcelos' "Tetris" series (made with tiles, crochet and various fabrics), while a new work for the "Cement Sculptures" series is also being created in response to the gallery's sculpture Atalanta (1888) by Francis Derwent Wood and the painting Eve Tempted (1877) by John Spencer Stanhope (both on display in the Victorian gallery). This new work, a female figure, cast in cement, recalls classical statues of the sensual female form and is vibrantly painted, then decorated with crochet and hand-made net.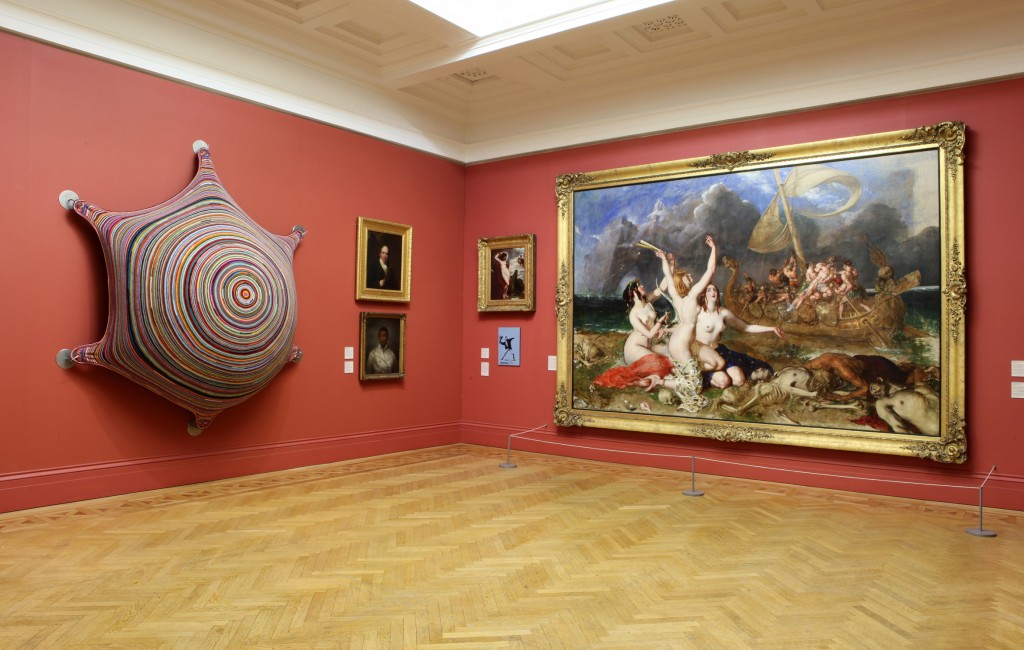 Joana Vasconcelos, Big Booby 2011 Courtesy of the artist
Joana Vasconcelos said:
"It is a privilege to see my work go on show in Manchester Art Gallery's remarkable spaces. I am particularly proud of the dialogue established between Manchester Art Gallery's collection and my works, as well as the interaction between the city's history and traditions and other realities of entirely different provenances – such as those specific to my homeland. Time Machine will certainly be one of the most challenging and noteworthy shows of my career."
www.manchestergalleriestimemachine.org
About The Artist
Joana Vasconcelos is a Portuguese artist, born in Paris in 1971, who lives and works in Lisbon, Portugal. Primarily a sculptor, she is renowned for her sense of scale, choice of materials and mastery of colour. A meticulous craftsmanship connects all her work which is ambitious, seductive, humorous and exuberant. She achieved major international recognition when her sculpture The Bride, a 5m high chandelier comprised of 25,000 tampons, was exhibited at the Venice Biennale in 2005. Since then her career has gone from strength to strength including recent solo exhibitions at the Château de Versailles in 2012 (where she was the first woman and the youngest artist ever to exhibit work), Palácio Nacional da Ajuda, Lisbon in 2013 and Trafaria Praia, the Portuguese Pavillion at the 55th Venice Biennale in 2013.
www.joanavasconcelos.com
Categories
Tags